December 23, 2015
|
General News
Ministers Sued Over GH¢3.6 m Bus Branding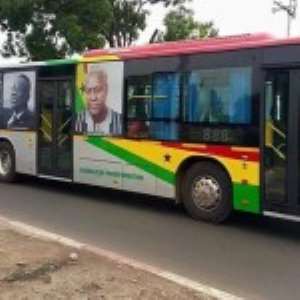 The controversial GH¢3.6 million bus branding contract awarded to National Democratic Congress (NDC) activist Selassie Ibrahim has landed in court.
A suit has been filed at the Human Rights Court division of the High Court in Accra by seven concerned Ghanaians against Transport Minister Dzifa Attivor and the Attorney General and Minister of Justice, Marrieta Brew Appiah-Oppong.
The plaintiffs, including Francis Kennedy Ocloo, are praying the court to issue "an order directing the Honourable Minister of Transport to make full disclosure on the contract for the branding of the 116 Bus Rapid Transit (BRT) buses."
They are also asking the court to order the ministers to make available to them the full contract for the branding of the buses in addition to copies of all documents relating to the controversial contract.
DAILY GUIDE learnt that the contract was sole sourced and that it did not go for tender.
 Kennedy confirmed the court action to DAILY GUIDE but was quiet about the details.
The Chief of Staff at the presidency, Julius Debrah, had directed the Attorney General to look into the contract and submit the report yesterday.
As at press time yesterday, there was no indication that the outcome of the probe had been made public.
Ghanaians are angry about the amount of GH¢3.6 million (¢36 billion) spent on embossing President John Mahama and other former presidents' portraits on the 116 Metro Mass Transit buses.
Critics are comparing the president to an emperor who wants to have his imposing images on national assets.
Some groups had already petitioned former Presidents Jerry John Rawlings and John Agyekum Kufuor to call for the removal of their images from the buses.
The group said in a statement that it considers the money spent on pasting pictures on the buses a wasteful expenditure.
The branding of each bus was at the cost of GH¢31,420, which critics say was highly inflated.
In the petition dated December 21, 2015, the group – Concerned Ghanaians (CG) – stated, "We believe that you will consider it profligate, as we do, that government spent a whopping GH¢3.6 million on this hubristic exercise.
"In the midst of our current economic problems as a nation which caused the President (Mahama) to admonish Ghanaians to tighten their belts, we find that it is a wasteful expenditure to paste pictures of former presidents, including the current president, on these 116 buses at an individual cost of                GH¢31,000."
Manager of Crystal Concept, Kwaku Mensah Abeiku, whose company was subcontracted by Smarttys Management and Productions – owned by Selassie Ibrahim, wife of former Agric Minister, Ibrahim Adam – to rebrand the buses, indicated that his company charged GHȼ11,600 as cost for the branding of all the 116 buses and not GH¢3.6 million, exposing the over-inflated contract.
According to Mr Abeiku, he charged GH¢100 per bus, summing up to the GH¢11,600. He accused the Manager of Smarttys of ripping off the state.
A DAILY GUIDE Report