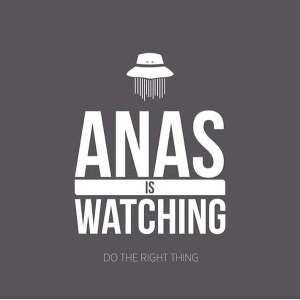 It all started unfolding like one of the spy movies i have been watching, in fact the CIA and KGB (now FSB) themed movies that i love to watch, and i pick a thing or two from such movies. But this one happened right here in Ghana. An investigative journalist, Anas Aremyaw Anas over the years have made it his patriotic duty to expose the rot and corruption in the Ghanaian society. For some years now, he has been coming out with several shocking revelations on corruption at the harbours, particularly the Tema Habour, the border posts where the nation's cocoa is smuggled under the close watch of some officials and a host of other equally shocking revelations.
These revelations have made the perceived corruption in several institutions of the country to be seen as real by the citizens and the whole world. About a month ago, Anas told the country that he was coming out with a shocking revelation that is threatening the democratic foundation of the country. Little did we know that this expose was to come from the Judiciary, the bastion of the rule of law in this our dear country. Ghanaians were shocked when they watched the video as some judges, judicial officials such as court clerks, policemen etc etc sold justice on a silver platter. In so doing, criminals were made to go scot free and justice was denied the aggrieved. Some of the judges implicated in this expose have served notice that they will not go without a fight and have therefore resorted to the law courts to fight for their innocence.
But why should this go on? Do we have to wait for this shocking expose from Anas to come out before we put our various institutions in order? Ghana will be far better if we all refuse to give bribes or accept bribes, we should insist that the right thing is done. Lets expose all acts of corruption in our society. Lets refuse to pay bribes at the DVLA, the Passport Office, the Police Station, Birth and Death Registry, Ports and Harbour, Police checkpoints on our roads, at the Ministries, Government offices before a service is rendered to us.
Anas Aremyaw Anas will have a lot of pages in the history books of this country, in fact an anti corruption hand book should be published out of his numerous shocking revelations and some of his videos screened in our educational institutions to sensitize the youth about corruption. He could be reading this piece and chuckling, who knows? Lets help and support him in his anti corruption drive. Anas will forever remain a phenomenon, and those who are trying to unmask him will never succeed because, Anas is not just one person, we all are Anas. He might decide to come to your office or institution next, so do the right thing and save Mother Ghana from this canker. God save Ghana, God bless Ghana, #JeSuisAnas #IAmAnas #HelpKickCorruptionOutOfGhana #WeAreAnas.