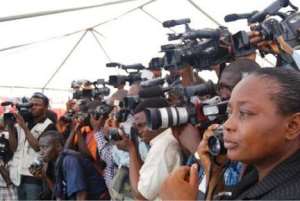 Solidarity, according to the Oxford advanced leaner's dictionary means support by one person or group of people for another because they share feelings, opinions, aims etc. In Ghana, Solidarity also known as "Soli" in journalism circles means the practice whereby journalists accept money as T&T after covering an event.
The recent allegations involving the Chief of Staff at the Presidency doling out a thousand Ghana Cedi each to some senior journalist as "soli" brings the issue to perspective. At a time when the government is facing a lot of challenges with the economy, one would have thought that the resources of this nation would be used prudently, but to have the seat of government dishing out such huge amount of money as "soli" must be a concern to well meaning Ghanaians.
We need to be asking critical questions about his actions if what has been reported in the media is the truth. To what intent did the chief of staff doled out the money to these journalists? Was it to influence them? Why should the government pay such huge sums of money to a section of journalist as "soli"? What is the work of the Ministry of Communication where we have a deputy minister in charge of Information? What role do the state owned media play in disseminating government programs and policies? Who are these journalists and what was the occasion?
Various arguments have been propounded for and against "soli". In a country where most journalists earn low wages, the tendency for them to grab any gift from an event organiser is very high. But my question is, do event organisers dish out these monies for the journalist to compromise his stance on an issue? My answer is no. Journalists are supposed to ensure that they report on issues devoid of bias, they must be objective and balance in their reportage. A journalist with integrity would not sacrifice the truth for "soli" but would report on an issue accurately and factually. If a journalist who has taken "soli" writes a story which is accurate and factual, can we accuse this journalist of collecting bribe? I guess the answer is no.
Our current democratic dispensation has resulted in the liberalisation of the airwaves and has also led to the establishment of more press houses. A lot more people have embraced the journalism profession and are enrolling in media institutions or learning on the job. Current economic situation makes it difficult for most media houses to pay their workers well; this has resulted in most of these journalists looking for other ways to supplement their meagre income, it is therefore not surprising to have some of these journalists waiting for envelopes from event organisers after a program.
The issue of "soli" cannot be blamed solely on the journalist, media houses have a role to play, so are event organisers and the Ghana Journalist Association. A journalist should not allow "soli" to influence his reportage on an issue. The journalist must always ensures that his stories are objective, accurate and factual, in instances where there are other parties involved, the journalist must ensure that he listens to the other side before writing his story.
Media houses should do well to pay their staff well, they must ensure that they organise periodic training programs for their staff members in order to build their capacities. Event organisers should not use the money they give to these journalists as enticement or bait to have their stories published or have them slant stories in their favour. There have been instances where event organisers' quarrel with media houses for not publishing their stories, that practices should be avoided, it is time event organisers realise that media houses would only publish stories that are of interest to society and not any other story. It is unfortunate the GJA has not been able to regulate how people in this profession should operate. The Ghana Bar Association and other professionals are able to regulate the activities of their association because the members are professionals. The same cannot be said of journalism, most people have learnt the profession on the job instead of attending a professional institution. This makes it a vocational activity rather than a professional one. Such people and other professional journalist have not realised the need to join the professional body, making it difficult for the Association to have a firm grip on journalists in Ghana. The GJA needs to find solutions to its challenges and ensure that it becomes attractive to everyone plying the profession to join.
In Ghana, where the culture of giving is part and parcel of us, the issue of "soli" cannot be eradicated totally, what every journalist needs to do is to ensure that he is guided by his conscience and not the gift or money he receives from event organisers.
Mustapha Jimah
[email protected]
Department of Communication and Media Studies
University of Education, Winneba.
Winneba.