Senior Police Officers Caution Against Superciliousness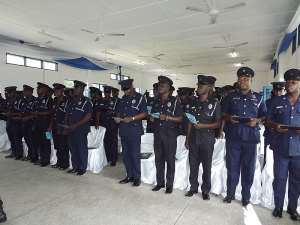 Director-General in-charge of Research, Planning and Information and Communication Technology of the Ghana Police Service, Commissioner of Police (COP), David Asante-Apeatu says the police Administration will continue to improve the professional skills of the personnel to enhance the service delivery to the general public. He said, the Police service has gone through various reforms, restructuring and transformation in response to the ever changing law enforcement demands of the society.
COP Mr. David Asante-Apeatu stated these at the graduation ceremony of Junior Command Course 3/2015 at the Ghana Police Command and Staff College in Winneba. He said, the dynamic exigencies of effective law enforcement today require urgent actions in all areas of administrative and operational activities, therefore any police organization which desire to stay in the game of protecting life and property must be proactive and adopt pragmatic strategies.
He therefore charged the officers to share the knowledge acquired with subordinates to ensure a safer security environment for the good people of Ghana.
"Knowledge is power" that is why the officers were selected from the various police departments to the college to acquire the kind of knowledge that would assist the performance of their duties as commanders, in the manner the nation will appreciate particularly, issues of security", he added.
Assistant Commissioner of Police (ACP) Mrs. Yaa Tiwaa Addo-Danquah, the Commandant of the College said, the college since its establishment has trained two hundred and forty six (246) senior police officers of the ranks of Assistance Superintendents, Deputy Superintendent and Chief Superintendent of Police across the Country.
ACP Yaa Tiwaa Addo-Danquah said effective teamwork has been the hallmark of the college and advised the officers to avoid pettiness, arrogance and live by the virtues of honesty, discipline, humility and loyalty; these according to her would enhance their Command, staff relationship, operation and managerial capacities in a bid to provide quality law enforcement services in Ghana and the rest of the Continent.
Deputy Superintendent of Police (DSP) Mr. Patrick Kwapong, the course senior student, who read the farewell speech on behalf of His colleagues expressed gratitude to the Police Administration for the establishment of the college and appealed to the Authority to pass a resolution at their respective AGMs for twenty (20) per cent of all interests earned on the investment of police welfare scheme contribution to support infrastructural development of the college.
In all forty-nine (49) senior offices were selected from across the country for a five week intensive training on Emotional Intelligence and leadership, Crime protection strategies, Terrorism, and Crime Scene Practical Training among others.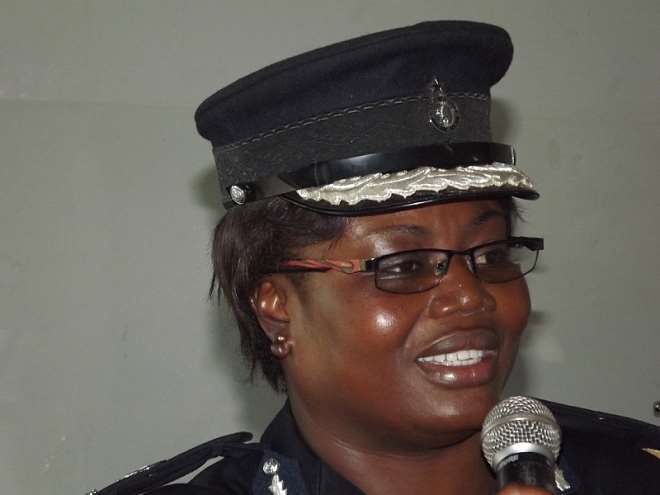 COMMANDANT-GPCSC-ACP-YAA TIWAA ADDO DANQUAH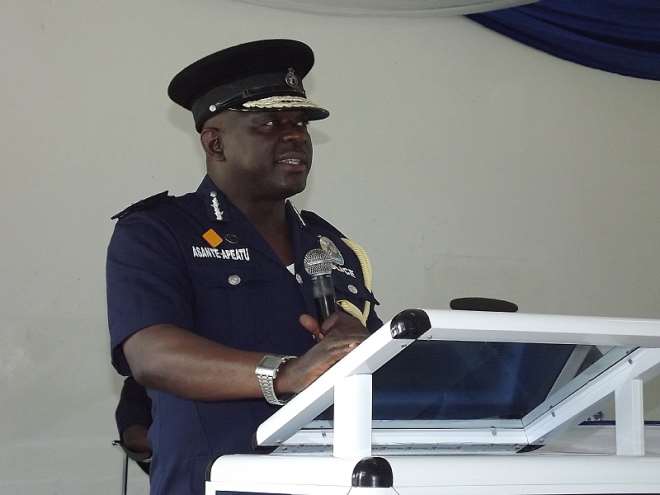 COP-DAVID ASANTE-APEATU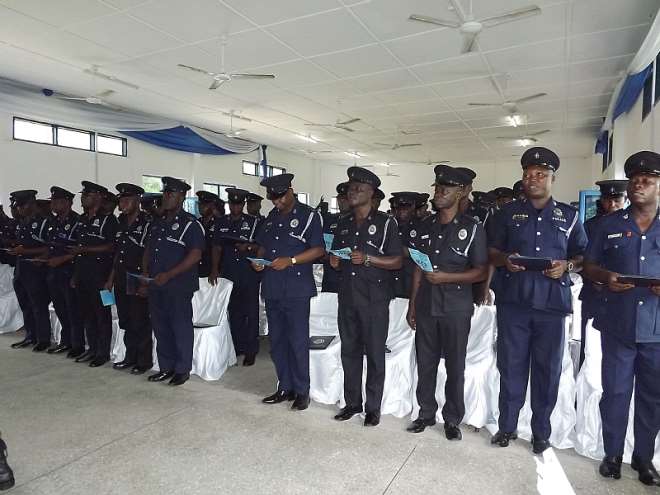 POLICE SENIOR OFFICERS