Mahama to hand over Presidency to Nana.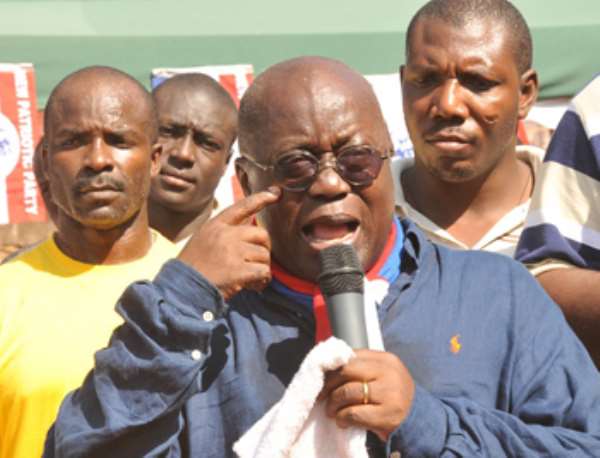 Who can beat him? Who can wrestle him to the ground? And who is this Icon of a man? He needs no introduction at all, as his name has become a household name throughout the country. Yes, his name is Nana Addo Dankwa Akufo Addo. Yes, Nana, you are our man and the Champion of Champions. You are our beacon of hope, a darling of the people and God's own elect. Yes, you are unstoppable. Your moment of glory is not far for you will be elected President of this country, no matter the obstacles that come your way. You will make Ghana and the entire black race proud because of the laudable policies your government will introduce in the country. Many people from far and near will flock to the country just to see the great 'victories' you will be chalking under your presidency. Who will surpass you? Who will come so close to comparing his/her achievements with you? None! No Challenger!!
Your charming and charismatic personality will make all good people gravitate towards you. Under your administration, darkness and failure will have no place in the dictionary of the country because you will look squarely at the faces of these drawbacks and ask them to evaporate and make way for laudable and people's friendly policies. You are the very embodiment of Light and Greatness. Who can match you? You are a man of high principles, unequaled in the history of this country.
It is only evil minded persons who, on a daily basis continue to cast aspersions on your character. In all these, you have remained undaunted and continue to press on with greater determination than ever before. Who can beat you? Press on for the Golden Fleece is not far.
Who can who can match your impeccable credentials? None! At 68, my greatest prayer is that God should continue to endow you with the Wisdom of Solomon and make you great before the children of this world. May the Great dreams you have for Ghanaians and the rest of the world be realized under your government. May Ghanaians never lack peace and the blessings of the Lord during your administration!
I see a cloud of uncertainty being lifted off the entity called Ghana. I see President Mahama making desperate calls to you to come and take over the leadership of this country. He says he never knew the burden would be so great for him. But just before you emerge, I see and hear the looming darkness emitting discordant tunes. At the point when everything appeared to go bleak, a ray of hope surrounds your physical presence. Mahama takes off 'the crown' and waits anxiously to hand it over to you. His hands are shaking as he holds it. You walk briskly to him. He lifts the crown and puts it on your head. He intones: 'Nana, you are the man, God's own elect. You are favoured of the Lord. You lead and I follow. You are our decisive President in waiting. You are indeed the great man our forefathers foretold'.
Sixty Eight solid Years has not been an easy journey. You have seen the most beautiful and ugliest and tasted the sweetest and most bitter things of life. But nothing disturbs your mien as you continue to wax stronger in all that you do. It is indeed God's own of making you great. May the Good Lord keep and bless you. May the Lord keep you and make his countenance shine upon you and your family. May the Lord give you peace and above all may He keep you from all evil.
This is the vision the Lord showed me about your upcoming elevation and the better things Ghanaians will enjoy under your Presidency. The time is coming when all men and women of goodwill will stand up and shout in unison that 'Nana, we are indeed grateful to you. We have never had things so smooth until you assumed the presidency of this country. Your administration has been the best thing that ever happened to this enclave we all call Ghana. Indeed it has been christened the 'Golden Age of Ghana'. You are indeed the true son of your father'.
I thank the Almighty God for your life. Remain blessed for you are highly favoured of the Lord.
Daniel Danquah Damptey ([email protected]) 0243715297