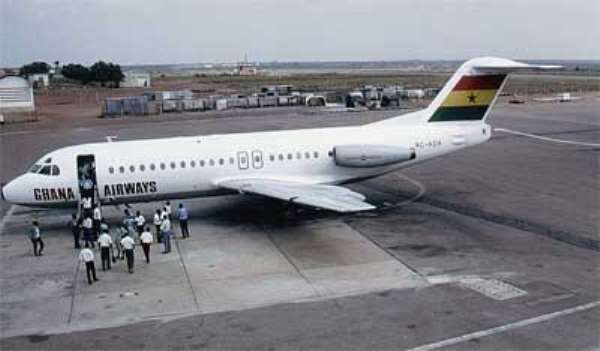 Debt-ridden flag carrier Ghana Airways said on Wednesday it was seeking more details about a US flight ban which has left scores of passengers stranded in the West African nation and the United States.
In a very rare move, the US Department of Transportation (DOT) on Tuesday suspended the state-owned airline's four weekly round-trip flights to the United States due to "serious questions surrounding the safety of its aircraft".
The DOT said Ghana Airways' operating license had expired earlier this month and that it had grounded a Ghana Airways plane in Baltimore, Maryland.
"We are in touch with the civil aviation authorities in Ghana and the FAA (US Federal Aviation Administration) about the circumstances under which the grounding happened," Ghana Airways board member Nich Adi-Dako said.
"We've been told that because of the [safety] violation all of our services have been suspended. We are looking into that," he said, adding that the grounded plane, a DC-10, was one of the carrier's only two long-haul aircraft.
At Ghana's international airport in the capital Accra, tour operator Akbar Mohamed said he had 70 aging American clients who were stuck without a flight home.
"I led 70 people to Ghana on a pilgrimage," said Mohamed, who arranges tours for African-Americans to visit slave forts and human trafficking routes in the former British colony.
"They are elderly passengers. We were due to leave last night and one of the passengers is on dialysis. We are desperate to leave but now we are stranded and we don't know what to do."
Adi-Dako said the airline was making arrangements to send its stranded passengers to their final destinations.
Robert Johnson, a DOT spokesman, said it was very rare for the United States to suspend a carrier for safety reasons, adding he could not remember the last time it had happened.
He said the DOT was eager to get "Ghana Airways back up and running" by having the unspecified security concerns addressed so the stranded passengers continue their journeys.
Ghana Airways has debts of USD$160 million and has been looking for a partner. It flies to a handful European and North American destinations but has drawn criticism among travelers in West Africa for delays and cancellations.