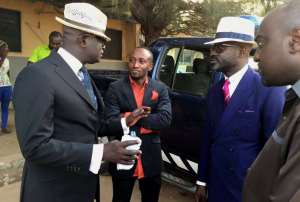 Information reaching Razz Newspaper indicates that ace broadcaster and communication savvy, Kwesi Kyei Darkwah popularly known as KKD, was about to be considered for a national appointment but that consideration seems to be in a balance due to the rape allegation hanging around his neck.
According to a very reliable source, KKD was to receive a national appointment from the incumbent government to assist in the area of art, culture and tourism. Tall lists of some entertainment experts were scrutinized but at the end, the appointment board settled on KKD.
The source also disclosed that KKD unofficially got wind of the offer – but, whilst the appointment board was in preparations to officially write to him, story of his rape allegation broke out to the shock of all and sundry who revere his image and what he stands for.
KKD has over the years not participated in active politics, shown his political colours, or passed pro-partisan comments on issues and due to that, some big wings in the NDC party and government who are of the opinion that they can't vouch for KKD's loyalty to the government and the party; and such people were not in support of his appointment offer. Due to that, KKD's appointment went through series of back and forth meetings.
Last year, KKD told 'Starr Drive' host Bola Ray on Starr 103.5FM, that he is ever ready to serve in political office under any government. Are you looking forward to being appointed as a Minister? If given the chance, will you accept that? If you are called to serve, Kwasi, will you? – Bola asked to which KKD retorted: "If I'm called, of course!"
"I worked as the Director of Communications for the Ghana Investment Promotions Centre. I wasn't called to serve – I applied for a job and I took that job, but at certain levels, it is only at the pleasure and the leisure of whoever we have voted to run the country."
On why he does not mind serving under any political party, he said; "It's because Ghana first. I think parties come third. And I really think for all those who want to do partisan politics, there's nothing wrong with it, but we can't have more than one-tenth of the population of Ghana doing active partisan politics because - what that does is; it saps the energy of this country."
KKD has been locked up at a police cell since 27th December, 2014 following a rape complaint that was filed at the Airport Police against him. Kwesi Kyei Darkwah has come out to confirm he had sexual intercourse with the girl in the bathroom of his hotel few hours after meeting her at a fashion event.
On 30th December, 2014, KKD appeared at an Accra Magistrate Court, and a bail request by his legal counsel was denied—with the court holding that, rape is a non-bailable offence in Ghana. Kwesi Kyei Darkwa's rape case has been adjourned again to January 22, 2015 by an Accra Magistrate court presided over by Justice Adwoa Akyaamaa Ofosu.