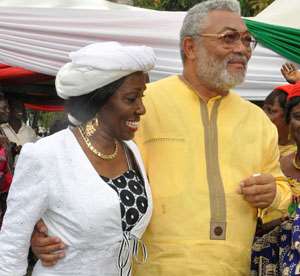 As we commemorate the 31st December Revolution, let us pause and cast our minds back to where we came from or started the journey from and remember that,the evolution of contemporary viable democracy in Ghana today was based on the struggles by ordinary people led by Flt Lt J. J. Rawlings for political space and voice, initially on a non-partisan basis under the PNDC, and subsequently, in a constitutional framework of multiparty democracy under a government of the NDC.
Constitutional democracy, thus emerged on the bedrock of commitment by ordinary people to work hard to produce the nation's wealth, to uphold truth, abhor corruption, and distribute the benefits of hard work equitably for the greater, social and economic wellbeing of all Ghanaians.
My grandfather,Adam sabaah once said that our political lives are nothing without ideals, but the ideals are empty if they don't relate to real possibilities!. With Kofi Adams now as ndc national Organiser,Let us go back to the grassroots and let us engage each other irrespective of differences in opinion. How good and pleasant it could be if Madam Konadu Agyemang Rawlings could use this great day,31st December to announce her returning to the ndc on which she toiled for.
Questions are emerging as to why we are closely contested in national elections by the largest opposition group and whether the electorates can really differentiate between NDC and the opposition New Patriotic Party?,What are we doing wrong as a political party?
There is no time for pride in our success now; as what matters now is how quickly we need to find solutions to our challenges that threaten our long term viability and survival as political grouping.
Flt. Lt. J. J. Rawlings at about 10.00 am on 31st December, 1981 which subsequently gave birth to the National Democratic Congress and laid the solid foundations for our current political dispensation said,
"Fellow Ghanaians, as you will notice, we are not playing the national anthem. In other words, this is not a coup. I ask for nothing less than a Revolution- something that will transform this country. Fellow citizens, it is now left to you to decide how this country is going to go from today.
We are asking for nothing more than popular democracy. We are asking for nothing more than the power to organize this country in such a way that nothing will be done from the castle without the consent and the authority of the people. In other words, the people, the farmers, the police, the soldiers, the workers - you, the guardians - rich or poor, should be a part of the decision-making process of this country". His excellency Jerry Rawlings also reminded us on that same day "to many of us, if not all of us, democracy does not just mean paper guarantees of abstract liberties" but also involves the provision of basic human necessities such as food, clothing, shelter and social justice "in the absence of which life is not worth living".
These expressions were the foundation on which NDC ideals of Probity, integrity, accountability and social justice were firmly laid. We cannot talk of this important date without mentioning the role of 31st December Women's Movement of which Nana Konadu Agyeman Rawlings was president for the constant reminder of that faithful day.
Madam konadu preparing the grounds for the returning of the country to a democratically society,use this women group as the bedrock to support the actives of the PNDC. "My desire is to see the emancipation of women at every level of development to enable them to contribute and benefit from the socio-economic and political progress of the country.... Women's vital role of promoting peace in the family, the country and the world at large must be acknowledged. And to do this, they must be empowered politically to equip them adequately for the challenges of critically identifying and assessing solutions for the betterment of society."
She described it as a "broad based development oriented Non-Governmental Organisation that aspires to achieve these objectives through the effective mobilisation of women." In addition, her movement—two million strong—has set up more than 870 pre-schools in Ghana and has worked actively to stir up interest for the accomplishment of child development and family planning.
Mrs. Rawlings movement has also taught village women to become involved in the electoral process. "We literally just pounded it into them until they realized, hey, we don't want any of these people who are living outside our areas to come and stand in our areas to be elected," she said in Africa Report. "A lot of women are now on committees in their villages and districts, some are chairing the committees.... I can only say we've made a lot of impact, and I can see from the self-esteem and near arrogance of the women, that now we've actually been able to break through this thick wall." In 1992, 19 women were elected in parliamentary elections.
Noting Mrs. Rawlings's "charm" and "substance," the New York Amsterdam News reported that she was praised by Ghana's permanent representative to the United Nations, George Lamptey, who said, "For the past years she has stood by her husband in the struggle to restore Ghana. She has led a group of active women to help empower Ghanaian women, freeing them from being hewers of wood and drawers of water to being actors in the political arena."
As we mark the 32nd occasion,I will like comrades not with myopic thinkings to join me plead with the former First Lady, Her excellency Nana Konadu to wholeheartedly return to the NDC party she toiled with her husband and others to laid the foundation.
Long live the founder Jerry John Rawlings,long live NDC!!
Ibrahim Hardi,contact 0208235615,email [email protected]