28 October 2014
|
Regional News
TAMA Shea Butter Cosmetics Win 'Indigenous Product Of The Year 2014'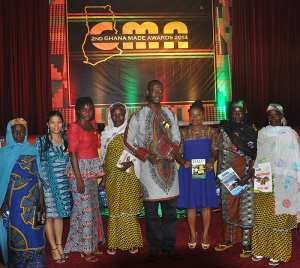 SeKaf Ghana Ltd's Tamale-made Shea butter soap and body lotion were awarded indigenous product of the year 2014 on Friday at the prestigious Ghana Made Awards ceremony at State House.
The ceremony at state house was an initiative by the Entrepreneur Foundation of Ghana and supported by the Ministries of Trade and Industry and Finance and Ghana Standards Authority.
The high profile award for 'Indigenous Product of the year 2014' was handed to SeKaf by the Chinese Ambassador to Ghana alongside other award winners such as TV3 and Wilmar International (producers of Frytol).
SeKaf's CEO Senyo Kpelly and his wife Jemima (the company's first employee) attended the ceremony. They were accompanied not only by their Production and Research and Development Manager from the Philippines but also by women from the Kasalgu Cooperative whose high quality organic shea butter is the essential key ingredient for all TAMA products.
Senyo Kpelly, CEO of SeKaf Ghana Ltd comments:
"We are delighted that our hard work has been recognised. This justifies our call for the nation to go natural and consolidates our message to preserve shea trees. As well as containing numerous therapeutic ingredients to make our skin and hair beautiful, the shea tree also generates income for communities and presents an alternative to urban migration. Using TAMA products can actually support the alleviation of poverty in parts of northern Ghana".
A Ghanaian owned social purpose business established in 2003, SeKaf Ghana has brought much needed economic opportunities to local communities in Ghana's northern region.
The company buys organic shea nuts from over 1600 women, purchases the shea butter produced by the Kasalgu Cooperative at the SeKaf shea butter village and its TAMA factory employs around 30 local people. The TAMA range includes shea oil for hair and for body, shea butter soap, moisturising black soap, body lotion and hand cream.
CEO Senyo Kpelly adds:
"There are many challenges to manufacturing in Ghana but so many benefits for the local community. Receiving this award for our products will help us to spread the word about TAMA and as a consequence increase sales and help boost the local economy".
SeKaf's expansion plans are financed with funds from Injaro Agricultural Capital Holdings Ltd. (Injaro), an impact investment fund focused on agricultural SME investments in West Africa. Injaro's goal is to develop Sekaf into a profitable, globally-competitive company.
SeKaf is able to capitalise on its location in northern Ghana, in the shade of the shea trees themselves and its long term plans to construct a 3000 m2 ultra-modern plant will ultimately mean more opportunities for the local population.
SeKaf has been exporting TAMA products to international customers for a number of years but the product is still relatively new in parts of Ghana. Thanks to a new network of distributors an increasing number of retail outlets in Accra, Kumasi, Cape Coast and Sunyani are stocking TAMA. The product has also been adopted by Melcom stores, giving it nationwide exposure.
For more information about TAMA products, see www.tamacosmetics.com
SeKaf Ghana Ltd www.tamacosmetics.com and www.sekafghana.com
SeKaf Ghana is a social purpose business established in 2003 in Ghana by two school friends. The Tamale based companyproduces TAMA natural shea butter based cosmetics as well as exporting certified organic unrefined shea butter and shea oil to international cosmetic companies.
Through its environmentally friendly and ethical supply chain it trains the local Kasalgu Women's Cooperative to produce premium unrefined shea butter and buys organic nuts from over 1600 local women. It is committed to improving the economic status of rural women shea pickers and processors in northern Ghana through innovative and sustainable employment.
Stephanie Green
Marketing Manager
TAMA cosmetics, SeKaf Ghana
Tamale, Ghana
[email protected]
www.tamacosmetics.com
Beauty from nature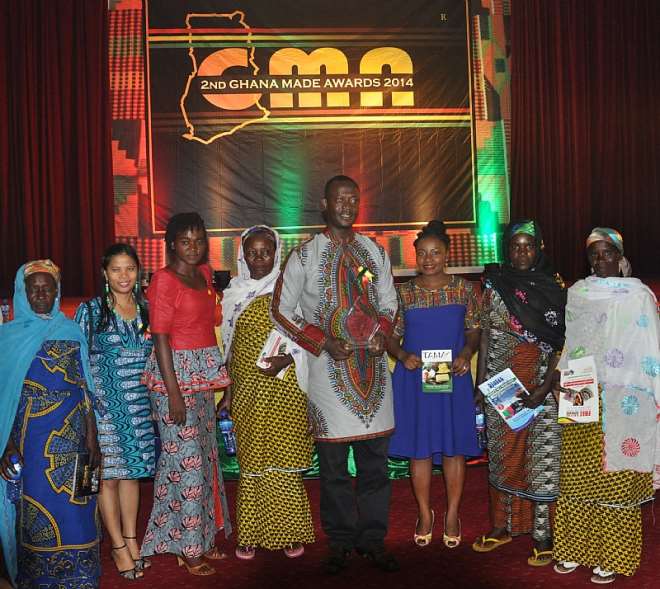 SEKAF MADE IN GHANA AWARD