On Matters Concerning The Fight Against Corruption In Ghana, Should President John Dramani Mahama Continue His Government Style Of Tackling The Menace Or Should He Go The Ex Prez Kufuor (NPP Gov't) Style?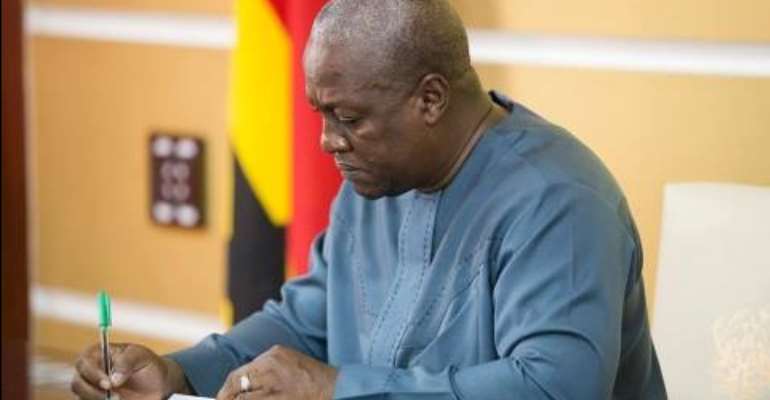 I asked this question simply because, over the last one and half years Prez Mahama has on many circumstances demonstrated his government commitment to fighting corruption. One can talk about the establishment of Sole Judgement Debt Commission, Investigation into alleged GYEEDA scandal and subsequently making the report available to the public and its onward trial, firing of former SADA boss and subsequent dissolution of its board and putting in place a new one, ongoing commission of enquiry into 2014 world cup participation, and the latest BNI exposé at NSS which we are reliably told that Prez Mahama ordered the investigation among others.
Now, in all sincerity, there is a clear shift or departure from the way and manner the erstwhile ex Prez Kuffuor led administration tackled corruption. We all remember infamous statements like '' corruption is as old as Adam'', ''sometimes I have to pinch myself to remind myself that I swore an oath as a President'', I will not expose corruption in my government for my government to collapse, my government will not rely on newspaper allegation/mere hearsay etc.
My preamble question is based on the fact that, some people in this country want to create the impression that, there is more corruption in this current government than ever. This claim or assertion by those people is largely due to fact that, the number of reported or exposed cases of alleged corruption appear to be in public domain.
Unfortunately the opposition NPP is making a lot of political capital out of it as if to suggest that this government has lose the fight against corruption. What the NPP however forget is that, the NDC government led by Prez Mahama promised Ghanaians transparent, honest and accountable governance which is why all these alleged cases of corruption are investigated and the reports are put in the domain for discussion.
Now some people within the NDC party are beginning to feel that, the more government expose issues of alleged corruption, the more government provide weapons/ammunition for its political opponents against the NDC ahead of 2016.
But I think that, one way of discouraging corrupt practices in the country is to NAME and SHAME the perpetrators identified in addition to prosecution such culprits in the court of law. And I think that President Mahama is certainly on course. What I think as citizens of this country we need to do is to support the government in its commitment and bid to fight the menace of corruption if truly we really want to see this country in that direction.
Ghanaians must also desist from unnecessary politicisation of corruption irrespective of whoever is involved because, the moment corruption is identified with any political party colour, then the whole issue will turn into a ''political football'' i.e you do me, I do you or you name me, I name you kind of debate. When this happens, the substantive matter is left unattended to and in the end, no meaningful solution would be identified.
Let's remember one of the stanzas of our national anthem which read in parts as follows; ''we are all, involve, in building our mother land''. Therefore every citizen of this country has a role to play in the fight against corruption.
God bless our home land Ghana.
From Baba Musah,
Former TEIN President
University for Development Studies
Tamale