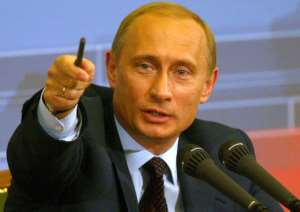 By "resetting" some strategies, Russia and Africa have entered a new phase of growth in their economic diplomacy mainly due to rising interaction by high ranking government officials from some African countries with their Russian colleagues during the first half of 2014. Undoubtedly, Russia's intensified move to invite delegations has often been interpreted among academics and policy experts as a result of escalating competition and increasing economic influence by many foreign players in Africa.
Professor Georgy Toloraya, Chair of the Regional Projects Department, "Russkiy Mir" Foundation and an Executive Director, BRICS National Research Committee in Russia, explained that "in the wake of increasing conflict with the West and European Union, Russia has to turn it's attention (especially in economy) elsewhere and Africa is the obvious choice. The time has come to make meaningful efforts to implement agreements on bilateral basis. Furthermore, Russia is a part of the BRICS efforts in Africa, which might be one of the areas of investment activities by the newly created New Development Bank of BRICS."
As media reports have indicated, Russia will assume the BRICS presidency and prepare the 7th Summit in 2015, President Vladimir Putin may attempt to use the group to strengthen its policy in Africa. Observers also noted Russia considers the grouping an absolute foreign policy priority. Brazil, India and China are very visible on the continent, but can they also have a meaningful unified BRICS foreign policy in Africa? Foreign players have their individual interests and varying investment.

Some experts acknowledge that never too late to enter the business game but what requires here is to move beyond old stereotypes, prioritize corporate projects and have a new policy strategy for the continent, - a market of some 350 million middle-class Africans. Of course, Russia has to risk by investing and recognize the importance of cooperation on key potential investment issues and to work closely with African leaders on the challenges and opportunities on the continent, Andy Kwawukume, an independent policy expert told me from London, noting objectively that Russians were trying to re-stage a come-back over the past few years which was a commendable step forward.
Kwawukume, a Norwagien trained graduate, pointed out that "there is enough room and gaps in Africa for Russians to fill too, in a meaningful way, which can benefit all parties involved. The poor and low level of infrastructural development in Africa constitutes a huge business for Russian construction companies to step in. Energy is another sector Russians can help in developing. Over the past few years summits have become increasingly common and interactive dialogue are also very helpful that Russian officials should consider using its Russian trained African graduates as bridges to stimulate business cooperation. Really, what Russia needs is a multilayered agenda for Africa."
But, John Mashaka, a Tanzanian financial analyst at Wells Fargo Capital Markets in the U.S., argues in comments that Russia is going to remain relevant in Africa if its leaders can design a policy or mechanism that will enable its people and corporations to secure credits - loans - with favorable terms including payment. It must counter Chinese increasing economic influence with much better packages such as concessional and low-interest loans. There are chances to turn the business tide and if Russians can come with a different mix of economic incentives, without doubts, they will be taking from the track where the former USSR left after the collapse of the Soviet era.
Declaration on Strategic Partnership
During the first half of 2014, African delegations at various levels visited Moscow from Algeria, Angola, Egypt, Mauritania, Morocco, Mozambique, State of Eritrea, Sudan, South Sudan, Uganda and Zimbabwe.
Foreign Minister Sergey Lavrov pointed out that the purpose of the visit was "to develop a trustworthy political dialogue and strengthen mutually beneficial bilateral cooperation in accordance with the declaration on strategic partnership and to forge cooperation in mutually beneficial economic spheres," - an official phrase that has run throughout (nearly all) his speeches, summarizing the results of the negotiations with African officials and posted to the ministry's website.
Lavrov further stressed the situation in different African regions, including to the north of the Sahara, in the region of the Horn of Africa, including the situation in Somalia, in the Republics of Sudan and South Sudan, the Central African Republic, in the Great Lakes Region, which is the key focus of attention in the foreign policy. "We would like to contribute to the normalization of all multifaceted ties, as well as the settlement of other problem issues in the African continent," in the words of Foreign Minister Sergey Lavrov.
In May, while addressing African diplomatic representatives, Lavrov said: "we will continue to assist states of the continent in other areas both bilaterally and within multilateral formats. As it is known, Russia has written off over US$20 billion debt of African states. We are undertaking steps to further ease the debt burden of Africans, including through conclusion of agreements based on the scheme debt in exchange for development."
In an article headlined: "Russia and Sub-Saharan Africa: Time-proven Relations" published in the magazine "Russian View" in May, Sergey Lavrov gave additional information on gains made in policy implementation in Africa. It says that the economic forum "Urals-Africa" held in Yekaterinburg in July 2013 and attended by delegations from about 40 African States confirmed broad opportunities for enhancing cooperation with Africa.
"Our country takes significant practical steps to assist sustainable development of African States. Russia provides African countries with extensive preferences in trade and contributes to alleviating their debt burden - the total amount of debt relief exceeds US$20 billion. Debt-for-development agreements for a total amount of US$552 million were concluded with certain States," Lavrov wrote in the article.
He added that "the training of highly qualified specialists for various sectors of the economy, as well as healthcare, is another aspect of our efforts. Currently, more than 6,500 Africans study in Russian higher educational institutions and nearly half of them - at the expense of federal budget funds. More than 960 Russian government grants are provided annually to countries of the region. Russia takes an active part in establishing the Global Fund to Fight AIDS, Tuberculosis and Malaria and has joined the Global Polio Eradication Initiative."
Obviously, Russia continues providing the necessary politico-diplomatic follow-up for the African activities of such leading Russian companies as Alrosa, Gazprom, Lukoil, Rusal, Renova, Gammakhim, Technopromexport and VEB and VTB banks, which are engaged in large-scale investment projects on the continent. Positive dynamics are evident in the development of Russian-African cooperation in the minerals and raw materials, infrastructure, energy and many other spheres.
As an illustration, Russia has shown interest in strengthening close ties with Libya in trade and energy and expanding military and technical cooperation. "We are closely examining developing relations with Libya. We support the efforts taken by the Libyan authorities to stabilize the situation in the country and ensure national reconciliation," Russian President Vladimir Putin reiterated this fact in June during a diplomatic accreditation ceremony for 14 foreign ambassadors to Russia broadcast on Rossiya-24.
Criticisms and Advice
Enthusiastically, some experts have offered both criticisms and expert advice, often comparing Russia's economic investment and influence to other foreign players. As Dane Erickson, a lecturer at the Graduate School of Public Affairs at the University of Colorado and formerly a visiting scholar at the Africa Studies Center at Beijing University, argues in his recent article published in July: the reality is that China is among many international players that have increased their attention to Africa in recent years.
Largely due to Africa's growing reputation as a region for commerce, over the past few years China, India, Japan, and the European Union all have hosted regional meetings similar to the U.S.-Africa Leaders Summit. Africa's fractional share in global foreign direct investment (FDI) is on the rise, and trade between Africa and a multitude of nations is also increasing rapidly.
China trade has increased rapidly. For example, China is the most conspicuous among these actors. China's first Forum on China-Africa Cooperation (FOCAC) occurred in 2000 and larger conferences have taken place every three years since then. And while China's official FDI is only 25 percent of that of countries like the U.S. and France, its trade dwarfs the figures of other nations. Up from just $10 billion in 2000, Chinese-African trade came to nearly $200 billion in 2012, double that of the United States, the continent's second largest trading partner.
"The most conspicuous aspect of Russia's involvement in Africa is its absence," says John Endres, Chief Executive Officer of Good Governance Africa from South Africa, adding comparatively that "whereas the Soviet Union was quite extensively engaged in Africa in the form of proxy wars, as a promoter of communist ideology and as a supporter in the anti-colonial struggles, Russia has almost entirely abandoned the field to others during the past two decades."
But maybe, Endres argues further, this is not entirely surprising, considering that Russia is itself a resource-rich country - in contrast to China, for example, it does not need to go searching abroad for most of its necessities. And Africa is still very small as a factor market and as a demand market, so Russia can afford to ignore it. Nor does Russia have an ideology that it would want to peddle around the world.
Outcomes Remain Invisible
Professor Gerrit Olivier at the Department of Political Sciences, University of Pretoria, and former South African Ambassador to the Russian Federation, wrote that when President Dmitry Medvedev visited Africa in 2009 (Egypt, Angola and Namibia), mainly to boost business, South Africa was left out rather conspicuously.
"What seems to irk the Russians, in particular, is that very few initiatives go beyond the symbolism, pomp and circumstance of high level opening moves. It is also still not clear how South Africa sees Russia's willingness (and intention) to step up its role in Africa, especially with China becoming more visible and assertive on the continent," Professor Olivier added.
As an important role player, it would seem to be in South Africa's interest to promote and cultivate a new Russian presence in Africa, something very different from the Cold War role of the Soviet Union, but a role that could promote development and stability in Africa by introducing more healthy competition, partnership, and greater responsibility among the major powers active on the continent.
Important though is the fact that the Soviet Union never tried to colonize Africa. Soviet influence in Africa disappeared almost like a mirage with the collapse of the Soviet system in 1991. And today Russian influence in Africa, despite efforts towards resuscitation, remains marginal. While, given its global status, it ought to be active in Africa as Western Europe, the European Union, America and China are, it is all but absent, playing a negligible role, according to the views of the retired diplomat.
"Russia, of course, is not satisfied with this state of affairs. At present 'paper diplomacy' dominates its approach: a plethora of agreements are being entered into with South Africa and various other states in Africa, official visits from Moscow proliferate apace, but the outcomes remain hardly discernible. Be that as it may, the Kremlin has revived its interest in the African continent and it will be realistic to expect that the spade work it is putting in now will at some stage show more tangible results." Professor Olivier wrote from Pretoria in South Africa.
According to a recent research survey conducted between January and June 2014 by Buziness Africa, both Russian and African policy experts suggested that the existing Memorandum of Understanding (MoUs) Russia has signed with African countries and together with various economic agreements reached by the joint business councils over the past few years provide solid framework for raising vigorously its economic influence as well as strengthening bilateral relations to an appreciable levels between Russia and Africa.
Kester Kenn Klomegah is a keen foreign policy observer and an independent researcher on Russia and Africa. In 2004 and 2009, he won the Golden Word Prize for series of analytical articles highlighting Russia's economic cooperation with African countries.