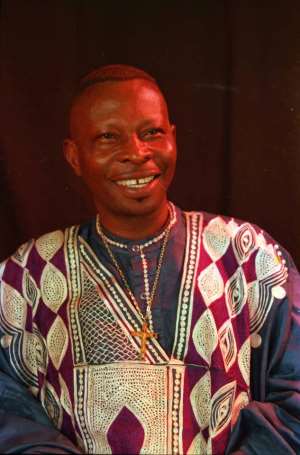 The Legendry Mr. AAA
One of Ghana's finest Highlife music legends, Akwasi Ampofo Adjei, affectionately known as Mr. AAA by his peers in the music industry and indeed music loving Ghanaians, passed on a decade ago.
Mr. AAA was a household name whose music has impacted positively on many lives, homes and society at large.
In recognition of his works to society and the music industry, the family of the late highlife music icon has lined up series of activities to commemorate and celebrate the 10th anniversary of the maestro's passing.
Some of his contemporary and mentee artistes are converging in his hometown of Asante-Mampong on Saturday, 2nd August, 2014 to celebrate and honor his memory.
The climate of the occasion is a 'Mega Open-Air Hi-life Concert Party' with a lineup of artistes led by Abrantie Amakye Dede, Prof. Kofi Abraham, Ali Baba Foster, Adomako Nyamekye, Obuoba J.A Adofo, Nana Tufour, Papa Yankson and a host of other hi-life Artistes.
According to Benjamin Osei Ampofo Adjei, a family spokesperson, 'the Concert would be considered the home coming of most of these Hi-Life musical artistes especially Abrantie Amakye Dede, who together with others, were all mentored by Mr.AAA, thus making the event a fitting tribute to his memory'.
Under the auspices of the occupant of the Amaniampong Silver Stool of Asante Mampong, Daasebre Nana Osei Bonsu II, the MCE of Asante-Mampong and other prominent personalities of the area, a brief durbar would be held at the AAA Square to eulogize the memory of the legend and his works.
A performance by the Famous Amaniampong Nyomkro will precede the Live open air hi-life concert.
Other events include Inter-Community Gala Championship Cup Tournament, a Fun Football Match between Media 11 and Musicians and Actors Guild to crown the winner of the Inter Community Gala Champions and Multi TV Concert Party at the Magnificent Video City Theatre at Asante-Mampong.
There will also be an event to decorate and lay wreath at the tomb of Mr. AAA.
The event will end with a Memorial Thanksgiving Service at St. Paul's Roman Catholic Church, AsanteMampong.
Benjamin Osei, who is one of the sons of Mr. AAA is hopeful the commemoration 'will bring to life those happy days of his famous Kumapim Royals International Band and their creative musical art works, reminiscing their past and also deliberately creating excitement and a lively atmosphere with good Hi-Life music for patrons to celebrate the occasion.'
Story by Kofi Adu Domfeh