Ghana's Seaweed Challenge: Thinking Loud Than Worse: Perspectives From The Community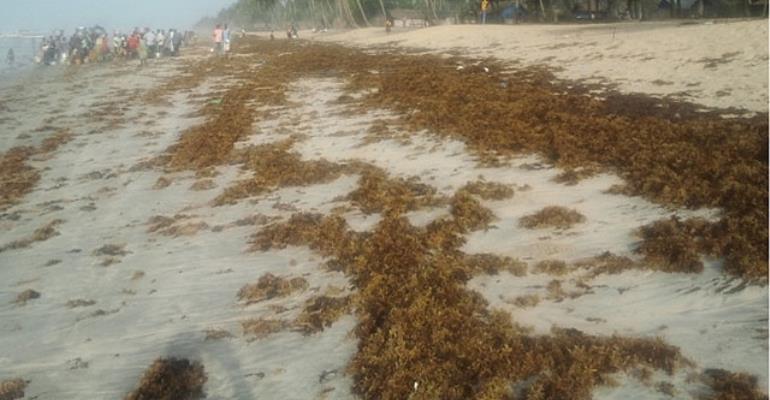 Engaging fishermen along the frontline communities of the Jubilee activities for the past two years, and now in my third year; I have come to terms with most of the critical needs, challenges and aspirations of fishermen. Sometimes it even extends to personal aspirations and requests.
To be candid enough, some I have considered merely sensational and out of unguarded expectation. Others I have rooted for and attested to as absolute realities.
Taking cognisant of the increasing decline in fish catch, the infamous dead whales, hostilities from naval personnel, and the increasingly restriction due to the expanding exclusive zones. These are absolute and real. No attributions though.
Indeed one issue I have always felt requires urgent conversation has been how to sustain the fishing business through mutual co-existence amidst increasing upstream activities. Not aquaculture I mean. As more infrastructures take over the sea with the discovery of more fields, I am often left to wonder if fishing will still have the leverage.

Interestingly enough most of the fishermen have managed to attribute their challenges, even domestic, to the oil exploration and production activities. Perhaps to reaffirm a local saying, that, 'it is only when you smell that people make it worse with flatulence'. So for me these are well manageable as they are more anticipated than expected.
We all know Sargassum (the one belonging to class Phaeophyceae), the increasing popular seaweed (very brownwish). Just like the declining fish catch, it's not something new. It is not something I will also call sensational. This even the fishermen agree. The one thing that seems to bedevil all of us is the manner and magnitude since the oil activities began.
Two weeks to this piece I was at a popular beach in Takoradi to pursue my admiration for nature. Walking along the edges, I saw these brownish weeds spread at the shoreline. Out of curiosity I went to pick a couple. Lo and behold it was the weed. I took pictures for reporting purpose although I was on a holiday. ''These have even reduced'' says one reveler, as the others kept admiring my curiosity and interest.
Since the oil production began off Cape Three Point about four years ago, there have heaps of these weeds at the beaches of coastal communities almost every year. As they are washed ashore, they spread widely, provides very appalling scene, and covers the beach sand. And in as much as it causes harm and pain not much has been done to establish it 'whereabouts'. Stakeholders have only taken pleasure in 'talking and attracting the very worse of attention and media', whiles communities and fishermen continue to 'bear it burnt'.
As seasonal as it has become, this year has been no exception. Just as usual the mostly affected communities have been those in the Jomoro and Ahanta West with marginal reoccurrences in the remaining coastal districts including my very own Shama.
Speaking to a colleague in the Jomoro District, it's obvious my 5/10 height is not a guarantee for me to be seen from the side view of a heap.
The talking has begun as well. With many expect views being shared. Report says the Environmental Protection Agency has begun investigations into the menace. Whiles I hope this is true, it is also my hope that they finish in time and with something credible. Going further, Civil Society is doing its best to attract the necessary attention and ensure oil companies take ownership. Oil companies continue to play their innocence. Government remain adamant. While the community battle with even the cleaning.
In my own district of Shama fishermen have not been spared. Apart from the stories they tell me I have seen many removing the weeds from their net under extreme 'perspiration'. A phenomenon they say has added to their lot just as it has always being. Engaging Uncle Awortwe at the Apo shore while he went about removing debris from his net last three weeks, he tells me 'junk' of the weeds have locked at the bank of the seasonal island separating the sea from the Pra river.
Perception versus Reality
Just as I stated earlier, the seaweed is a reality. But as to it emergence still remains perception in Ghana. All that has been offered has been 'secondary-book knowledge' taking cue from countries elsewhere. But this has not stopped the fishing communities and environmental NGOs from 'speaking loud'. To these, the weeds are uprooted from the ocean bottom and subsequently washed ashore as result of ongoing exploratory activities and vessel movement offshore. This allegation no one can ascertain or otherwise deny.
Speaking to a leading chief fisherman, oil companies cannot be blamed in entirety, as the weeds have been there even in his fishing days. He even mentions some green weeds that surface from time. Just as with all, the magnitude baffles him as well. He wonders the relevance of the EPA in this controversy.
In the island town of Key Biscayne in Miami-Dade County, Florida, United States, the Hurricane season, June to November has also been declared seaweed season. During this period residents and visitors are advised to expect large quantities. There, a contractor has been hired to clean the beach regularly during this period. Again, the community has been empowered to recycle the weeds.
''Distinguished experts'' say it's a 'natural occurrence that comes with certain seasonal climatic changes and soil conditions'. They say ''Accumulations on the beach of floating Sargasso seaweed and seagrass removed locally from the ocean bottom are naturally recurring events at high tide. Amounts usually vary by season. The volume and duneward extent of the accumulations depends on the wave action and is influenced by currents, the strength and direction of wind and by tidal effects. Higher winds usually cause more seagrass, seaweed and other detritus to be deposited along the beach''. Good.
According to the Food and Agriculture Organisation about ''3,139,473 tons (wet weight) of seaweed were produced throughout the world, the bulk produced in Eastern Asia, in 1987''
Taking a cue from Dr. Joseph Addo Ampofo's (of the Water Research Institute at the Centre for Scientific and Industrial Research (CSIR) claim as reported, that ''the weeds could spread more rapidly if the levels of pollution of the sea keeps increasing as the weeds feed on nutrients in the pollutants'', one is left to wonder the dignity of Ghana's territorial waters. You are also left to wonder if wastes from vessels offshore are being monitored to ensure they are properly managed.
In the latter part of 2013 when I visited Busia with a colleague of mine, one fisherman showed us a container containing some dark sticky substance he claims to have found in the sea when he went fishing with his company. No eyebrows.
Challenges
The socio-economic impacts of Sargassum are tripartite in nature. It has a part in fishing, a part in the community, with another defacing the struggling tourism industry.
In the middle of 2012 when I had the opportunity to take part in an ESIA Consultation, I learnt of the frustration the weeds are imposing on fishermen. From Half-Assini to New Town we recorded complaints of weeds trapping nets and destroying them. As it is happening, fishermen are now making a new seasonal catch of weeds. They say every net cast comes with these weeds. According to them there times they feel the heaviness of their nets only for them to drag it to find their nets filled with weeds. These they say keep destroying their nets and take most of their time to remove the weeds and debris from the nets. It has also worsened their plights as they most often come home with more weeds than fish.
In terms of the community, the sargassum is making most coastal communities uninhabitable and depriving them of humane relaxation and fresh breath. Residents cannot longer enjoy the serenity of the beaches endowed them. They also cannot enjoy their swimming as they are likely to have rashes. Some are now even complaining of eye problems. The weeds when left to decompose produces strong stench which they say makes life and pleasure unbearable. Now they are left to clean on their own as Zoil workers have abandoned their job.
With tourism, the challenge is obvious. No one will want to spend time at the beach and return more troubled. No tourist will be attracted to some unappealing piles of rotting seaweed along the beach. Resorts will have to spend more efforts and money maintaining their beaches or risk losing clients who comes there as result of the serenity of the beaches. At a forum sometime last month, a nicely curved white lady one that dispelled my notion of white ladies complaint of skin rashes she got from swimming at a reputable beach engulfed with the weeds. She has sworn never to return until all has been fixed.
Way forward
Already the Western Regional branch of the Canoe fishermen Council are requesting support from the oil companies to enable them organise residents to ensure regular cleaning of the weeds. Although their request is yet 'to see the light of day', I believe it is an initiative that requires support and effective structure to ensure it is well managed. Oil companies must begin expanding their Shoreline Response preparedness by engaging the community to regularly clean the beaches, as best practice requires clean beaches to ensure effective response in the event of an oil spill. This we all know will not cost them much. Not even as compared to the amount spent on some 'artificial social investment' that ends up leaving the community more deprived. Perhaps the only fear in this lies in the manner the conduct will be perceived the community and NGOs as they already alleges the weeds are springing as a result of the oil activities. Fundamentally the mess will be cleared.
At Efasu last two years, I got to know that one fisherman has taken the bold step in turning the smelly weed into manure. But to what extent can he go. I believe this is an option we must explore in a hurry particularly now that government is thinking of setting up fertilizer manufacturing plant somewhere in the Western Region.
Indeed, thinking loud will require us all to see the weed beyond it menace and explore the ways we can make it work now that it seems to be here with us, even if seasonal. It will require extensive research conducted by the EPA, verified by Civil Society, and a well resourced independent evaluation panel to not only ascertain the nature of the weeds but also how it can be transformed and recycled to benefit the very fishermen.
For now I am only preview to an invention by the University of Alicante in Spain that ''cleans the plant matter, leaves the salt water and sand where it is, and then uses the seaweed as a source of power''.
''In the Channel Islands it is said to help in giving Jersey Royal potatoes their unique taste. Greenkeepers have used a liquid seaweed fertilizer for years to produce healthy turf in parks, golf courses and even football pitches''.
In my next issue on sargassum I will explore in detail how the weed is getting society transformed starting with my very own, The Village of Key Biscayne in Miami-Dade County.
The Writer Bernard Kwofie Is A Community Liaison Officer With One Of Africa's Leading Independent Upstream Companies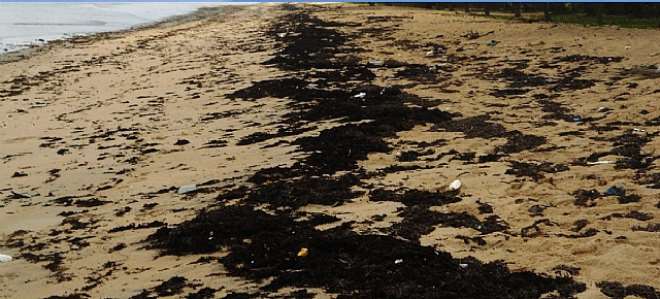 2014-04-30 095548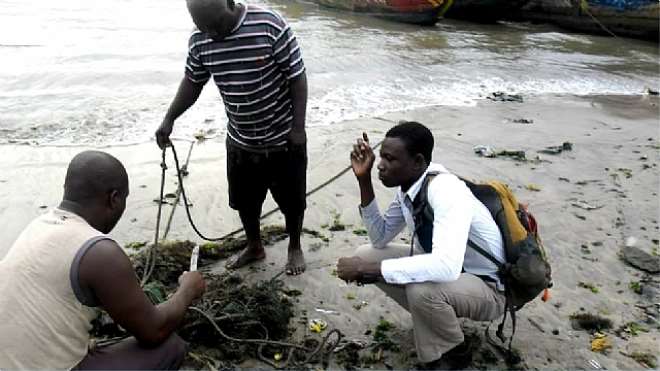 2014-04-30 095630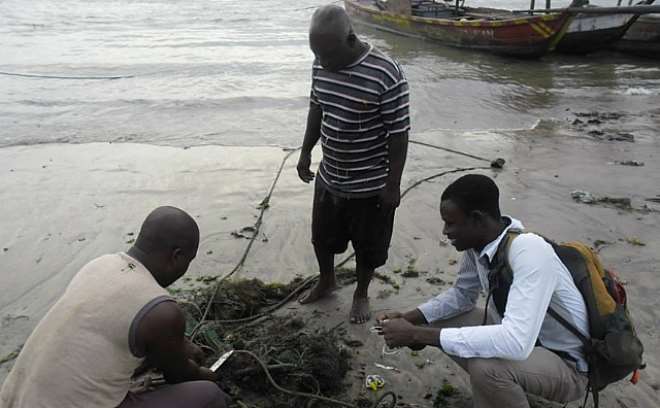 2014-04-30 095801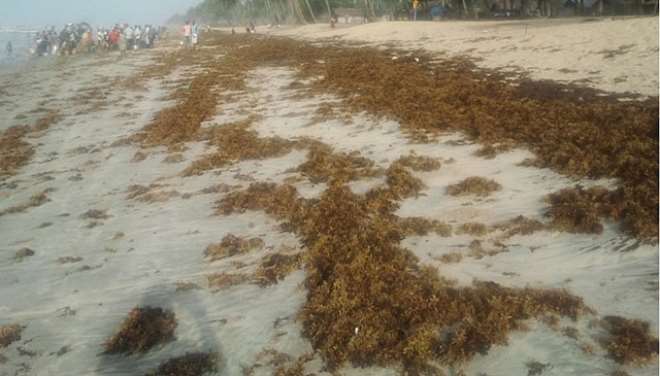 2014-04-30 095831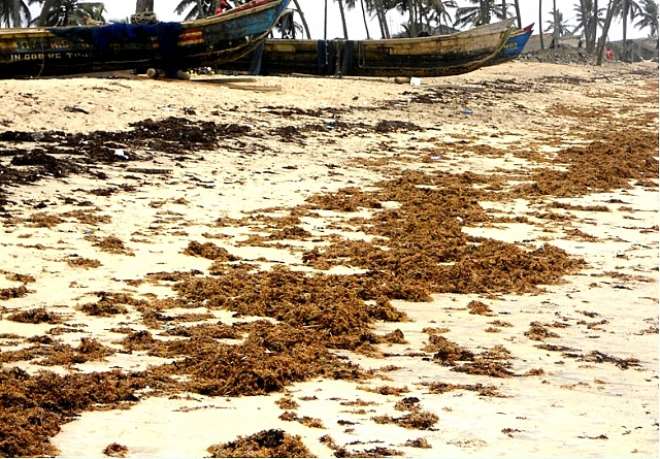 2014-04-30 095908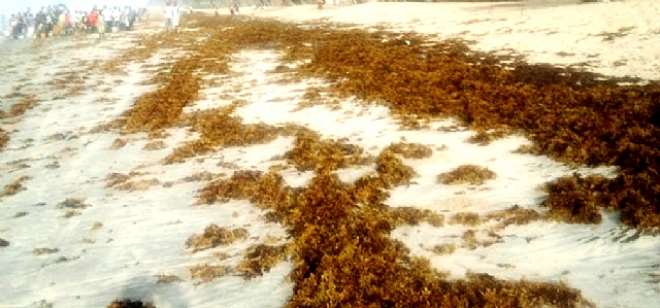 2014-04-30 100322