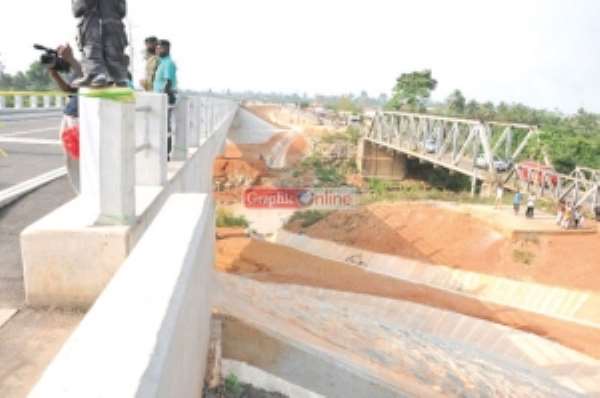 President John Dramani Mahama yesterday inaugurated the rehabilitated 60km Asante Bekwai - Assin  Praso trunk road with a call on Ghanaians, particularly the youth, to bear with the government as it initiates action to either construct new roads and rehabilitate existing ones.
Speaking at Assin Praso in the Central Region Thursday, he said the government did not have the resources to work on all roads at the same  time, adding that little by little all the roads would be fixed
He, therefore, expressed concern about youth who sometimes resorted to violence in a bid to compel the government to rehabilitate or construct roads in their areas.
The rehabilitation of the road, known as the National Trunk Road 8, also involved the construction of a new bridge on the Pra river. The project was financed with a grant of $100 million from the Japanese government. History of project
Between 1990 and 1994, the road, which formed part of the stretch from Ashanti Region to Yamoransa Junction, underwent a major rehabilitation with asphaltic surface, with a credit facility from the Japanese government.
But due to the increased vehicular traffic, the road deteriorated.
In February, 2006, the Ghana government made a grant request to Japan for funds to rehabilitate the road.
 In July, 2009, a grant agreement was signed between Ghana and Japan through the JICA, paving way for the rehabilitation work to begin.
Actual work started in April, 2010 and was completed in December, 2013. Importance of the road
President Mahama described the road as one of the most important in the country as  it served as a connection between the northern and southern sectors of the country.
He said timber and other products were transported on the road, underlying its importance in national development. Japan relations
President Mahama said the project was symptomatic of years of strong relations between Ghana and Japan
He said he had already requested the Japanese government to provide additional support to extend the project to Yamoransa.
He appealed to Japan to restore the Yen credit facility which was cancelled when Ghana joined the HPIC initiative. Japanese ambassador
The Japanese Ambassador to Ghana, Mr Naoto Nikai, said the Japanese government was pleased to be part of the project which had enormous benefits to the people and the country.
He expressed the readiness of Japan to continue to partner Ghana for the latter 's development efforts.
In a welcoming address, the President of the Central Regional House of Chiefs, Daasebre Kweku Ewusi VII,  commended the President for his commitment to rural development.