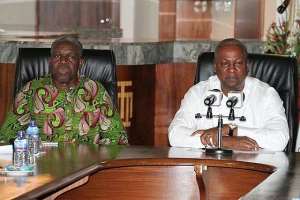 For the benefit of the readers who had the chance and opportunity to read the curtain raiser of the article captioned, "Has Ghana any future?" should count themselves lucky. Character -istic of my articles, this concluding part promises to be more than mouth-watering.
Those who never had access to it however, this should be more tantalizing and mind-boggling since this beautiful nation of ours called Ghana and its present crop of leadership does not want to be alive to its responsibilities to provide the basic amenities and productive services. Instead of providing us with decent mechanisms and efficient structures to make life worth living as advised by no ordinary personality than President Barack Hussein Obama sometime in July 2010, they rather deviate from it and decide to create, loot and share at our expense. How ever, some of us will never stop; but to fight the good fight till sanity prevails. Now read on.
• Has this country any future at all, if the general populace will be forced to swallow the prescribed bitter pill from the Chinese as there is complete evidence that the remaining tranche of the $3bn. loan will not be forthcoming; yet the nation continues to struggle to pay $54m to them periodically for no sweat for the 'so-called' undeserving commitment fee?
• Does Ghana have a future if the Speaker of Parliament as the third gentleman of this country, suddenly grows some wings and attempts to fly from the floor of the House by saying: "I have made a ruling; I know some may disagree and agree, and bla, bla, bla. By using his veto (krakye) powers to brush aside and throw such a delicate and fragile national issue into disarray because his NDC party incidentally has the yea, yea majority in parliament was not the best of practice in a case involving the sale of Merchant Bank to "For Thieves" that affected all Ghanaians. It is the bank that has been set up with seed money from all pensioners. Their monthly contributions for the long years of active service to Mother Ghana are deposited monthly by SSNIT. If such bizarre and unwanted arrogant attitude and show of power/pride must be allowed to eat into our body politic, then Ghana must be heading for the doom. Fact is a fact and that is the opinion of the author; you may take it or leave it!
• If the above assertion of the Speaker should lend credence to the initial court ruling that nullified and rendered Andrew Awuni's suit in respect of the 'bogus' sale impotent on the premise of "no locus", then the general public must quickly rise up to vehemently demonstrate, and challenge the authenticity of the possible payment of ESB to the 275 MPs and the Speaker at the end of 2016 to teach them a lesson.
• Has Ghana any well meaning democratic future if Sampson Ahi and Afrifa Yamoah Ponkoh, both NDC big wigs; MP for Sefwi Juaboso constituency and MCE for Ejisu-Juaben respectively were mercilessly beaten up by some strongmen from their party? While the former took place in the House of Parliament some 5 years ago; the latter was at his own office recently in the full glare of his subordinates.
• The major event of 2013 showed all Ghanaians without consultation from rocket scientists that indeed, without being driven and directed by their stomachs, (definitely, not by their conscience), many politicians and judges cannot thrive to survive in this country as human beings. True or false?
• Has Ghana some hope for the future if, after all of Mr. Rawlings's effusions and dramatic ranting before students of Adidome; without any provocations whatsoever from his successor, Mr. John Agyekum Kufuor in the Volta Region, he should confirm or deny if, personally, he never knew about the skirmishes made by her better half, Nana Konadu Agyeman Konadu, in the purchase of the Kanda GNTC building plus the plot of land in his hey days as Chairman Rawlings of the PNDC? He should give us a break and leave us alone to feign for ourselves in this trying Mahamaian era where a 4.5 litre/gallon of kerosene/paraffin sells for Gh¢14.00 or $6.30 and Shell's Effimax petrol sells for Gh¢13.37/gallon.
• Will Ghanaians have hope for the future if prices of commodities and services and taxes keep escalating day after day instead of putting better and perhaps, permanent and sustainable structures for poverty alleviation?
• Why will God not be angered to rain the plagues of the biblical Egypt on Ghana if our judges who should behave as His representatives for fair play, due to unpatriotic and 'monecratic' tendencies, pervert justice and corrupt their ruling and blatantly state that 'truth' does not matter in a court of jurisdiction in the controversial August 29, 2013 verdict of international dimension?
• Has this nation any future if the Okyenhene (Paramount Chief of the Akyem Abuakwa Traditional Area) of all chiefs, could be hauled to the courts by the police and continue to live in his domain (definitely not all stay at the barracks, but in private houses), to carry about their police duties, then something should have gone amiss?
• Has Ghana any future for investments from foreigners if land-guards have special extra judicial powers than the mainstream security services of the State?
• How can the country have a bright future if a former president is always envious and all the time at the throat of his colleague ex-president?
• How can pettiness, pride and jealousy impregnate a former president who, for 19 good years in the captain's seat as first, Chairman of the Armed Forces Revolutionary Council (AFRC); second, Chairman for the PNDC military dictatorship for 11 years and third, NDC civilian government for 8 years, held the country spell-bound in his hands like an egg be envious of another president? David and Uriah in this instance?
• Do we have a future that will not be an uninterrupted one by certain miscreants if we entrusted the governance of this country into the hands of imbeciles and corruptible fraudsters in responsible positions as Deputy Speakers and ministers?
• Has Ghana any genuine and undisputed future if there cannot be any choice from amongst the 24 million people to be made the Ambassador to Malaysia other than Dan Abodakpi, an ex-convict who later received presidential pardon? How did he present his letters of credentials in Kuala Lumpur? Could there not have been any other alternative as chairman of a public board instead of Kwame Peprah, another ex-convict? Haaba! Why does president Mahama delight in legalizing illegalities in cognito? The governance of this nation has become like drilling a borehole in the Andes rocky mountains of South America.
• Why will Ghana not become a mockery of justice when so much foreign exchange was paid to the Korea STX housing deal as our sovereign guarantee that never gave birth to light?
• If such appointments are allowed to go on without any finger raised, why will the one year in office of JDM not be fraught with irresponsible, un-transparent and unaccountable governance?
• Has our motherland any realistic future if the leadership of this nation delights so much in lies and deceit as their bread and butter to always create, loot and share and clean their mouth as if nothing had gone wrong?
• Has Ghana an enviable future to be proud of, if a former Army General in this part of the world, irrespective of whatever matter that has arisen, unashamedly has the guts to fight over parcel of private land that has not been acquired by the military (so to speak) with his land owners? Will General Powell of the USA ever become a disgruntled litigant to quarrel over land issue? How did the Ghanaian general get his money for the purchase? Was it his salary or did he use his uniform to acquire a bank loan? If so, why did he not plead for clemency for the late Col. Roger Felli, who was reported to have equally used his uniform for acquisition of bank loan for completion of his house, but was shot by firing squad? Is it not shameful for him to engage serving soldiers to disguise themselves by masking their faces during the recent infamous demolition exercise between the unholy hours of 01.00 and 03.00? Those so-called soldiers who were contracted should never sleep in any room otherwise; their wicked actions should never stop haunting them. Koto dee ne bo dwe, se eye nyanyankyere dee a, gyae no ma no nko. In every situation, there is a scapegoat. Tribalism at its best.
• In reality, has Ghana a bright future if square pegs will continuously be put in round holes by way of governance and what purpose will it serve us?
• Has any discerning mind thought about Ghana's gradual grind to a halt without any finger raised from somewhere? Where are our distinguished chiefs, intellectuals and members of the association of recognized professional bodies? Do all of us support the "anything goes" syndrome?
• Does Ghana have a future if government chooses Ashanti Region as the pilot project for the NHIS Capitation Grant to toy with the lives of a particular tribe?
• Has Ghana really a future if the proceeds from the 13,000 barrels oil a day is being used to service our commitment fee of $54m without sweat for the long awaited balance of $3bn Chinese loan that will not be forthcoming because they know it will not be put to any productive use?
• Is it sensible for Ghana to export our crude oil and also import crude oil from either Nigeria or Equatorial Guineas with US Dollars whilst TOR staff emigrate for employment as factory remains starved of production?
• Does Ghana have a committed future with peaceful co-existence, if the country continues to be permanently polarized by the Mahama-led government instead of a united front with a purpose as one nation with a common destiny?
• Does this nation have a socio-political future if the government either deliberately or otherwise, clandestinely engages in human trafficking to transport some 9,000 juveniles of both sexes aged between 9 and 15 to the Ashanti regional capital at a go to grow up and supposedly break the invincibility jinx of its opponent in the electoral victories it has chalked over the years?
• Has Ghana indeed, a good future if, after the hue and cry over the 29 August 2013 EPH ruling that was corrupted to certainly polarize the nation till now, the Chief Justice cannot immediately come out to apologetically speak her mind to calm the political nerves and the escalating tension to save face and be counted among the Eminent Citizens of the Gold Coast/Ghana and the world's greatest personalities such as the Golda Meirs, Margaret Thatchers, Indira Ghandis etc., but decides to look on unconcerned as if nothing was at stake, then we live to see?
• Does Madam know that because of her possible acquiescence to the perversion of justice re August 29, 2013 ruling that has bequeathed the series of culture of impunity?
• Could it be a truism that Ghana's oil future has been collateralized by JDM for 'good money' when he recently visited Dubai hence his 'second gear' for more action in 2014?
• Does JDM know that the clandestine subversion of the 'will' of the people shall definitely land him in the gutters one day?
• Have Ghanaians noticed the semblance of dictatorship gradually creeping into our social life with demolitions here, demolitions there and demolitions everywhere? To date, neither Okoe Vanderpuye nor Gbevlo Lartey has been reprimanded and is the president happy with the events of the passing weeks?
• Fiifi Kwetey was heard loud and clear, on most airwaves prior to the 2008 general elections that Prez. J.A. Kufuor had sold all of Ghana's gold reserves for himself and that if the NDC won power, there will certainly be no money for the country. What is good for the goose, is equally good, for gander.
• Does any hope for the future stare at us if Afari Djan continues to be the EC of Ghana after 60 years despite his disgraceful posture during the EPH?
• Ghana has an enviable and uninterrupted future with the retention of Drs. K.K. Opuni and Alfred Okoe Vanderpuye at post. True or False?
• Does Ghana's future augur well if certain key or top-most executive positions are selectively and specially allotted to persons of a particular tribe?
• Does this country have prospects for the future leaders if this government continues rto shirk its responsibilities all the time? The national water problems are the key factor.
• When does Ghana expect to have a bright future while the talents and expertise of individuals from other parties are branded as underdog non-Ghanaians and of no use to society? Will Seth Tekper throw pride aside and approach his predecessors from the opposition NPP for a clue to the tortoise speed of our Cedi as against the Usain Bolt's athletic speed of the US Dollar? Can he talk about the inflation rate still at single digit? Tweaa!
• Fellow Ghanaians, why will the unprecedented controversial sale of Merchant Bank not continually haunt and pester our minds?
• Does Ghana promise to be a country of hope and safe haven even for a moment if the selfish winner-takes-all attitude does not cease?
• Does this dear nation of ours have any prosperous future if the Mahama's government has no priority to pursue viable assets such as the completion of all the uncompleted affordable housing projects embarked upon by the Kufuor Administration?
• Has this nation any future if the mortality rate and senseless carnage on our highways has now risen to 26,000 in 13 years, i.e. an average of 2,000 annually? What competent structures can be taken by the National Road Safety Commission to avoid or reduce this drastically? Any clues, or do we cherish the world's fourth position?
• Has this nation any meaningful future if the youth (unemployed foot-soldiers) take the law into their own hands to chase out executives up north (in Wa, the Upper West Regional capital) and snatch bidding/tender box and run away with it?
• Has Ghana any future if the government has for three years been inactive and quiet over the corruption saga in respect of the alleged $862,000 unaccounted sum of money that vanished through thin air during the All-Africa Games in Maputo, Mozambique, and to date, nobody has any wind about it even though, it has been captured by the corruption net? Why can the president not punish Hons. Akua Sena Dansua and Clement Kofi Humado for wrong doing?
• Has Ghana any future if an Immigration officer, a lady banker and two male bankers one of which a manager, have been mysteriously murdered in cold-blood in a matter of days in Tema and Accra in succession by unidentified gunmen under president Mahama's government and Mohammed Ahmed Alhassan's police administration? In view of these, is his retention any much more useful?
• Has Ghana any promising future? Certainly, no! The future is very bleak under this normal circumstance where a 50-kilo bag of cement now sells at the factory for Gh¢18.75? How much per bag will the final consumers buy outside of the factory?
• Have this country and its citizens any respect like before?
• Has Ghana a well-crafted and deserved future for its citizens if charlatans from say, the Tema Development Corporation (TDC) hire out the services of the police and military to carry out demolition exercises at Tema, Ashaiman, Adjei Kojo and its environs to deprive ordinary citizens millions of hard earned cedis?
• Indeed, has this country any future if the hierarchy of the Ghana Police and the Armed Forces acquiesce to stoop so low to the uncivilized and illegal request from the TDC to follow them for demolition exercises (destroying as many as sixty (60) uncompleted and completed occupied houses at the expense and at the behest of their core functions of maintaining law, peace and order and securing and/or defending our territorial borders from external aggression but have decided to relegate such professionalism to the dogs and behave as if they have been taken hostage as sheep for the slaughter at the abattoir? Haaba, is this not disgraceful and complete humiliation to our police/military chiefs? How often do you hear that the British Police and the Army accept undignified requests from civilian institutions (aside the construction of Bailey bridges and emergency relief duties etc.) and acquiesce other than their core duties whilst many affordable housing units started by the previous government needing just the finishing touches have been left undone/unattended to rot? That is civility at its best.
• Why will our nation not have a bleak future if the whole judicial system is totally fraught with perversion of justice for monetary gains? The author dares anyone to arrange a contest like Prophet Elijah versus King Ahab and wife, Jezebel. If no money changed hands before the August 29 ruling, fire should come from the heavens to devour the author. On the other hand, if it was the opposite, at least one of them should be consumed by the same fire to serve as deterrent within six months.
• Does Ghana have any future, if the whole society including all the arms of government has virtually become sick of corruption from hair to the toe? At least, Ghana ranks third in the whole wide world, so the author should be justified! It is my prayer the Lord hides the rest of the oil till this generation phases off for the next one because we're damn wicked.
• Has this country any future benefits if the leadership does not have regard for integrity and conscience but to sell our birthright including all our natural resources to foreigners?
• Where is this country heading towards? Do we as a Nation have conscience if we should allow ourselves to be toyed as we purchase a 14 kilo cylinder of LPG for Gh¢47.00?
• Has Ghana really any well-deserved future where vindictiveness, apathy, nepotism, tribalism and negative tendencies have become the bread and butter of the NDC government of the day?
• Are we not preparing for war if all our leaders are enriching themselves at the expense of poverty? The children of Suharto have ran away from Indonesia because of this., Iddi Amin's daughter has got to change her name because of the father's wickedness against the people of Uganda and humanity. Hmm!
• Just as ex-president Kufuor always says, it is only the lazy drones who normally were envious and jealous of their prosperous friends; because, with hard work and determination as our hallmark; while they struggled to learn and research in the night to attain academic excellence, their lazy counterparts were extraordinarily fast asleep and busily snoring like the roaring engine noise of a bulldozer doing the tedious excavation works on the Aburi hills.
• Has Ghana's future been painted black? Certainly, yes! Ghana has strangely beaten Nigeria to the world's third place in CORRUPTION to win bronze! Wow! Prior to the 2000 general elections, a section of the NDC leadership was alleged to have chased Mabey & Johnson Plc., of the UK for their handsome kickbacks like the biblical Gehazi, Prophet Elisha's assistant after the Syrian Army General Naman, had been cured of his dreadful leprosy. And Mr. Rawlings loses sight of this and many more to chastise Mr. Kufuor as the most corrupt person forgetting that his other four fingers point directly towards him as the worst culprit.
• Has Ghana some hope for the future; if to date, the whereabouts of the A/c. No 48 at the Legon branch of the Ghana Commercial Bank that, so much money was forcefully collected/extorted and supposedly paid into during the AFRC days, for cheating the poor in the system, have become an unprecedented history? Mr. Rawlings should be bold to tell Ghanaians how he disbursed that 'seized' money otherwise; he should stop barking unnecessarily to amplify our woes.
• Have Ghanaians lost sight of, and forgotten so soon about the Citizens' Vetting Committee (CVC) then headed by the dreaded Kwamena Ahwoi that drove many compatriots into self-exile after roping in several millions of cedis for the selfish interest of PNDC members? Can any surviving member account for his integrity and honesty? Can Mr. Rawlings chest out and say he never benefitted from that source? Is he genuinely incorruptible? They should give us a break!
• Has Ghana therefore any future if between September 2012 and December before the disputed elections, the Mahama-led government milked the nation a whopping Gh¢2bn; some of which was through "fa woto begye Hyundai i10 and i30 while some of the revered chiefs, the clergy, and some judges who have been bought to become gaping sycophants all along see no evil, speak no evil and hear no evil; especially, the ones who have supernatural powers to command our depreciating cedi from falling like "I command the cedi to resurrect, I command all the enemies of the State to take off their hands off the president; I command the bank of Ghana governor too from falling et cetera and the finance minister to stand on his feet; never secured 4 x 4 fast-moving vehicles? Is the frequency clear? Why was that reckless dissipation of public purse? Just lust for power?
• Has Ghana any chance of surviving any endemic in view of the mountains of FILTH that has engulfed the whole country with particular reference to Accra, the national capital and its attendant unprecedented aroma of unpleasant stench coming from the Odaw stream that could be de-silted to become the River Thames of Ghana (instead of dumping ground for human excreta from 90% of Accra residents) where holiday makers and visitors to Accra could pay token fee to go on an excursion to have a cruise on public boats or yachts owned by the bourgeoisie class? Did Okoe Vanderpuye read that?
• Has Ghana any reputation if the spate of armed robberies that is on the ascendancy continues to tarnish our image?
• Can Ghana suddenly turn to be a European country overnight with our entrenched position for no positive change in our attitude and behavioral instincts?
• What benefits will Ghana gain if the president deceives the world about Ghana's progress under his tutelage with adverts on the world wide Google network forgetting that what the foreign embassies report will be the best acceptable evidence?
• Has Ghana any future prospects relative to her economic progress and sustenance if energy and water problems keep escalating daily and mounting like the general filth that has engulfed the whole country?
• Does Ghana qualify as the Gateway to Africa with the Cedi in comatose and paralysis condition struggling to crawl with the dollar rate at Gh¢3.00/$1.00 and Gh¢4.00/ £1.00 and Gh¢5.00/CFA1,000?
• Has Ghana any future at all if billions of US Dollars is spent/wasted annually and unnecessarily on imports of seven commodities such as rice, sugar, toilet rolls, plastic toys, mosquito coils, (as a result of the mountains of filth and untidiness as a nation), used handkerchiefs and ladies' panties and tooth-picks - that could easily be made from the local bamboos by our JHS pupils? Are we really serious, and do we reason as normal human beings at all? Has anybody thought about how the annual imports of at least four of the above items in huge quantities have enhanced the economies of the producing countries and the sustainable employment it has generated for them over the years? Should God now decide to give Ghanaians "black blood" so that we know we are incapable of managing our economy that keeps crawling and therefore are thousands of miles away from their economic management?
ADMONITION
Behold, fellow Ghanaians and believers, I bring you good tidings from the Holy Book – and the text is taken from Isaiah 41:8-11 – KJV - and hope it will console all of you. And it reads as thus: 8 "But you, Israel (Ghana), are my servant, Jacob, whom I have chosen, The descendant of Abraham My friend. 9 You whom I have taken from the ends of the earth, And called from its farthest regions, And said to You, You are My servant, I have not cast you away; 10 "Fear not (Ghanaians), for I am with you; Be not dismayed, for I am your God. I will strengthen you.
Yes I will help you; I will uphold you with My righteous right hand. 11 "Behold, all those who were incensed against you shall be ashamed and disgraced; They shall be as nothing, And those who strive with you shall perish." Amen. Let those who decide to purchase sky-scrapers in Dubai, Cayman Islands et cetera at the expense of the vulnerable 'Kayayees" in Ghana who have no place to lay their heads at night under severe weather conditions; and to deny them means to formal education to determine their fate in future elections, continue to do so.
One day, not sooner than later, all will become nothing. They will die like rats without burial and leave such ill-gotten properties behind. Where are Onasis, Napoleon Bonaparte, Adolf Hitler, Saddam Husein, Abiola, Muamar Gaddafi, Iddi Dada Amin and the African celebrity of the millennium, Nelson Rolihlahla Makida Mandela? Dead and gone and some prodigal sons from nowhere will be mismanaging their wealth and estates foolishly! Did Fiifi Kwetey realize his folly while he gleefully watched the casket containing the mortal remains of the late Komla Dumor on the night of February 3, 2014 at the Kotoka Airport) as part of the welcoming ceremony? Has he realized that after peddling falsehood about the theft of Ghana's gold reserve at the BOG by ex-president Kufuor prior to the 2008 elections, which wasn't true, he too could end up like that one day, so it does not pay to malign anybody?

HUMOUR – What percentage of pre-paid meters has been installed by the ECG? When do they expect to complete the nationwide exercise and those (especially the ministries) still using the metered facilities? The GWC should better take a cue from their bedfellow.
It is too sad to grow old in Europe and be sent to the Aged Home because of no socialization otherwise, it would be better there than to be in Africa with particular reference to Ghana; where no water, no electricity – power sharing etc., and 'dum so, dum so, dum so" syndrome, but still, with the sector minister, Collins Dauda at post and even a committee of enquiry being set up. Is this not crass stupidity? Just recently, the Home Affairs Minister of the UK got himself entangled in some trivial issue involving a house-help, and because he is a principled person, he resigned honourably. How many Ghanaian politicians would be able to emulate that shining example by our colonial masters?
Never ever! Instead of instituting prudent, pragmatic and profitable structures to forestall sanity in our everyday governance, we cherish in lies and deceit. Was there any national catastrophe or disaster that struck the Ashaiman-Adjei Kojo township, near Tema, that necessitated the needless presence of NADMO staff with the distribution of relief items to the affected 150 or more persons whose properties (houses had been demolished by the heartless and uncivilized TDC (Tema Development Corporation) personnel or, as usual, eye-service so that they could embezzle the billions of cedis through that conduit exercise? What has happened to President Mahama's 200 community senior high schools" If he has not started, was there any justification for TDC demolishing some 150 houses at Adjei Kojo, near Ashaiman, Tema?
On the eve of Ghana's independence, Dr. Kwame Nkrumah stood at the Old Polo Grounds, Accra, and declared; "The independence of Ghana is meaningless, unless it is linked with the total liberation of the African Continent. Freedom! Freedom!! Freedom!!! Ghana, our beloved country, is free forever." Later, he dipped his hand into his pocket and brought out a white handkerchief to wipe off his 'crocodile' tears while Kojo Botsio, Komla Agbeli Gbedema and Ako Adjei flanked him on either side on the podium as if they were hypnotized. Are we really free forever in Ghana?
Why have we been so enslaved in our own country to allow foreigners to invade our retail and petty trading? Two wrongs, they say, can never make a right. If the Kufuor Administration erred by deliberately folding up that otherwise half-strength national asset, who then authorized the sale of the aircraft carcass? Who owns the skeletal remains of the defunct Ghana Airways DC.10 aircraft with registration No. 9G-ANA sitting opposite the UNA Agencies at the Airport City?
Available information chanced upon by this author indicates that "La Tante (the Auntie) DC10 Restaurant" i.e. the whole aircraft body minus the three Rolls Royce or is it Pratt & Whitney engines were sold out to this "lucky" Togolese businessman for less than $1,000.00 – just peanuts for him to refurbish it as his crazy cuisine restaurant. But is that the best patriotic option or money changed hands? Is it because they are more super humans than us? Governance cannot be purchased from the shelves in shops at the Melcom, Shoprite, Lennards nor the market place from the petty traders at Makola, neither can it be purchased from the Kokompe or Fadama or the Kumasi Suame magazine open market.
We have had enough of the propaganda gimmick! Are we being governed now with the NDC manifesto; because the reversal of the wisely planned 4-year SHS to 3 years to worsen the plight of over 400,000 of our future leaders yearly without access to tertiary institutions; is NDC manifesto; the carefully thought out pilot scheme and selection of Ashanti Region NHIS Capitation Grant on tribal lines, is Kuku Hill manifesto, while the 17.5% VAT and the recently adjusted fuel price hike with the world crude oil price still under $100/barrel is NDC's Kokomlemle headquarters manifesto and that is all? If Mr. Mahama decides to surround himself with incompetent and inefficient team without experience and expertise; and all-round amateurs such as square pegs to force them into round holes, are we not bound to yield the unprecedented harvest we have just started yielding in the first month of 2014 while others are miles ahead of us?
Just as pregnancy cannot hide itself, so is NDC propaganda; they have been found out. Do we still have a vice president who was formerly the governor of the Central Bank? Does he double as the chairman of the Economic Management Team? How potent is that Economic Management Team anyway? Who and who constitute it? Why allow the free fall of the Cedi as against the Dollar? Why the 'bogus' and rush decision by BOG to disengage the 2nd gear of the president re his smooth-running of the State Vehicle? Does anybody know about the economic implications/repercussions or adverse effects this hasty decision by the BOG will have on our compatriots living in the Diaspora? Who thinks they will be prompted to remit their families to the tune of $400m annually to salvage the dwindling economy as before? It is hoped Dr. Henry Wampah will not dose off again but wake up from the slumber and sit up to reverse this inimical and "kangaroo" decision! Why this stupid decision in the first place?
Mr. Rawlings military dictatorship did never do such a silly thing. Why convince people to bring in their hard-earned foreign exchange for keeps so that the banks will engage in productive business ventures for profit to cushion the economy only to be told overnight that they will be paid back in Cedis; which, to them, is more or less, "toilet tissue" because it cannot even be legal tender in next door Lome, Togo? Did the author hear from the grapevine that very soon, persons depositing money into their savings account will attract 17.5% VAT?
Why this draconian law? Are we reverting to the era where much more money than five cedis (¢5.00) or fifty thousand cedis those days (¢50,000.00) that had been deposited with the banks by individuals were confiscated by the PNDC for owners to show cause why they should be so considered for withdrawals? They later instructed the banks that nobody could collect more than (Gh¢0.20) i.e. twenty pesewas (that used to be two thousand cedis) a week from one's accounts. Anyone who needed much more than that, was to petition for consideration. Many people died from shock as a result; some got maimed, others suffered from stroke, while the rest developed hypertension and migraine. Why did the foreign banks especially not refuse such uncivilized regulation? Ghanaians seem to be running after a moving train in the second gear.
At the moment, nobody will have absolute confidence in our banks any longer to make savings a lucrative venture for their profits. Are we so daft and desperate that with the avalanche of intellectuals, the government cannot mobilize seasoned bankers and economists to tap their wisdom, harness their experience and expertise to streamline things to normalcy to make this country worth living in? To me, the government and its economy are like a woman who would not last long at the matrimonial home – she would not re-plant the cassava that she had harvested (obaa a onkyere wo aware asee no, otu bankye a, onnua).
Who thinks God is deaf that He will not hear what is happening in Ghana to allow a government that has been propped up with the help of "stolen verdict" to prosper in governance? How many Ghanaians (sane or insane) in the Diaspora and rest of the world, will be so naïve and stupid enough to help develop or enhance our economy? If we have a judge who says 27 0 does not matter, because, truth does not matter in every court including the SC, do we then consider ourselves as a serious-minded country? Does this country consider herself to be a serious one if truth cannot be found in the vocabulary of any citizen from hair to toe; let alone in any judicial archives or encyclopedia, then, what do we want God to do for us again with unmatched human and natural resources at our disposal? If you cross a river to make love with a new lover, you risk the return journey with a canoe by night.
The GOG ensured that between September-December 2012, she spent all the money available to win power and even went the extra mile to sort of twist arms (you may guess) to have a corrupted ruling, so what we are witnessing recently is just the tip of the iceberg. That is the situation we should find ourselves; the canoe operator has closed from the day's work and gone home. He just cannot return to operate the canoe and cross with only one person who, earlier in the day, was ferried to meet with a new lover but could not return on time because he wasted so much time making love that he forgot entirely about the operator's work schedule.
Now Ghanaians are like that frustrated male lover; either we return to continue with our love-making with the new pretty lady till day break (TDB) or decide to pass the night by the river-bank at the mercy of mosquitoes and weather till the next day when the operator resumes duty. Why should we engage some mortal men born of woman to ridicule God at a time when we should be serious and repent from our evil deeds, change our national attitude and psyche from unpatriotic to patriotism; condemn wrong-doing; eschew corruption, abhor tribalism and nepotism and have a contrite heart and move away from the myopic vindictiveness and think about the cure for the self-inflicted ailment of the economy instead of dancing round the clock in blasphemy? Where are the toothless members of the TUC leadership? Where is Kofi Asamoah especially?
Are the TUC happy with their 'kick-backs' from the sale of the Merchant Bank? If the kitchen is too hot, Mr. President, you better get out from there with your amateurs before the chef locks you up! We need someone with ingenuity, not a youthful president who brags; I have ordered, I have instructed, I have decided; countrymen, plans are far advanced for government to do this, to do that; tones of promises he will spew out, but, when it comes to action, nil. T w e a a a ! Does he know the unemployment ratio? Why do you not want to throw in the towel and say as usual: "Fellow country-women and men, I am sorry; I have run out of pragmatic ideas! My supposed winning team has failed the Nation. Little did I know governance was not as easy as slicing bread with a slicer or cutting a piece of cheese with hot knife?"
The country has not been involved in any civil war yet, the budget deficit of la Cote d'Ivoire is 10%; whilst ours is worse off at 18%! Why will the president call for experts from within for the simple panacea to solve it? Is it because of pride or a truism that dwarfs are always busily destroying our economy? Nonsense Is Mr. Mahama bent on minding his own business at the expense of the suffering masses- ("redzi" ne fie asem)? Do we all know that our economy is suspect and speculative? Why does no senior citizen bother to talk about the future and life purpose for our youth now that it is evident that the government is in disarray without any priorities set for the solution?
The economy is bankrupt! MMDAs, GETFund, NHIS, Contractors, national service personnel, and what have you, have not yet gotten their bits and pieces. After payment of salaries, the government is back to square 1 because there is no money left for any statutory payment again. Has the cripple now seen his folly? When huge sums of money were being carried here and there like Father Xmas to some chiefs, judges, party foot-soldiers and media houses; they thought one day, it will not come to light. Now is the hour for them to realize the harm done, but it is too late.
Where are the Busumuru Kofi Annans, the JJ Rawlings, the JA Kufuors, the two recent past former CDS – the Lt.-Generals Ben Akafias and the Joseph Boakye Danquahs, the Lt.-General Erskines, the Cardinal Peter Appiah Turksons, the Archbishops and the VCRAC Crabbes in Ghana; and the Nehemiahs, the Jeremiahs and the Esthers of old in the Bible? How soon do we see you in action to be counted amongst the brave and patriotic forefathers? The revered Clergy, Chiefs, the Association of Recognized Professional Bodies, Ghana Bar Association, AGI, GUTTA, UTAG/POTAG/NUGS, GNAT, Nurses and Midwives Council, Ghana Dental Association, GMA, GPRTU, and in fact all intellectuals and Pensioners, should muster courage and criticize the wrong-doing and mediocrity in society.
Hammer on the uncontrollable and unprecedented corruption; (wo kasa a, wobewu, w'ankasa nso a, wo bewu – whether you talk or do not talk, you'll certainly die, after all, just one bullet) otherwise, some of you will develop the disgraceful halitosis! Do not pretend you are strangers to what is happening to remain deaf, dumb and blind unless some of you have gotten your kick-back hence the apathy! If all of you decide to remain aloof, then we'll sink together! If you do not talk, your corpses will be exhumed one day and assembled on tables in the open for the "German Dozen Strokes" for the misconduct.
Rise up to be counted and recognized just like Messrs Martin A.B.K. Amidu and Samuel Okudzeto, former Attorney-General and former GBA President respectively! Never wait for a moment and say, "had I known!" Posterity will not forgive you. The situation now is; either we swim together safely to the shore to see economic redemption or sink and drown together with all the wrong doers in the same boat in distress; and you will be more culpable since you are our torch-bearers and spiritual leaders. Politicians, especially the NDC government, ministers and appointees should visit just the Dzorwulu Special School in Accra to interact with the 120 physically challenged and deprived inmates there and hope they will never dream of any gargantuan corruption in life but use State money rather wisely and capriciously.
Compatriots, avoid being gaping sycophants and say, "obiara baa a, saa ara" – to wit, why bother, leave them alone, every government will do the same! That should be idiocy at the highest order! After all, everybody saw what happened on the television screens between January 16 and August 29, 2013 in respect of the 2012 Election Petition Hearing. The evidence is as clear as crystal ice. Nobody needs any rocket scientist to come with documentary proof about the corrupted ruling. Now, the president behaves like a primary class one pupil whose toy has been snatched from him and desperately chasing for it. He wished he could help resuscitate the ailing economy by magical means. Alas, the soul is willing, but the flesh. To quote Dr. Bawumia: "if you use propaganda to win power, you will be found out".
Is that the Better Ghana Agenda he promised Ghanaians with the economy @ Gh¢3.00/$1.00 and the imminent Independence Day anniversary bonus fuel price hike or the late Prof. Awonoor's ghost continues to ("orehaw") haunt you? As a devout Christian, please confirm or deny that the judges who 'won' the EPH for you had not done you a great disservice? You may build the modern version of the 'spaghetti' round-about in Birmingham, U.K., to replace the Kwame Nkrumah Circle for us in Accra; that is not what we cherish.
We want free flow of water and uninterrupted electricity. You should punish wrong doers in your backyard especially, your brother, Ibrahim, Alfred Agbesi Woyome and Okudzeto Ablakwa for meddling in the judgment debt saga; Abuga Pele for his involvement in respect of corruption at NYEP/GYEEDA /SADA, et cetera. Is it a truism that the sudden death of former president Mills and the mystery surrounding it has been the main cause of the inefficiency and abysmal performance of this government?
How much foreign exchange has so far been generated by the National Identification Authority (NIA) with regards to the registration of all foreign residents in Ghana at a cost of $150.00/per person irrespective of age and sex? The public must know. No matter how long the night is, certainly, the dawn of day will come.
Why has Kwadwo Owusu Afriyie suddenly become a villain of the peace? Why can he not take a cue and learn from his predecessors? Some of us are tired of his Stone Age outbursts and romantics.