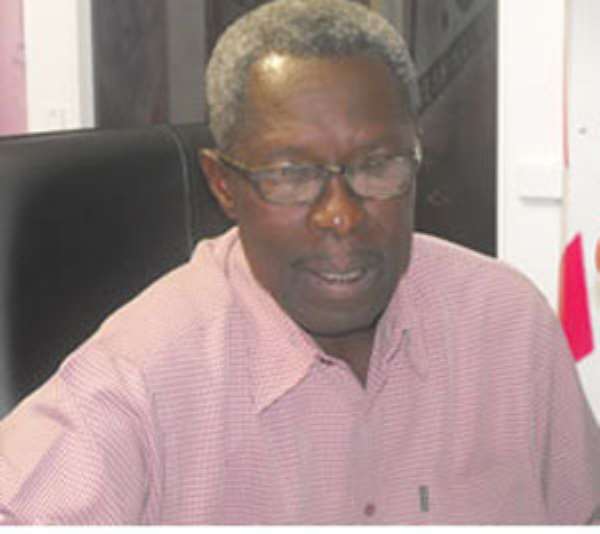 Dr Tony Aidoo, a leading member of the National Democratic Congress (NDC) and Ambassador Designate to the Netherlands, is known for being razor-sharp, brilliant and a one-man demolition squad who spews a lot of fear in the largest opposition party in Ghana, the New Patriotic Party (NPP). In fact, at the mention of his name many opposition members run for cover.
He is one man who can easily bring the NPP to its knees in any discussion on social, political and national issues. Apart from being able to methodically coordinate his points and carry it across, Dr Tony Aidoo has knack over the English Language and can easily out-master any opponent who is not well prepared during any political discussion.
Such is the asset that Dr Tony Aidoo brings to the table, to the extent that while NDC members and supporters love to listen to him during serious political discourses, members of the opposition political parties loath him with disdain. In fact, I love to listen to him because he has immense knowledge on political issues.
Lately Dr Tony Aidoo, who is yet to receive his letter of credence for him to assume his duty tour in the Netherlands, has been talking a lot. And he seems to be holding a double-edged sword by negatively cutting deep into the side of the NDC on a number of issues he is not happy with while also saving some of his diatribe for the opposition.
And it is the public washing of the NDC linen by Dr Tony Aidoo in current political discussions that has become very worrying to some NDC political watchers who believe he is picking the wrong fights at the wrong time and in the wrong forum.
It is not too long ago that Dr Aidoo strongly criticised President Mahama's administration for failing to live up to its responsibilities of making life bearable for Ghanaians. He went on to say that the NDC government has failed in taking decisive steps to plug the leakages in the revenue mobilization system. Dr Aidoo did not stop there until he stated on the Joy FM Super Morning Show that, "government must backup" and refrain from giving excuses for its inability to deliver what it promised Ghanaians.
At another occasion he used the same Joy FM Super Morning Show to state that he was embarrassed the NDC just like the Kufuor government is also neck deep in crony capitalism.
Dr Aidoo stated that it is appalling to note that the very actions he rebuked the Kufuor government of and which obviously led them leaving power in 2008 is happening in an NDC government.
"I feel very embarrassed as I sit here because for over eight years I was one of the voice's that berated the Kufuor [Former President] administration for crony capitalism and today I see evidence of it in an NDC administration. It should not have happened in the first place,"
Just last week Dr Tony Aidoo went on the criticism spree again. This time he unloaded on the Chief of Staff, Mr Prosper Bani's by criticizing his work ethic and saying he is unresponsive to "serious administrative matters". I held my jaw when the news came out and my immediate conclusion was that this matter is an in-house thing that Dr Aidoo should never have spilled in the public domain.
I do not know what may be pushing Dr Tony Aidoo to attack the NDC government from all fronts but my inkling is that Dr Aidoo is using the wrong forum in doing what he is doing. No one can predict what Dr Tony Aidoo will do next, but it is worthy to note that in the next couple of days or probably weeks he would start using diplomatic language in all his dealings going forward.
Therefore, if Dr Tony Aidoo has issues with the Chief of Staff concerning administrative issues or the NDC ruling government in general, he must try and exhaust all avenues for amicable resolution of those issues instead of going into attack modes and relentlessly unloading on his own ruling government and its officials.
The NDC members generally lack one thing: They have not been able to differentiate between what are in-house issues and what to spill in the public domain when they have differences. This is something I will continue to give thumps-up to the NPP and recommend that the NDC do same.
It is needless for the NDC to always openly engage in public fights other than jawing. The party's internal bargaining machine must be used to settle all differences. The NDC does not gain much by spilling sensitive issues in the public domain other than becoming a laughing stock and arming the opposition.
You don't destroy something you claim to love by throwing it under the bus and reclaiming it after it has been flattened by the bus. Dr Tony Aidoo may have some burning issues on his chest, but he must try and be more engaging than splashing dirty earth on officials of the NDC ruling government.
He is senior enough in the NDC, therefore, certain things he says or does go very far. There is a good reason why President John Dramani Mahama decided to make him an Ambassador Designate to the Netherlands; therefore, Dr Tony Aidoo must save the fire in his stomach for the opposition, other than turning the heat on his own party and its members.