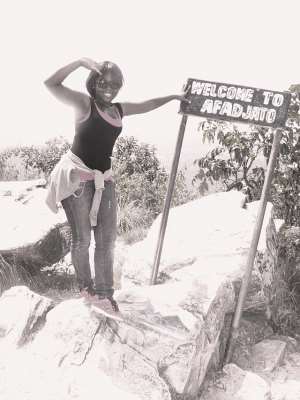 So, on that fateful day of Nov 5, I woke up all dressed up to make it to the very top. I have always wanted to satisfy my curiosity about what it's like to be there. And if you know me well, you'd know that I'm not easily dispirited by challenges. In fact I enjoy challenges; they bring out the best in me. And so a four-hour drive on a not-too-smooth road could never deter me. Not even the fact that I had to be one of three passengers on a small motorbike meant for two!


We arrived in the district capital of Hohoe in the Volta region at about 10: 26am. Now, my research before the trip assured me I would be at the mountain in three and a half hours from Accra. When we finally got to Hohoe after four hours, I realised we still had a few miles to go before we got to the mountain. We were directed to the lorry station where we could catch a bus to our final destination but unfortunately, the bus was full when we got there. The next one would take some time to get full. I looked around helplessly as I didn't want any delays that would distort our planned return trip. And voila, motorbikes! Up onto the motorbike we jumped and left our destinies in the hands of our new friend/motor rider. Koku was a really pleasant fellow; he not only rode carefully on the untarred road but also gave us interesting insights into the lives of the indigenes as we journeyed on to Gbledi Gborgame, where Afajato, the highest mountain in Ghana is located.
One thing that caught my attention was the friendliness of the people in the Hohoe district. They were kind, warm and very polite as we asked questions to move from one point to the other. So kind were the people that a security officer at one of the banks approached me at the ATM when he realised I was having issues withdrawing money. Out of his willingness to help, he virtually asked me nicely to give him my PIN so he can punch in the numbers properly since I wasn't quite getting it right. How kind! The driver of the bus that we missed even attempted to take the seats of two other passengers for us only because we were strangers. I overheard him say in the Ewe language how important it was for them to look out for the safety and comfort of visitors. My people are really nice :)
We got to Gbledi Gborgame after 25 minutes on the motorbike – it was a fun ride! We were received by a nice lady probably in her early forties. Auntie welcomed us and led us to go through the registration process as is the norm for all visitors and mountaineers. After this, we looked round and actually waited for a few minutes thinking our tour guide was joining us soon. We asked and auntie said "there – go on and climb". You can imagine the look on our faces; mine and my partner's. Shock no 1!
To our relief, Koku quickly offered to go with us. Excited, we followed Koku and started climbing Afajato with a lot of energy and zeal. In no time we had covered 221m. "Oh how fast, we'll soon get to the top" I said to my partner and Koku. Encouraged by the ease with which we covered the first quarter, I increased my pace and climbed, walked, hopped and even run with alacrity. Just after a few minutes, I was completely draped in sweat and panting heavily. It wasn't that easy! By this time, Koku and my partner were ahead of me and urged me on not to give up. I joined them at 442m, where they both sat to catch some breadth. The coolness of the forest was amazing.
We faced the other half of the journey with renewed determination as I told myself I had gotten to a place of no returnJ. We covered the third quarter; sat for a while and struggled to make it to the very top in about 50 minutes!!
On top of Afajato, you'll love the panoramic view - surrounding towns and villages, rich forests, waterfalls, hills, valleys, mountains and so much more. I enjoyed it there and saying a word of prayer up there made me feel a little closer to my maker.
After about 20 minutes, it was time to go back home and trust me, descending the mountain proved to be more scary and drearier! I battled with dizziness, wobbly knees and fear. Oh that I suffered a few falls here and there. After 30 minutes, we managed to arrive at the reception area. Let me remind you at this point that you need to take with you gallons of water when hiking. By the time we got back from the mountain, we had run out of water and so I quickly ran to Auntie to buy some and no, there was no water, drinks or snacks available for sale. What??? Shock number 19!!!
Fatigued, dehydrated and disappointed, we jumped back onto our motorbike and rode back to Hohoe. You'd have to be told about the experience on the motorbike - the rains, the dusty breeze and the scorching sun. Let's leave that for another day.
Koku, akpe nawo sia.

Now, a few questions on my mind:

I was not impressed with the reception area at Afajato. I think a lot more could be done to excite tourists. For instance, under the summer hut, one could read about the history of the people of Gbledi, information on wildlife, nearest hospitality destinations etc. In fact, a guest house to accommodate visitors who wish to stay overnight will not only benefit the guests but also generate revenue for the Gbledi community.
We learned about the local and botanical names of many trees as we climbed the mountain. This is a brilliant idea. However, we could do a lot more. I think for instance that we could also provide some more learning for hikers by showcasing other important things in the forest apart from names of trees.
Water, water everywhere – I cannot for any reason understand why water and drinks are not sold at the reception area. This is an easy way to make money and also make your guests happy. Maybe, water is sold on public holidays when many tourists are expected or when guests book in advance to visit the place? But what about random guests like me? There's no excuse for this.
Tour guide – why on earth was there no guide to accompany you if you so wish. I love adventure but I don't think I could have ventured into the unknown forest all alone and climb all the way to the top. What if we didn't have Koku who was so kind to accompany us? Is this not a convenient money making opportunity for the youth in the area? My suggestion is that the management of the place can have a list of tour guides made up of interested youth in the community and call on them to render their services whenever there's the need.
On top of the mountain – I saw people scribbled their names, initials and signature on stones, rocks and trees to leave their footprints. We can creatively make some money from this activity too. Why can't we have a huge tablet for instance where people can scribble their names/signatures or 'I was there some' as we say in Ghana for a little fee? I also thought there could be photographers who'll take advantage of the opportunity. I'd be delighted to have me nicely captured on top of the mountain and framed in a special Afajato photo frame. How cool is that! It'll be a much cherished keepsake.
After all, isn't the tourism sector supposed to be one of the major (foreign) income generators for Ghana's economy?
Reflections on the mountain top
SeNsroma (5/11/13)
Brooke S. Nuwati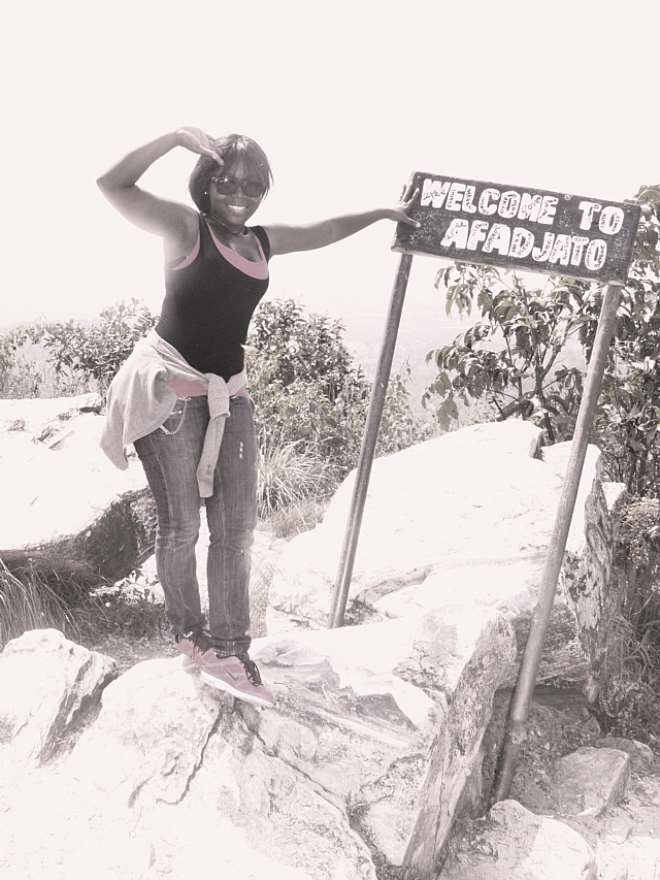 Reflections @ 885m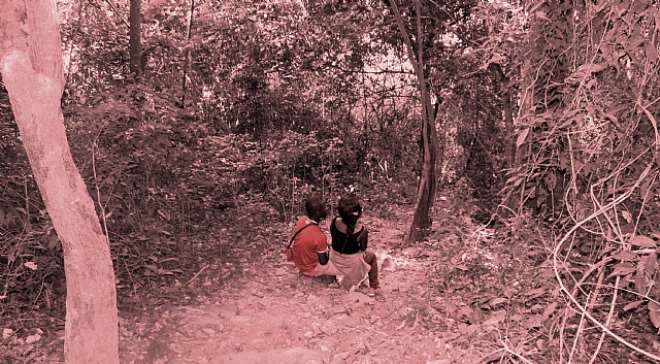 Reflections @ 885m