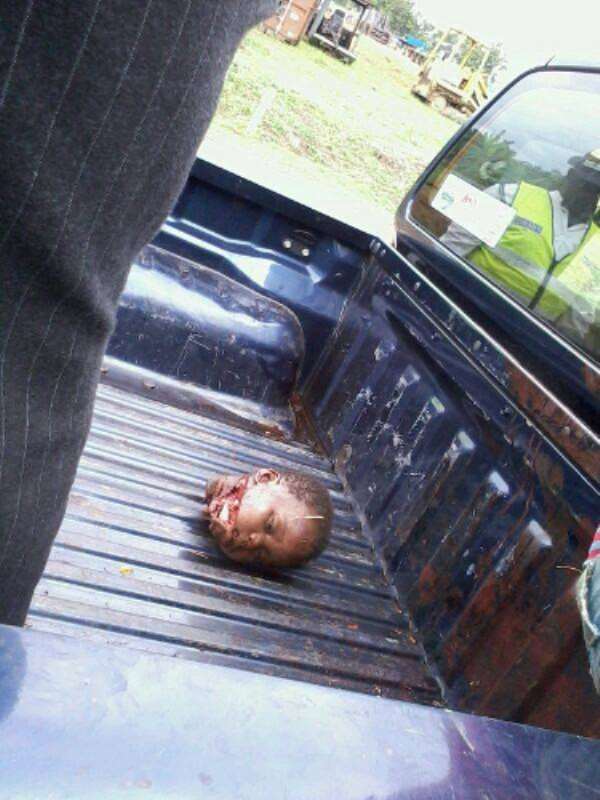 We are indeed living in hard times. It has always been and will perhaps always be. Life for the ordinarily under political dispersions has always been about struggle and survival. Consequently many have found their own means of living.
Even perhaps the rich and the so called middle class citizens have had to find define their means of survival. Interestingly, others have also taken advantage of the day to be more evil. To the extent that some have even traded their conscience for absolute vanity. But are circumstances enough to justify a man's transgression.
What then will push a man to behead his own son, when people are still struggling to cope with the killing of fowl? Moments such as these are bizarre and should push us as a country. Not only to do more to protect children but also to understand the minds of parent. This is how a broadcaster chose to capture the lead to my piece, of course with a photo of the befallen child's head at the bucket of a police vehicle:
BREAKING News
Man beheads his own son at Wassa area in the western region. The head and the body of the victim have just arrived at the Effia Nkwanta Hospital in a pick up by police personnel. Unfortunately or fortunately the father who was also attacked by a mob action has just died upon arrival at the same hospital
Living in my part of the world means coming to terms with both reality and mystery. About two weeks ago a woman who was butchered into pieces and dumped on the street through the window by a man supposed to be her husband was laid to rest. Just two days ago the supposed perpetrator husband was found hanged and rotten in a bush nearby. It is not the first. But stories such as the murder of a child by his own father go beyond human comprehensive. Why would a man kill his own son and for what? What was his motivation?
Has humanity suddenly turned carnivorous or it has been their very being. Clearly we do not need a definitive sorcerer to tell that such an innocent child has been a victim to human brutality and societal neglect. His face tells it all. The many times he cried and shouted without him being heard.
Much to talk of him been listened to. If a shepherd would abandon a hundred flock and look for the missing one then why must we not put every child under surveillance so that when they cry we can hear them. What is the department of social welfare doing, what about the ministry of children gender and social protection?
Where are our child right activists?. Why don't we use our money to raise and support child towers and vigilantes in every corner: community by community; suburb by suburb? Why don't we tighten our laws to make every child a state asset? My heart weeps and now I wonder whether we know that every child counts. I wonder whether we all that the child who got murdered is as valuable as that of the diplomat's son? For years children have suffered not even at the hands of strangers but their very parent.
Abusive acts such as dipping of hands in hot liquids and boiling substances and the smearing of acid on children are not new in Ghana yet they continue to fascinate us. Not only us ordinary but also policy makers and even the heads of the very institution established to protect these children. Today Ghanaian children are not only dying out of hunger, diseases, and poverty but by slaughter.
A quick Google popped out headlines as these; 'man kills nephew for rituals'; 'man beheads four year old son'; 'man beheads son for juju'. These are the seen few with the rest left to the all knowing eyes of God.
I may be young just us Severn Cullis-Suzuki, perhaps even a little older, but I share in her childish thought that ''if all the money spent on war was spent on ending poverty and finding environmental answers, what a wonderful place this earth would be'' not only for children but even for us all. It's unfortunate that this beastly father has been beaten to death, but even that we must not let him rest till we find in his mind what pushed him to such cruelty.
The author, Bernard Kwofie is a natural observer and a creative communicator. He can be contacted through his email [email protected]