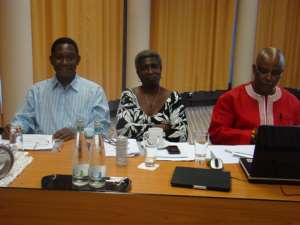 Saturday 5th October 2013 at the Renaissance Hotel in Zurich. It ended successfully with a colourful evening event to round up the occasion.
In attendance to support the Annual conference & AGM, were members from the Trustees Board, Advisory Board, Assembly of Association, and members representing GDEu affiliated associations and well wishers of GaDangme Europe.
The main highlight of the conference & AGM was the inauguration of the amended GDEu Constitution and special welcome for the newly created Assembly of Associations (AOA), which replaces the RC, which was adopted at the GDEu Special meeting on 29th June 2013, in the UK.
This year's open forum session was very lively and issues discussed included health, well being of our folks, with emphasis on NHIS, education and focusing on how to improve upon the falling rate of GCSC examination results and GDEu's continued involvement with Bokemei Foundation Special School at Teshie.
Developmental projects included the establishment of a development fund and the adoption of single programme (SP) for the coming year, a programme yet to be chosen amongst the ones mentioned above.
1. Furthermore, the GDEu president, Nii Tetteh Obua Okoso Mensah, in his key note address to the conference highlighted the need for peace and unity (EKOMEFEEMO) among GaDangme people as well as GaDangme communities and went on to spell out the achievements of the GDEu including the ever closer working relationship with the GaDangme International (GDI) on various projects including the facilitation & establishment of GaDangme Library in memory of the Late Dr. Darkufio Dodoo.
2. Last but not the least, is an innovation to governance through the introduction of "shadow GDEu executive members". Whose aim will be to work along side the current executives to learn the ropes of running such an office and when interested present their candidacies during the next election year to facilitate the transition of the new executives with less hassle.
The GDI President's message to the conference was read on his behalf by the GDEu general secretary, Nii Kotey Robertson, who also endorsed the closer working relationship between the two organizations and the GDI readiness to support the GDEu executive in achieving its goals now, and in the future.
Finally, this year's Annual conference was chaired by Naa Awula Lesley Riwar (AB member) and was supported by Dr. Clement Quartey (TB member) who led on the main points of the GDEu amended constitution.
GDEu Trustee Board

Alex Adjei
Gadangme Europe
[email protected]
FOLLOW US ON FACEBOOK: Gadangme Europe.
11th October 2013