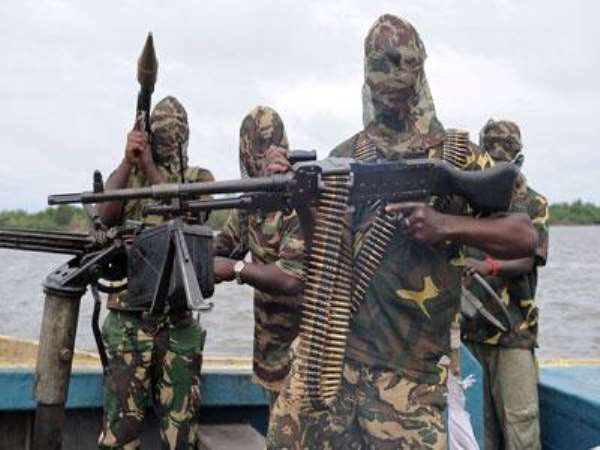 The next seven section heads in Tabari's The Foundation of the Communit y, begin with "Expedition." The Arabic word is "Maghazi," which is translated "Raid" in the Sira. It actually means invasion. It's synonymous with "Jihad," defined by Bukhari as "Holy fighting in Allah's Cause." A more complete explanation is provided in the Book of Jihad , on page 580 of Maktba Dar-us-Salam's publication of Sahih Al-Bukhari : "Jihad is holy fighting in Allah's Cause with full force of weaponry. It is given the utmost importance in Islam and is one of its Pillars. By Jihad Islam is established, Allah is made superior and He becomes the only God who may be worshiped. By Jihad Islam is propagated and made superior. By abandoning Jihad (may Allah protect us from that) Islam is destroyed and Muslims fall into an inferior position. Their honor is lost, their lands are stolen, and Muslim rule and authority vanish. Jihad is an obligatory duty in Islam on every Muslim. He who tries to escape this duty dies as a hypocrite."
Memorize this paragraph. Shout it out to all who will listen. Every word was derived from the Qur'an. Every word was lived by Muhammad. It accurately represents fundamental Islam, so much so, each of the 150 Hadiths that follow this definition of Jihad speak of fighting; none suggest a spiritual struggle. Among them, Muhammad says that the most important deed is Jihad, fighting in Allah's Cause. (Bukhari:V4B52N44) And the Qur'an agrees, saying peaceful Muslims are hypocrites, destined for hell. They are "the worst of creatures," "the most vile of animals." (Qur'an surahs 3 and 33.)
So that there is no question regarding the appropriateness of using Bukhari as a source, here's what the Islamic scholars had to say in the preface: "Al-Bukhari's Hadith is the most authentic and true book of the Prophet." The translators said, "I am perfectly sure that the translation, with Allah's help and after all the great efforts exerted in its production, has neared perfection." The imams from the cradle of Islam, the Islamic University of Medina in Saudi Arabia, said, "It has been unanimously agreed that Imam Bukhari's work is the most authentic of all the other sources in Hadith literature put together. It is second only to the Qur'an."
That leaves you and me at the crossroads of destiny. If we don't deal with the awesome gravity of Islamic Jihad, our future will vanish before our eyes. If we wish to avoid the abyss of world war we must expose the doctrine committed to world conquest. We must liberate Muslims from Islam.
"The Expedition Led by Hamzah" was the first Maghazi. Hamzah, a huntsman in Mecca, was now a "Mujahid" (plural - Mujahidun), "a Muslim warrior in Jihad." Tabari VII:10 "In Ramadhan, seven months after the Hijrah, Muhammad entrusted a white war banner to Hamzah with the command of thirty Emigrants. Their aim was to intercept a Quraysh caravan." Seven months after fleeing Mecca in shame, the pedophile prophet has become a pirate and terrorist.
So that there is no misunderstanding, let's define these less than admirable characterizations. Pirate: a renegade who, along with others under his command, uses force of arms to steal the property of others. Terrorist: a person who violently attacks civilians, destroys their property, and disrupts their economy as a means to achieve a political objective.
Now, the Muhajidin are raiding Kenya's Westgate Mall and we should believe this religion preaches peace.
Peace, Peace, Peace my foot.....well, the scantier said, the better!