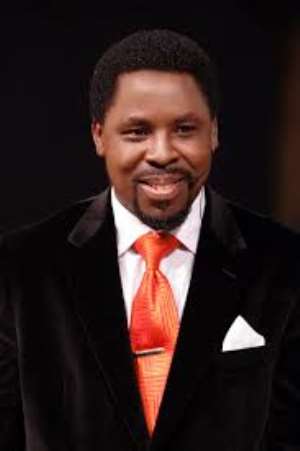 There is a Church on the Spintex road that has no sign posts or billboards. In fact, it does not have any directional sign indicating its location and yet people start arriving for Sunday service by 2am.
This is not about crusade or any special programme but usual Sunday service. When you report for service after 5am, you will not get a seat in the Church's premises but sit outside under the canopy. Amazing thing is that, people are able to sit through the service for more than 10 hours.
Guess which church I am talking about. This is T.B. Joshua's Synagogue Church of All Nations (SCOAN).
If I were to witness the above scene some ten years ago, I would have maintained that majority of Christians in Ghana, if not all are gullible because that is totally illogical and no amount of explanation could have convinced me. What on earth could make a person wake up such early from the comfort of one's house to go and queue as early as 2am for a church service when there are other churches around?
I would have wondered why some Christians were so lazy that now they don't even want to read the Bible but wanted fast ways to solve their problems. I have personally never sat in a church service for more than 4 hours. I call that 'time-wasting' and 'unproductive hours' at Church.
That really used to be my mentality some ten years ago until recently when I joined this group of 'gullible' Christians at SCOAN. May be, I am now more gullible than those who are at SCOAN in my bid to dig further to find out whether T.B. Joshua is a real man of God or not. I will not hesitate to say I used to doubt much of the miracles God used this man to perform but what really attracted me to search further was the campaign of calumny launched against him by other respectable men of God.
In my usual logical approach to issues, I do not just take what people say but do seek for more information independently before I draw conclusion. After I had done enough readings about SCOAN, I finally visited the Ghana branch. What happened there was beyond man's imagination and beat my logical reasoning to occurrences.
I thought people were pretending until it happened to my wife. She made serious confessions we hadn't spoken to anybody about and even revealed spiritual issues we are not aware of. This happened after the so called 'anointing' water was administered on her. I was wondering what kind of water that was. Water that could make people say a lot of things. Why didn't that water move me too but only my wife?
I became more curious and decided to travel to Nigeria with my wife to SCOAN headquarters where T.B. Joshua himself resides. We were booked into a hotel closer to the headquarters of SCOAN, where we learnt T.B. Joshua and his assistants (Wise men) reside. In the hotel, I went round looking for secret cameras or recorders that could eavesdrop on conversations for T.B. Joshua to use as prophecies, as I thought then. Having worked as a journalist for more than five years, at least I could locate strategic positions for such items and identify them. I was so suspicious to the extent that I was able to identify all the covert security guards who worked around the hotel and their movement.
I had the opportunity of entering the auditorium before the usual Sunday service. I saw visitors coming to pray in front of the altar and I went further to touch and look around for possible gadgets that could record their prayers which I suspected might be used as prophecies by T.B. Joshua and the 'Wise men'. I didn't see anything like that.
During the Sunday service, instead of concentrating on the activities and playing active role, all I did was to monitor the movements and actions of T.B. Joshua and the 'Wise men'. Things beyond my logical reasoning happened. For the first time in my life, just by a touch, I fell down, not once but several times. The more attempts I make to resist the touch of the 'Wise men' the more I'm floored. Logical reasoning had come to an end!
No wonder the rich, the poor, intellectuals, school-drop outs, politicians, army officers, police officers, fraudster, ordinary Ghanaians and other nationals report for service at the Ghana branch of SCOAN as early as 2am.