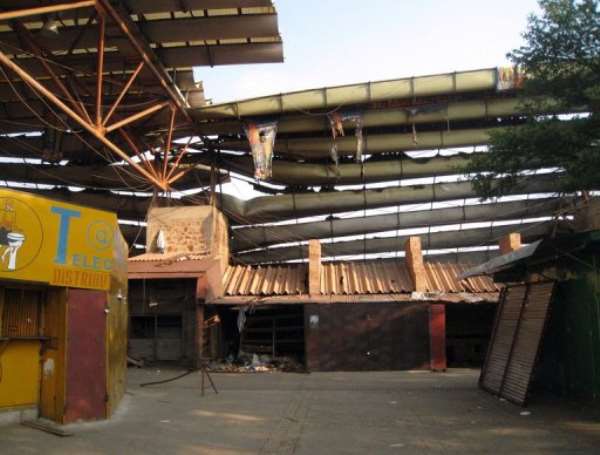 A section of Bujumbura's main market which was destroyed in a blaze four months ago, pictured on June 5, 2013. By Esdras Ndikumana (AFP/File)
BUJUMBURA, Burundi (AFP) - The main market in Burundi's capital was once the heart of the country, a bustling and crowded business zone that drove the national economy.
Four months after Bujumbura's key covered market was razed to the ground by a sweeping fire, the impact is still being keenly felt in impoverished central African country with tax revenues down by a fifth.
Most of the traders lost their livelihoods in the fierce blaze that also consumed storage facilities, and now are struggling.
Widow and mother-of-eight Marguerite used to sell rice, beans, and palm oil in a stall in the market, living life "with dignity".
Now she barely manages to feed her family, renting a room without water, electricity or toilets for 12,000 Burundian francs a month (seven dollars, six euros) in a poor neighbourhood of Bujumbura.
"When the market was burned, I lost everything," the 32-year old said. "It is as if my life had stopped. I found myself helpless, four of my children were in private school and had to stop studying, I had to beg for food."
Officially, some 7,000 traders were working in the market, but as many as three times that were working informally, experts say.
All, or almost all traders were ruined by the January 27 fire, which raged for hours and police believe was caused by arson, as they were not insured, said Audace Bizabishaka, who heads a trader support association.
For Burundi's economy, already on its knees after a brutal 1993-2006 civil war and struggling amid the global economic crisis, the fire was an enormous blow.
"The fire in the market was devastating, and now we have begun to see its effects on the economy," said finance ministry spokesman Desire Musharitse. "State revenue dropped by 20 percent in the three months that followed."
One former finance minister, speaking on condition of anonymity, explained the impact of the fire is being felt across the country as many regional traders bought their supplies at the market.
The loss was "a huge blow to an economy already in crisis," said the former minister.
So far traders not received aid the government had promised, according to Bizabishaka
His association estimates that nearly 100,000 people were directly affected by the fire, a massive impact on the small nation.
Bujumbura has some 600,000 inhabitants, the country in total about 8 million people.
Now on many crossroads in the capital, dozens of former traders left without income squat on the pavement begging those walking past for help.
The sorry sight is a "reflection of what is happening in this country in crisis, it is confused and adrift," said Faustin Ndikumana, head of civil society group Parcem, which is working for good governance. The crisis "is sparing no sector of national life."
Even before the fire, Burundi's economy was massively dependent on foreign aid and suffering from the repercussions of the global economic crisis.
In November 2012, the international community pledged $2.6 billion (2 billion euros) in aid to Burundi for 2013.
"Nothing has (yet) been released", said Finance Minister Tabu Abdallah Manirakiza. "The crisis... we live it every day."
Half of the national budget for Burundi -- ranked among the three poorest countries in the world with a GDP per capita of $250 according to the World Bank -- is provided by foreign aid.
Falling tax revenues following the fire have deepened the problem.
In 2012, according to official figures, Burundi's economy grew by 4.5 percent, with growth of 4.9 percent expected for this year.
But the country is lagging behind compared to its neighbours while inflation -- expected to hit 9 percent this year according to the International Monetary Fund (IMF) -- eats into the growth.
The crisis is not only hitting shops, transport and real estate, but also banks.
Two months after the fire, one of the leading financial houses, Interbank Burundi, said that deposits have slumped by nearly a half.
In the lakeshore port of Bujumbura, most warehouses are empty.
In desperation, the finance minister has called on the international community to fulfil its promises of aid.
But civil society groups argue that Burundi -- ranked among the most corrupt nations in the world -- also suffers from a problem of leadership.
"Why, despite the many development plans... is Burundi going backwards instead of forward?" asked Faustin Ndikumana. "It's simple, this country has a problem of leadership at every level."
Gabriel Rufyiri, president of an association fighting graft, agrees, saying that while it is true "donor nations are in crisis...beyond that, it is governance that is the cause", denouncing widespread corruption and a lack of capacity among leaders.