Two Translocated Rhinos Give Birth In Assam's Manas National Park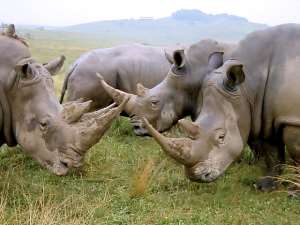 Guwahati, March 27 : Amidst the recent spurt in rhino killings in the north eastern Indian state of Assam two translocated rhinos in the Manas National Park of the state have given birth.
The two female translocated rhinos are breeding successfully in the park on March 23 and march 26.
Rhino 17, translocated to the Park in 2012 and Rhino 8, translocated to the Park in 2011, were sighted on March 23 and March 26 respectively with their new born calves.
WWF-India researchers and Assam Forest Department staff involved in monitoring of the rhinos.
According to WWF-India, Rhino 8 was translocated to Manas in January 2011 and it is certain that the mating with one of the translocated males and subsequent pregnancy happened in Manas.
"These births indicate that the translocated rhinos are breeding successfully and have adapted well to the new environment. In total, three calves have been born to translocated rhinos in Manas National Park so far," Said Amit Sarma, an official of WWF-India.
The two rhinos were translocated under the aegis of the Indian Rhino Vision 2020 programme (IRV 2020) - a joint initiative of the Department of Environment and Forests, Government of Assam, WWF-Indi, the International Rhino Foundation (IRF) and the US Fish and Wildlife Service, along with the Bodoland Territorial Council and supported by a number of local organisations," Sarma said.
A total of 18 rhinos, 10 from the Pobitora Wildlife Sanctuary and eight from the Kaziranga National Park have been translocated so far to the Manas National Park.
"Under IRV 2020, Manas National Park has been provided much support to upgrade its infrastructure and monitoring capabilities to enable better protection for the translocated rhinos.
It is now important to ensure the safety of these newborn calves and their mothers as well as the other rhinos in Manas so that the vision of establishing a viable rhino population is achieved over the long term," the WWF-India official said.
"WWF and IRF are excited at the prospect of partnering with the Assam Forest Department to return rhinos to the Laokhowa-Burachapori complex in Assam in the coming years, a site from where they were poached out in the 1980s," Amit Sarma said.
The high demand for rhino horn in the illegal wildlife trade continues to be the biggest threat this newly established rhino population is facing with three translocated rhinos having fallen prey to poachers in the past two years.
"WWF and IRF, as constituents and partners of the IRV 2020 programme, continue to support the Assam Forest Department in its endeavour to provide a safe and secure future for Assam's rhinos spread across different Protected Areas," the WWF-India official said.
(Report By Hemanta Kumar Nath)