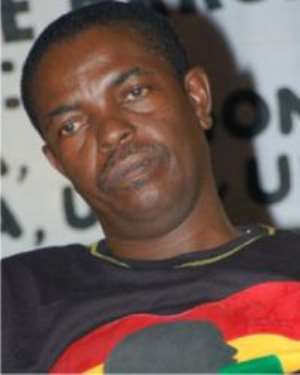 Seasoned journalist and Managing Editor of the Insight Newspaper, Kwesi Pratt Jnr., says he will go hungry if all radio and television stations in the country barred him from speaking on their platforms.
Kwesi Pratt Jnr. was on Wednesday chucked out from the list of the ruling National Democratic Congress (NDCs) communication team members assigned by the party to appear on the Cantonments-based Metro TV.
For years now, the outspoken senior journalist has been a regular panelist on Metro TVs "Good Morning Ghana" political show with some claiming he was on the platform at the behest of government, but Mr. Pratt has on consistently denied being on that particular programme as a representative of the ruling party.
Indeed on October 3rd last year, a verbal spat ensued between Mr Pratt and Director of Communications for the opposition New Patriotic Party (NPP), Nana Akomea, after the latter impliedly accused the former of advancing the cause of the NDC much better than articulating the objectives of the Convention People's Party (CPP) he Pratt belongs to.
Tempers went an octave higher when in a swift response, the Insight newspaper managing editor emphatically stated that he had never represented the ruling party on the Metro TV platform and admonished Ghanaians not to read diabolically meanings into his convictions since he was just putting out the "truth".
"Over the past four years, the NDC has done "far far" better than the NPP in their eight year rule; that is my belief. When i say that, that is not speaking for the NDC, i'm only speaking the truth...As to why and how Metro TV invited me to participate in this programme, it is for your station to clear. I've never been told by Metro TV that i'm coming here to participate in the programme as a representative of any political party...If indeed Metro TV has made up its mind in collaboration with anybody that i'm speaking for any political party...i'm prepared to leave here...i think that this platform is so important that it should not be used for cheap political party propaganda, otherwise it's an insult to the people who listen to us...And if it the case that indeed Metro TV and anybody have conspired without my knowledge, to bring me here as a spokesperson of the NDC, i'm ready to walk out of this programme," Kwesi Pratt said.
Thus, it was quite a spectacle when the Insight Managing Editor by Producer of the show, that he had been replaced by the Communications Directorate of the NDC and was therefore turned away. His place was taken by the NDC Member of Parliament for Nanton, Murtala Mohammed.
Recounting what occurred on Adom FM, the outspoken newspaper editor said he is not bothered by the incident since nobody can stop him from airing his views on topical issues.
"I don't know what happened. I went to Metro TV as I do on Wednesday's to discuss issues concerning the state. I got there and they said they will not allow me to do the program because the government said I shouldn't be allowed so I went back home.
"Nobody in this country can stop me from airing my views on state matters. I will continue to say what matters to me which will bring development. I will continue to say the truth and government cannot stop me and no one can also stop me. If you own a radio or TV station and you banned me from coming there I will not come because there is not only one radio and TV station here in Ghana," he said.
When asked by the host of Adom FM's morning show, Adakabre Frimpong whether he will go hungry if media houses barred him from appearing on their networks, Kwesi Pratt answered in the affirmative by saying, "it's true I will go hungry because that is my job. I have signed contracts with most of the radio and television stations and that is what i depend on sometimes so it is true I will go hungry if banned, but I am not afraid of hunger".
He was however quick to add that "I have been in the industry since 1969...; it's my own job so I don't have any problem. If I say something which doesn't favour the government, I don't care. There is no law mandating one to speak in favour of the government. It's not obligatory to always speak for the government. If they (government) conspired for my removal from Metro TV, that wouldn't stop me from talking".
Mr. Pratt hinted that, Ras Mubarak, a youth activist of the ruling NDC and a defeated MP for Ablekuma North later approached him to explain further.
"I was in my office and Ras Mubarak came to tell me that, he has taken over as the head of the NDC communication team and they (the NDC) are doing some changes. So I (Kwesi Pratt) asked him whether that matters to me if the NDC is reshuffling its communication team. I also made it clear to Metro TV that I (Kwesi Pratt) don't speak for any political party...but I speak for myself and I will never accept to speak for any political party or any government or any outfit but rather in my own capacity," he stressed.