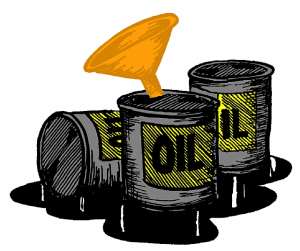 President Paul Biya appointed Ibrahim Talba Malla on 15 February 2013 to take over from Charles Metouck who had been fired as the Director General of the Cameroon National Oil Refining Company known by its French acronym as SONARA. Charles Metouck is alleged to have joined the very prestigious club of Very Important Prisoners (VIP), whose membership is growing daily to include former Prime Ministers, ministers, and directors general.
Charles Metouck came into the top management of SONARA with decades of experience garnered in the Gabonese petroleum sector. He took over from the ailing Bernard Eding who finally died after many years at the helm of the oil refining company. Both Charles and Bernard are from the Bakoko ethnic group from the Sananga Maritime Division of Cameroon.
They stamped their mark of tribalism on SONARA located in Limbe, Fako Division, South-West Region of Cameroon by reserving most jobs and contracts at the refinery for the Bassa/Bakoko ethnic group from which they hail. People came in from Douala and Edea, and got all juicy contracts from SONARA while the host ethnic group of the refinery watched grudgingly and powerlessly.
After Bernard Eding, Charles Metouck installed his special style in SONARA, listening to nobody and firing all French experts and managers who had been in the company for more than 25 years from its creation. Many people applauded his decision believing independence was finally coming to Cameroon through SONARA.
It soon emerged that the ploy was just to distance any expert eyes at the doorsteps of the company. On the departure of the French overseers, Metouck succeeded in erecting himself to the overlord of the company entertaining no contrary opinions.
Power corrupts, and absolute power corrupts absolutely. Metouck became victim of this truism and succumbed to all the bad governance practices that have plagued Cameroon for decades.
It is alleged he embezzled and misappropriated billions from the company during his over 10 years as manager. He has reportedly been under the lenses of the anticorruption commission of Cameroon, CONAC and the financial crimes investigating agency (ANIF) for over four years.
His reign will also be remembered as one of the periods during which petrol prices rose in Cameroon from FCFA 300 to nearly 600 for premium fuel (super), and FCFA 530 for diesel or gas. Petrol or paraffin (the poor man's lighting fuel) rose from about FCFA 100 a liter to 300.
The explanation given by the petroleum politicians was that the cost of petroleum products was a reflection of the cost of a barrel of crude oil on the international market. When prices peaked around 2005, the cost of crude on the international market was about US$ 175 a barrel.
I first met Ibrahim Talba Malla when I served as editor at Eden Newspaper and I was charged to lead EDEN's team of reporters to ceremonies to commemorate the medal award ceremony for SONARA workers in 2006.
Ibrahim, in his capacity as manager of the hydrocarbons price stabilization fund, CSPH was guest speaker at a panel presenting the pricing mechanism of petroleum products in Cameroon.
Ibrahim came across as a Cameroonian who was concerned about the crushing burden of petroleum prices on Cameroonians and its impacts on the economy. According to Ibrahim Talba Malla, what Cameroonians were paying for a liter of petrol at the filling station was so high because of too many taxes amounting to about 60 percent of the cost of petrol.

Listening to Ibrahim then, I believed, if such a person had his way and authority to manage SONARA, he will reverse the cycle of suffering borne by Cameroonians due to high petrol prices.
The 2008 credit crunch came with a considerable drop in the cost of a barrel of crude oil on the international oil market. A barrel came down from US$ 175 and stayed at less than US$60 for over a year. I expected a corresponding drop in petrol prices in Cameroon. Nothing happened!
In a series of reflections, I questioned how Cameroonians were forced to pay up to five taxes for one product. At SONARA one liter of premium will cost under FCFA 200 but by the time it reached the filling station two road taxes worth 10 percent are added to the cost.
These road taxes are broken down to represent a road tax when fuel is carried from SONARA to an SCDP storage facility in Douala, Yaounde, Bafoussam or Ngaoundere and another one when the fuel leaves SCDP facilities for the filling stations across the country.
The tax story becomes intriguing, according to Ibrahim Talba Malla when a Value Added Tax (VAT) of 19.5 percent is added because petrol was stored at SCDP. A second VAT of 19.5 percent is imposed on Cameroonians at all filling stations throughout the country. To exacerbate matters a further 5 percent is calculated as taxes to be paid to CSPH as the pricing agent or price fixer of petroleum products.
After the very stimulating presentation by Ibrahim Talba Malla, he did his best to answer some of the many questions that were coming from the participants burning to know why Cameroon chooses to punish its citizens with high and many taxes on petroleum products.
Imagine a different scenario if fuel left SONARA straight to the filling station skipping SCDP. Cameroonians would have been left with one road tax and one VAT making 24.5 percent. The price fixing agent CSPH will still be at the corner with the hatchet ready to draw its own 5 percent from the poor citizen making a total of 29.5 percent.
In a free economy, what is the role of a price fixing agency if it is not out to work for the good of the consumers? CSPH which had been headed by Ibrahim Talba Malla has no place in a free economy.
Market forces should be at play and if this was the case, petrol prices should have gone down in Cameroon during the credit crunch when the price of a barrel of crude on the international market dropped by 66 percent. There was no corresponding drop in petrol prices in Cameroon to reflect the situation on the world market, which Cameroon claimed to be its yardstick.
Cameroon is an oil producer but imports what it calls light brunt suited for its refinery while exporting its heavy crude on the international market. By token of this logic, Cameroon would have accumulated much money when it was selling its crude on the international market at the high prices before 2008.
Participants at the presentation by Ibrahim Talba Malla also wished to know the economic wisdom which inspired the building of a refinery not suited for the crude produced in Cameroon. Basic lessons in economics from Ms Margaret Nyah taught me that industries are built closest to raw materials. If SONARA was built in Limbe, less than 50 nautical miles from where crude is extracted in Ndian Division, it was expected to be designed to handle the crude found there.
Charles Metouck had indulged in the modernization, expansion and construction of a new refinery in Limbe, in an ambitious project to swallow FCFA 200 billions (about US$ 400,000,000) . Is this new refinery designed to handle the crude produced in Cameroon or will it just be another white elephant that Cameroonians will be burdened to carry for generations to come?
On leaving CSPH, and cast in the new mould of the all powerful general manager of SONARA, will Ibrahim Talba Malla advise his boss, President Paul Biya that the trajectory taken by petroleum products was a nuisance to Cameroonians?
Ibrahim might wish to do a few things to reverse this cycle of suffering in Cameroon. First, CSPH should be dissolved as an autonomous structure, and if need be, incorporated as a department in either SONARA or the Ministry of Finance or any of the nebulous structures duplicated in ministerial departments which deal with the economy, commerce, trade, and finance.
Second, storage facilities like those managed by SCDP should be made a precondition for those wishing to import, stock, transport and sell petrol in Cameroon. Small dealers in rural communities may buy their products directly from SONARA or any convenient dealer depending on their location to store and sell directly at their filling stations.
Thirdly and finally, if it is too expensive to buy fuel from SONARA importers should be encouraged to buy even say from Venezuela, where petroleum products are cheaper than water.
How ready is Ibrahim Talba Malla to solve these problems plaguing the petroleum sector in Cameroon, which he methodically diagnosed and presented to the public in Limbe some 8 odd years ago?
Fon Christopher Achobang
Department of Linguistics
Faculty of Arts
University of Buea
P.O. Box 63 Buea
(Senior Translator),
English-French-English
Expertise; International Business Translation; Literary Translation,
Medical Translation; Legal Translation, Editing; Proofreading; Translation lecturer.
(Senior Reporter, Social Commentator, Human rights activist)
The Cameroons
Tel, (237) 99365954
(237) 33160489