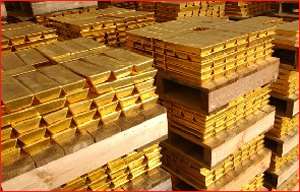 I read with amusement the information released by Mr. Mahama Ayariga; the governments information minister on the controversial $80m gold deal which was first let into the Ghanaian public domain by the Danquah Institute-thanks to their vigilance. it is very unfortunate that this government thinks that we are all fools or at best, we can not determine the truth from lies. How can two individuals with shady company acquire 1.5 tonnes of gold bars reportedly bearing Ghana's seal without anybody from the minerals commission or the strategic minerals export agency or whatever its name is, knowing nothing this huge deal? How was the ministry of finance not aware of this gold export? why was the Bank of Ghana too kept in the dark on this deal?
According to this minister's statement which I quote here "Two Ghanaians – Peter Bedzrah and Fredrick Kojo Essumang, operating under the corporate identity of Omanye Gold Mining Ltd from a house at Tanta Hill in Achimota without visible signs of a corporate entity, were involved in a transaction to supply gold to one Vahid Moradi Moghaddam".
So this minister wants us to believe this? A company without visible signs of a corporate entity could acquire 1.5 tonnes of gold bearing Ghana's seal, export them without proper documentation and pay no taxes without anybody in higher authority given the green light? Who inspected the cargo in the aircraft before it left Ghana, Did the cargo Inspector matched the covering documents with the content of the cargo? Did custom officers inspect the cargo to make sure that the cargo did not in-fact have any commercial value as claimed? If all persons supposed to make sure that things were done right with regards to this shipment failed in their duty, what must have caused them to be negligent? were there people in higher authority involved in this deal which eventually led to these official lapses?
Now, back to government involvement or otherwise in this deal. There are some few questions that we need to ask Mr. Ayariga: why was government so mute over the report when it surfaced on January 7, until after the president's visit to Turkey, the very country that had seized the aircraft carrying the gold bars? If the president did inquire about the gold seizure in Turkey during his visit, why did he return to tell Ghanaians that there were no such seizure of plane carrying Ghana's gold in Turkey? On the other hand, if President Mahama did not inquire about the gold which report appeared long before he made his trip when he was in Turkey, why would he categorically deny the existence of the story he did not have adequate facts on?
If it is indeed true that an Iranian delegation came to see the President and held discussions behind closed doors, and a week afterwards, the President made a surprised visit to Turkey(a nation which is not very much significant in our socioeconomic development), then 4-days after the Turkey visit, the cargo plane was fined and released to proceed to its final destination with the same improper documents, what should Ghanaians conclude? that the government knows more about this gold than it is telling the public.
I can categorically say based on the sequence of events that the President is not being truthful with Ghanaians and that he knows more about this gold than what he is telling us. the two guys arrested are being used as scapegoats to divert attention and like the Woyome saga, they would eventually be discharged and the case closed.
My simple question is this; Did those two individuals now arrested extracted the gold themselves and processed the gold into bars themselves or they purchased the gold? if they purchased the gold, where did they purchase it from? have we checked the gold reserves we have at the Bank of Ghana to make sure that nothing had happened to it? We want better investigations into this matter not the Woyome type investigations. Ghanaians are watching from both home and abroad.
Benjamin O Agyepong(NYC)