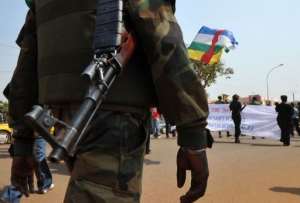 A soldier ensures security during a women's march in Bangui against the current conflict, on December 28, 2012. By Sia Kambou (AFP)
BANGUI, Central African Republic (AFP) - Rebels in the Central African Republic have repelled army soldiers who were trying to recapture the central city of Bambari, a former military stronghold, officials on both sides said Saturday.
"I am currently still in Bambari. We hold the city. We were attacked by the FACA (army) yesterday but we repelled them," Djouma Narkoya, a leader of the Seleka rebel movement, told AFP by telephone.
A Central African military source confirmed the information.