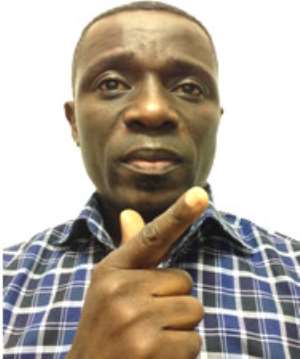 Kobby Annan
"Touch not my anointed one and do my prophet no harm" (Psalm 105:15). This quotation from the holy bible is not restrictive to Christian clergymen but includes those from all faiths including Muslims. Truly speaking, clergymen are not faultless but since it is a grievous sin to speak evil of a brother believer, how much greater is the offence when it is committed against one of Gods ministering servants? It's a CURSE! He who justifies the wicked and he who condemns the just, both of them alike are an abomination to the LORD" (Proverbs 17:15)
Reverend Dr. Mensah Otabil, the general overseer of the International Central gospel church has for a long period guarded upon his lips to guard his soul. According to him, his usual reactions to previous his personal character attacks have been to keep quiet and trust his integrity. However, after taking pains to extensively verify what he heard on recent sound bites and campaign advertisement by the National Democratic Congress, he was sure they were not related to the true impact of his words. Otabil's press statement was only aimed setting the records straight, following the circulation of recordings of sermons he delivered several years ago, in which he is alleged to have questioned the feasibility and rational behind an implementation of free Senior High School, which is the flagship policy of the New Patriotic Party. Legally speaking, his intellectual property right has been violated by the NDC with reference to Ghana's copy right Act 2005. His "crime" was to have held a press conference to clarify the misrepresentations of his sermons and further seek to discontinue the harassment and insults of his integrity. It is sad that a head of Government evaluation policy, Dr. Tony Aidoo will react to the Reverend's press statement by calling him a liar, coward and a man without integrity. Mr. Fiifi Kwety the Deputy Minister Finance has called the man a disappointment. The Presbyterian Church, the Christian Council and the Charismatic churches in Ghana have all got their share of verbal abuse and name calling from the NDC evil dwarfs and babies with shark teeth, for echoing their concerns on pressing national issues.
If the golden rule of all faith is "Love thy neighbor as thyself" I question the kind of love we have shown to our Clergy. As we approach this year's election many Ghanaians have called on religious bodies, especially the clergy to pray and preach Love, Peace and Tolerance to achieve a peaceful election. How can we have a peaceful election if we drag the names of our clerics into our political fray and seek to depict them as partisan clergymen? Ghana is a nation of diverse faith with reverence to our clergy. Notwithstanding the reverence we offer our clergymen, a good majority of the clerics have indeed earned their respect unreservedly and Rev. Dr. Mensah Otabil stands tall among them. The NDC's maliciously doctored sound bites and evil reactions to Reverend's press statement have offensively touched God's anointed one and done the prophet and enormous emotional harm. This must not go unpunished.
Ghanaians must in furtherance punish the NDC to serve a deterrent by voting them out of office and see to their disgrace. The NDC has indeed invoked God's wrath on itself. Shouldn't the NDC be cursed or punished for dragging Rev. Dr. Mensah Otabil's name and voice into our political fray to depict him as partisan dishonest clergyman? Surely their curse shall come to pass. How far will the NDC go after having sampled, spliced and manipulated his voice and sermons to appear he has taken a political position on a very heated political issue? The NDC has proven to be insensitive to all persons, violating and insulting people's integrity just to gain votes. I agree with Dr. Mensah Otabil's that, seizure of his personal thoughts without his consent and use it in a way that seeks to expose him to public hostility and disrespect is indeed evil. In his concluding statement, he has committed this matter to God. This commitment is enough to invoke God's curse on the NDC as a party. The NDC will surely be punished by Ghanaians. I call on all believers especially members of the International Central gospel church (ICGC) to show love to Dr. Otabil and reverence to God by punishing the NDC at 7th December polls and beyond. After all, the NDC has been found social and economical developmentally wanting by Ghanaians.
Author: Kobby Annan
The author can be contacted at e-mail: [email protected]