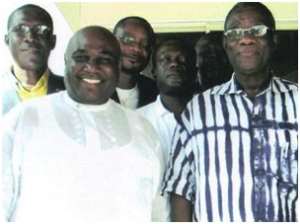 May I respond to the above-captioned news item carried by your media outlet on Tuesday, September 11, 2012. The news item makes interesting reading for myriads of reasons and I believe it is incumbent on me to spell out some home truths, no matter how uncomfortable they may be.
1. My nightmare of bearing a similar name with the alleged coup plotter Mr. Prosper Tao Tsikata began in 2007, after the Daily Graphic carried news on his nefarious activities
(News Item Available at: http://albertkwesisaliastories.blogspot.com/). I took time to prepare a dossier on him and also visited Daily Graphic with a disclaimer in an attempt to educate the public to be aware of the two identities – Prosper Yao Tsikata and Prosper Tao Tsikata (December 2007, I guess).
2. In 2008, in the run-up to the 2008 general elections, the alleged coup plotter paid for the renovation of the NDC headquarters at Kokomlemle, furnished the operational office of the late President John Evans Atta Mills at Kuku Hills, and also swindled a car rental company in Accra of two cross-country vehicles, which he gave to the Atta Mills campaign team to beef up its fleet of vehicles. Mr. Elvis Ankrah, Mr. Koku Anyidoho and other party officials were involved in this transactions. The NDC party chairman and other top officials of the party were aware of this and might have been involved in the transaction in one way or the other.
3. After the NDC won power in January 2009, the so-called coup plotter wanted returns for his investment. His attempts to even retrieve cross-country vehicles he swindled from a rental company in Accra and gave to the Atta Mills campaign team became problematic.
4. I have had to answer questions about my identity on many occasions and under very embarrassing circumstances as a result of this man's activities. In July 2009, I returned to Ghana to do a police criminal check and to acquire a report to show that I was not the one. I also used the opportunity to brief a high profile government official about the activities of some people in government who were involved with Prosper Tao Tsikata and warned how that might one day bring their names into disrepute. I also suggested what steps they could take to disassociate themselves from him. But it seems that was where I got it all wrong. In the same 2009, a family meeting was held and the decision was to protect the so-called Prosper Tao Tsikata, I later learned. It was revealed that there are family members who were benefitting from his activities, so any attempt to arrest him would have brought their names into opprobrium, therefore, the to protect him. I returned to the United States and issued a detailed article to warn the public about his activities (http://www.ghanaweb.com/GhanaHomePage/features/artikel.php?ID=201105)
5. In December 2009, Prosper Tao Tsikata was arrested on trumped-up charges, brutalized, and detained by the Bureau for National Investigations (BNI). I later learned that he was getting out of control, as he attempted to retrieve what he had invested in the NDC by way of furnishing the campaign offices of the late President John Evans Atta Mills, renovation of the party's headquarters, and the provision of two cross-country vehicles to beef up Mills's fleet of vehicles. The charges on which he was detained by the BNI were not made public, but my own inquiries revealed that he was accused of impersonating the former ECOWAS President, Mr. Victor Gbeho. A news item following of his arrest rather idiotically imputed that he was arrested because he had imported military hardware into the country, hardware which were more sophisticated than what was available to the national security apparatus at the time and, therefore, posed security threat to the nation and its security apparatus (Available at: http://www.theghanaianjournal.com/2009/12/24/castle-harasses-ndc-financier/).
Let me point out that I do not believe in what I term "thugism" and propaganda as tools to solving pig-headed problems. Why are some leading members of the NDC now trying to look as though they did not know the activities of the so-called coup plotter and only woke up yesterday to discover him? Wole Soyinka informs us in his work, I am sure, in the burden of memory, the muse of forgiveness or the open sore of a continent, about the notoriety of African governments. Using Nigeria as a case, he pointed out how government operatives planted cocaine in the luggage of a Nigerian who was travelling to London, because he spoke vociferously against corruption in government. The chap only arrived in London to be arrested for trafficking in cocaine. Jeffrey Sachs takes the same issue up and informs us that governments lie and lie persistently, pointing out the need for a watchful media to curb the excessive deception from government propaganda machineries, especially when rights of individuals are concerned.
One may wonder why I should still be authoring this rejoinder when what had been an enigma or albatross around my neck seems to have been finally taken care of now. But I believe that even when an alleged criminal is arrested, he is presumed to be innocent until proven guilty and for that matter Prosper Tao Tsikata deserves his day in court. I also believe even our arch enemies have the right to protection under our laws. Their rights are not at the whims and caprices of so-called security bosses and the interpretations given to their acts by the powers that be. These rights apply to the so-called Prosper Tao Tsikata who must be allowed to have his day in court.
As I muse over the news item, the question I asked myself was: "Is there any such thing as a fake coup, and by whose label?" As the elections approach, it has become obvious that some individuals who have been involved in shady transaction with this alleged coup plotter are finding ways to silence him, since I understand he has threatened to expose them in the campaign season. While not holding brief for this criminal, I believe strongly that he must be given his day in court, especially as we are all aware that the charge of coup attempt is treasonable and carries the death penalty if found culpable.
To Mr. Timothy Gobaha and Mr. Samuel Okudzeto, since when did the culprit become a Nigeria? Which hospital tested his DNA which links him to Nigeria ancestry? When he was pouring in stolen wealth to support the NDC bid in 2007 and 2008, there was no need to check his background, right? There are too many questions than answers. But I urge any human rights lawyer who wants to uncover the can of worms behind these issues to take it up and do a thorough investigation on the arrest and detention of this so-called fake coup plotter. I also urge the media to be a bit critical in their reportage, so they can spot some of these manipulations by people in power for reasons best known to them.
I wish to remind the public that the only thing that separates our names is the T that begins his middle name (Prosper Tao Tsikata)
Prosper Yao Tsikata