NANA AKUFU ADDO'S ENCOUNTER WITH IEA – A MERE 'WINDOW DRESSING'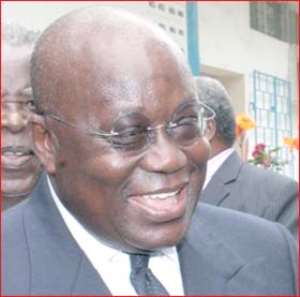 Indeed Ghanaians over the last two years have been inundated with the much touted and talked about free Senior High School (SHS) education as promised by the largest opposition leader and flagbearer of the NPP Hon. Nana Akufu Addo.
It is obviously clear that, the solution to the problems with regards to SHS education in this country absolutely goes beyond a mere rhetorical promise of making it SHS education free especially when the facts on the ground are very clear that, our current educational system does not have adequate existing infrastructure to support even all those who are qualified by GES standards to gain admission into the second cycle institution how much more to accommodate the huge numbers at all the SHS level in the country.
But for the swift intervention made by the late President Mills led NDC government over the last three and half years in terms of providing massive infrastructure at the Senior High School level across the country, our SHS education would have been grounded by now because very little infrastructure was added by then NPP government before they went ahead to implement the 4-year SHS reform in 2007.
Indeed yesterday's IEA platform offered the NPP flagbearer Nana Akufu Addo an opportunity to convince the over 24 million Ghanaians most especially the over 12 million registered voters as to how feasible, realistic and achievable that his promise with regards to free SHS would be but interestingly, he only managed to throw some figures around but failed short to convince electorates. For instance, he failed to address the link between his free SHS promise and that of the current inadequate infrastructure problem that exist in the country though I was not surprise. Again, free SHS means more work load or burden on teachers and so the conditions of service for the Ghanaian teacher whose role is very critical if the issue of quality education is to be guaranteed was insufficiently addressed by Nana Addo.
For instance, even the GHC78 million he quoted as being the initial cost of implementing such a policy in his first year in government if he is given the mandate by Ghanaians rule this country though most unlikely anyway is even questionable.
The most staggering and unanswered question on the free SHS was posted to Nana Akufu Addo by little Angela Mensah (8-year old) class four pupil who wanted to know how STUDENTS IN THE VARIOUS PRIVATE SCHOOLS in the country were going to benefit from his free educational policy. For me, it was a brilliant question which was not well answered.
On issues of corruption, Nana Addo said that he is not corrupt and that he has never been cited for corruption. However, Ghanaians can still recall events in 2008 and beyond. It is undisputable fact that between (2005 – 2009), Nana Addo was the sitting Member of Parliament for Abuakwa South and precisely in 2008 when Ghana Telecom was sold to Vodafone UK for $900 million.
We are all very much aware of the most degrading allegation levelled against the then honourable Majority MPs by their own colleague (Hon. P.C. Appiah Ofori- MP for Essikuma Odobeng Brakwa) and staunch NPP member who publicly accused his colleagues for having received $5000 bribe from Vodafone before voting to approve the sale agreement. Four years down the lane, what is not clear to many of us as Ghanaians is that, we cannot say for a fact whether Nana Addo did receive his share of this alleged bribe or not. I could go on and on.
Assuming without admitting that Nana Addo is not corrupt as he wants us to believe, what should have been the most ideal or appropriate thing for him to do in such a circumstance?
On the issue of human rights, the NPP flagbearer did not also hesitate for a moment to tout his credentials as an astute lawyer and a human rights campaigner of which I have problem with the latter because on the 25th June 2012, the Ghanaian Times Newspaper carried a story entitled " OKYEMAN BANISHES 3 ROYALS" written by Ama Tekyiwaa Ampadu- Nyarko (Koforidua). In that story, three persons namely Odehye Boateng Elvis Boakye Yiadom and Akwasi Amofo said to be royals from the Abuakwa State were banished. The official announcement of their banishment was carried out by the Okyeman Traditional Council for their alleged accusation levelled against the Okyehen Osagyefo Ofori Panin II last year of engaging in illegal mining in the area.
In spite of all these credentials touted by Nana Addo yesterday and also being the former Member of Parliament from that area and above all seeking to be the number gentleman of the land with the responsibility of protecting every soul in this country, many Ghanaians expected Nana Addo to state his position very clear and publicly on this matter.
However, it appears that, Nana Addo is not interested the human rights of these people but funny enough he sees every need to even comment on issues that are pending before the law court in this country notably is the woyome case.
On the issue of peace in this country, I was indeed touched by the question asked by little ANGELA MENSAH (8-year old class four pupil) and Peace Ambassador for election 2012 " PLEASE HONOURABLE NANA AKUFU ADDO WHAT ADVISE DO YOU HAVE FOR BOTH YOUR FOLLOWERS AND OTHER POLITICIANS WHO HAVE BEEN USING ABUSIVE WORDS AND NAME CALLING THAT CAN CREATE VIOLENCE IN THIS YEAR'S ELECTION?
Nana Addo's response to this question was a kind of window dressing answer because clearly both listeners and viewers were not impressed at his answer because many expected Nana Addo to demonstrate his fullest commitment to peace before, during and after the 2012 elections but his answer did not. Many Ghanaians are very sceptical about his response because Nana Addo is the sole author of the infamous ALL DIE BE DIE mantra which was subsequently demonstrated by Hon. Kenedy Agyepong when he declared war on Gas and Ewes. Dagombas have a proverb which says that, if you are ever bitten by a snake, any time you see a snake-like creature, you will begin to panic.
Conspicuously missing was the so-called $1bn promise he made to northerners in respect of setting up northern development fund to help bridge the development gap between the north and southern Ghana even though his running mate who happens to be a northerner had been struggling to discredit the almighty SADA which is now in full gear.
In effect, Nana Addo's evening encounter with the IEA yesterday ended up leaving more doubts, uncertainties, questions than answers and solutions in the minds of many Ghanaians. Therefore, Ghanaians are encouraged to give their mandate to someone who is well-baked for the job and also make realistic, achievable and sustainable promises and that clearly is His Excellency Dr John Dramani Mahama the President of the Republic of Ghana and leader of the National Democratic Congress.
BABA MUSAH
UNIVERSITY FOR DEVELOPMENT STUDIES
TAMALE
[email protected]