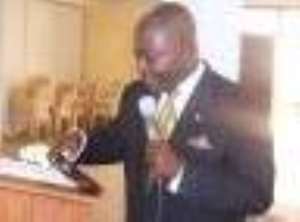 Dei-Tumi
Ghana's leading inspirational coach Emmanuel Dei-Tumi will hold a virtual seminar on the theme, "Making something out of nothing" from Tuesday, July 3 to Friday, July 6, 2012 between 4:00pm to 4:30pm.

The uniqueness of this seminar is its convenience, as all MTN subscribers anywhere can participate at the comfort of their homes or offices. To be part of the programme, subscribers are to dial MTN short code 30014 at 20p per minute (GHC6 worth of call unit per session) on the assigned date and time.

Mr. Dei-Tumi's inspiring and provocative message has made him a speaker everyone desires to hear speak. He has been interviewed on premiere radio and television stations in Ghana and abroad.

He is the host of a weekly motivational television show on TV 3 known as "The Possibility Forum", watched by millions of Ghanaians. The program is helping to change the paradigms of viewers in order to unlock the possibilities in the seemingly impossible looking situations.