Justice Akrofi-Background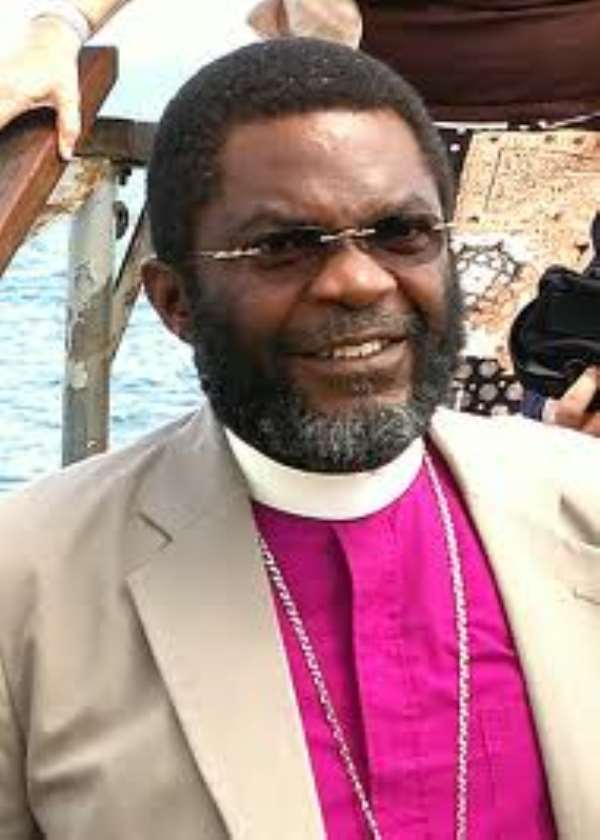 Accra, June 24, GNA - The Anglican Diocese of Accra, Church of the Province of West Africa, on Sunday consecrated Venerable Dr Daniel Silvanus Mensah Torto as the Ninth Anglican Bishop of Accra.
As a Co-Adjutor Bishop of the Diocese of Accra, an assistant, Mensah Torto will succeed the Most Reverend Justice Ofei Akrofi, as Archbishop and Primate of the Church of the Province of West Africa, when he retires on October 29, after attaining 70 years. He would have served for 16 years.
The consecration was performed by the Most Rev. Ofei Akrofi.
The Most Rev. Dr Peter Akinola, a retired Archbishop and Primate of all Nigeria, delivered the sermon for the occasion and advised priests to uphold the core principles of Christianity.
According to Church records, Ven. Torto, 53, was made a deacon on July 24, 1983 at the Cathedral Church of the Most Holy Trinity and ordained priest on August 12, 1984, at the St. Andrew Anglican Church, Abossey-Okai.
He is the son of the late Simeon Isaac Torgboh Torto and Madam Henrietta Klorkor.
Ven. Torto was appointed the Parish priest of St. Barnabas Anglican Church, Osu, in June 1995 and installed an Honorary Canon of the Cathedral Church of the Holy Trinity in Accra to the Stall of St Ambrose on March 1, 2000.
In January 2001, he was transferred to St. Francis of Assisi Anglican Church, Mamprobi as the Parish priest.
In October 2002 he was given an additional duty as the Assistant Diocesan and Synod Secretary (now Director of Programmes) and in July 2004, graduated from the Ghana Institute of Management and Public Administration with a Post-graduate Certificate in Business Administration (CBA).
In November 2005, Ven. Torto was appointed the third Archdeacon of Accra East Archdeaconry, and lectured in New Testament Studies and Pastoral Counselling at the Diocesan Ministerial Training School, Osu.
In January 2007, he enrolled with the Vision International University, Ramona, California, USA, for his Doctor of Ministry programme, and in July 2009, he was awarded Doctor of Ministry (D.Min) degree in Leadership.
He is married to Gladys Naa Aku Torto (nee Glover-Addo) and blessed with four children.
The man he will succeed, Most Rev. Justice Ofei Akrofi, was born on October 29, 1942, at Koforidua, had his basic education at St. Peters Anglican Church School in Koforidua.
He continued to Anglican Church School, Koforidua, Anglican Middle School, Sefwi Ahwiaso, Ghana Secondary School-Koforidua, and studied at the Central Connecticut State University.
Most Rev. Ofei Akrofi was ordained in 1976 and served as Chaplain at the Anglican Foundation, Adisadel College, Cape Coast, from 1976 to 1978, and as Resident Chaplain of Accra Ridge Church, 1971 to 1981, after which he was appointed Provost of the Cathedral Church of the Holy Trinity, Accra in 1982.
He was elected and consecrated Diocesan Bishop of Accra on September 8, 1996, and after 14 years as Provost, he was elected and inducted Archbishop of the Church of the Province of West Africa in 2004.
In 2006, the Government conferred on him, the National Award of Companion of the Order of the Star of Volta.
His many achievements include the establishment of a Lay Ministerial Training School in St. Barnabas Church, Osu, which has so far graduated over 700 Lay Pastors and Sunday School Teachers.
Most Rev. Ofei Akrofi is married to Dr Maria Araba Akrofi and has two sons.
GNA