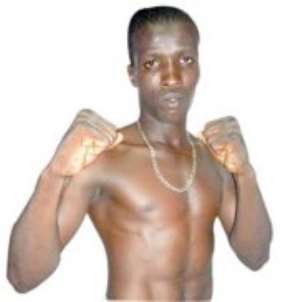 Former Commonwealth champion, Obodai Sai, dominated Ishmael Tetteh on his way to a unanimous points victory in their super-welterweight contest of the "Now or Never" bill at the El-wak Stadium last Saturday.
The three judges ruled the 10-round contest 98-93, 98-93 and 98-92 all in Obodai's favour, but the victor still commended his opponent "a good boxer" for surviving the distance.
Indeed, Tetteh's most impressive qualities throughout the fight were his stamina and the strength of his chin, and if he succeeded in winning over some fans at all, it must have been for defying the pre-fight prediction of a knockout in what turned out as a one-sided affair.
Tetteh started the first bell on the back foot as Obodai landed heavy left jabs with rapidity and followed up with left-right combination that always seemed to drag the fight closer to an end.
Tetteh's response carried little power, and as the fight wore on towards the fifth round his hands already seemed weary such that his corner men resorted to buying time to save their ward as they delayed in leaving the ring for their boxer to begin the sixth round.
Tetteh started the eighth round strongly and pushed Obodai to a neutral corner, but the established trend soon returned with Obodai landing at will with a combination of shots, hooks, uppercuts and occasional tinging jabs.
Despite these, Obodai's promise of ending the fight within the distance did not seem likely in view of Tetteh's durability. But it was Tetteh who jumped onto the ropes at the final bell only to be greeted with boos from the crowd.
The "Now or Never" bill put together by GoldenMike Promotions was initially intended for former IBF bantamweight champion Joseph Agbeko's challenge for the IBO bantamweight belt, but the absence of that fight on the cards seemed to have affected patronage.
Yet, the modest attendance which featured a vociferous Die Hard Supporters Union, former world champion Azumah Nelson, as well as other prominent boxing gurus, found reason to applaud 43-year-old former WBO bantamweight champion, Alfred 'Cobra' Kotey, when he quit after the third round of a welterweight contest with Frederick Lawson who 20 years younger than Cobra.
Cobra, once an eye-pleasing boxer who relied on his ability to evade punches while launching his own swift attacks, was a pale shadow of the venom he carried 20 years ago, and the fans began to grumble at the mismatch from the first bell as every blow by Okunka, as Lawson is nicknamed, added new flesh to Cobra's face.
"I accepted the fight at very short notice so I lacked adequate preparation," said the former champion who also admitted to Lawson's power.
In other fights, former Commonwealth welterweight champion, Joshua Okine scored a unanimous victory on points over Uruguayan Rafael Sosa Pinto in a super-welterweight contest, while Samuel Amoako dropped Esperanza of Paraguay four times on his way to a fifth round technical knockout win in their lightweight contest.
Emmanuel Quartey also earned a fifth round TKO win over Nurudeen Boyefio in super-bantamweight contest, while Ishmael Aryeetey won a featherweight contest against Odarlai Lamptey by a unanimous points verdict.