Lesotho PM challenged by two former allies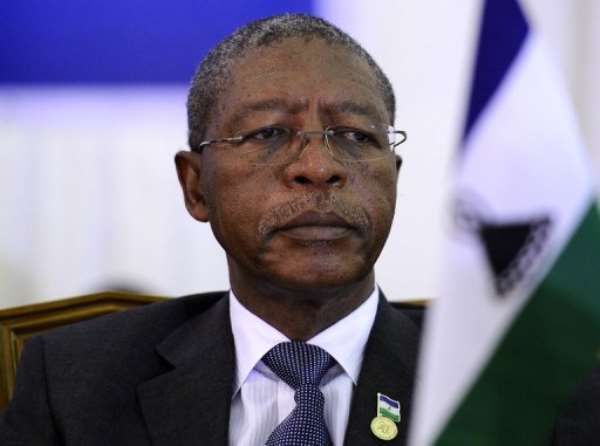 Prime Minister Pakalitha Mosisili has ruled Lesotho for 14 years. By Stephane de Sakutin (AFP/File)
MASERU (AFP) - The two main contenders to unseat Lesotho's Prime Minister Pakalitha Mosisili are both former members of his cabinet who rebelled over his refusal to step aside after 14 years in power.
Mothejoa Metsing has emerged as the most potent rival to the premier, rising to prominence as the chief "fire extinguisher", a faction of the long-ruling Lesotho Congress for Democracy (LCD).
The 45-year-old is now leading the party into Saturday's general elections, having come out on top of the "fire eaters", the rival faction that backed Mosisili -- so named because one of the prime minister's key supporters is the minister in charge of electricity, the same word as fire in Basotho.
As LCD secretary general, Metsing insisted that the party hold a leadership conference that could have proved an embarrassment for the premier.
The conference was aborted in January amid fears of violence, and two days later Mosisili sacked Metsing from his cabinet post as communications minister.
In February, Mosisili left the party and brought most of its parliamentarians with him to form the Democratic Congress, which is now the ruling party.
Metsing has long worried about 67-year-old Mosisili's refusal to step down from power. In 2009 he complained to then-US ambassador Robert Nolan of Mosisili's "dictatorial behaviour in keeping a tight rein on party activities", according to a cable published by WikiLeaks.
Born on February 2, 1967, he is the youngest of the main candidates vying to become prime minister.
He is campaigning on a call for the government to take a majority stake in Lesotho's mining operations, mainly in diamonds. He has also promised to boost salaries for factory workers, currently at 900 maloti ($108).
Unions insist on a 2,020 maloti ($243) basic salary, a demand they pushed in a three-day strike last year that was put down violently, leaving one person dead.
Metsing accuses Mosisili of nepotism, noting top jobs in government handed out to the premier's children and their spouses.
But he faces the tricky task of convincing voters that as LCD secretary general, he had nothing to do with the behaviour that he condemns.
"We are one nation. The discrimination that has been going on in this country has not yielded us any fruits. It did not only apply to those of other parties, it extended to LCD members and it is not right," Metsing said on one campaign stop.
The third horse in the race, Tom Thabane, broke away from the LCD six years ago and now hopes the party's latest split will create an opening for him.
At 72, Thabane is the oldest of the main contenders. A former foreign minister, he was once seen as Mosisili's heir apparent.
As it became clear he would never be allowed to take over, he quit the cabinet in 2006 to form the All Basotho Convention (ABC) with a populist pledge to fight hunger, poverty, disease, crime and corruption.
He's found support among urban voters, promising to review work conditions at textile factories and deals with foreign mining firms to exploit the nation's diamonds.
His ABC has struggled to gain traction, holding just 14 seats in the last parliament.
In Lesotho's parliament, 80 of the 120 lawmakers represent constituencies and the other 40 are allocated on a proportional system.
After the 2007 elections, Thabane's dispute on the way the proportional seats were allocated drew in the regional Southern African Development Community to mediate.
That resulted in changes to the electoral system that mostly satisfied the complaints.
But with a tight race, Lesotho could get its first-ever coalition government, if none of the three main contenders manage to win a majority.