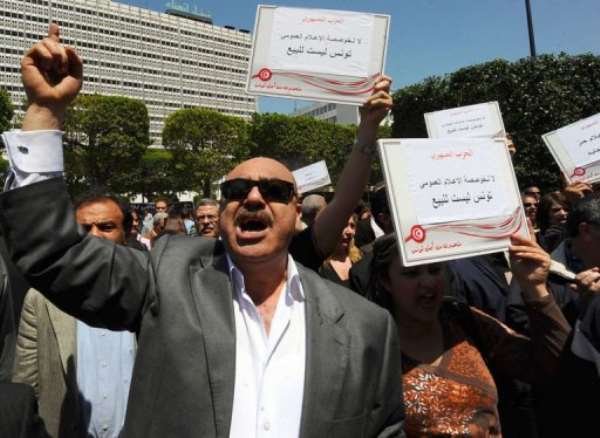 Tunisian journalists shout slogans during a sit-in outside the theatre municipal in Tunis. By Fethi Belaid (AFP)
TUNIS (AFP) - Demonstrators who claim Tunisia's state television network is backing the ousted Ben Ali dictatorship ended nearly eight weeks of sit-ins Wednesday after the government asked them to leave.
Dozens of protesters had been camped outside the offices of Wataniya since March 2 in the capital Tunis, demanding the "cleansing" of the national broadcaster and jeering at journalists.
Sit-in organiser Halima Maalej told reporters that demonstrators agreed to an interior ministry request to pack up after the government promised to address their concerns.
"We didn't want to sow sedition in our country," Maalej said. "The government has promised to respond to our demands, notably to regulate financial and administrative corruption and to fire anyone who made pro-Ben Ali propaganda."
Zine El Abidine Ben Ali ruled Tunisia from 1987 until his ouster in January last year, when furious Tunisians protested his rule in demonstrations that sparked the Arab Spring uprisings.
Protests at Wataniya had grown increasingly tense in recent days, with demonstrators brandishing mops and cleaning equipment and angrily yelling their intention to "cleanse" the broadcaster and some of its 1,300 employees.
Journalists had a shouting match Monday with protesters and five people were injured in scuffles Tuesday.
Also Wednesday, the United Nations' cultural body UNESCO announced it would hold a three-day programme of events in Tunis to celebrate World Press Freedom Day on May 3.
UNESCO official Mehdi Benchelah said Tunisia was chosen because of the changes it underwent last year, though he declined to comment on the protests at Wataniya.
Relations are strained between state media and Ennahda, a moderate Islamist party that won elections in October and now leads the governing coalition.
Wataniya is regularly accused of denigrating the work of the government and even of plotting to overthrow it. But many in the media suspect Ennahda of wanting to keep them in check.
In a statement late Tuesday, Ennahda said it condemned the violence outside Wataniya but insisted it remains necessary to reform public media.
"Public television plays a vital role in the life of Tunisians but is undergoing a crisis of impartiality from certain parties," the statement said, singling out an evening broadcast as biased.
Wataniya officials, the journalists' union and a broadcast reform authority contested the government's claims and criticised it for having let the sit-in last so long.
"It's not through pressure, insults and aggression that you can reform the media," said Neji Bghouri, a member of Tunisia's media authority, adding that Ennahda wanted the broadcaster to "shine" its image ahead of next year's elections.