Gambia votes in parliamentary polls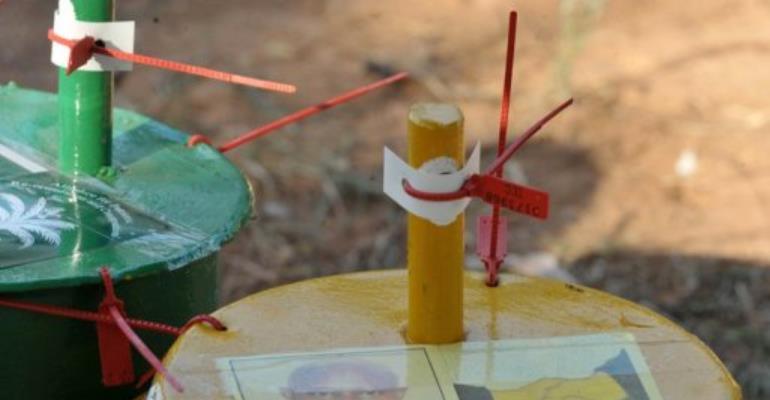 BANJUL (AFP) - Gambians began voting Thursday in parliamentary elections boycotted by the opposition which has accused the ruling party of abusing the system to tip the poll in its favour.
Voters queued up in long lines in the capital Banjul to cast their ballot by popping a glass marble into a coloured drum representing their candidate, a system used because of the west African country's high illiteracy rate.
The marbles fall into each drum, hitting a bell which sounds loudly, preventing multiple voting.
The election is only taking place in 23 of the 48 constituencies as the remaining 25 parliamentary seats held by the ruling Alliance for Patriotic Reorientation and Construction (APRC) went unopposed due to the boycott.
"The ruling APRC will win all seats in parliament because the opposition has shown no sign of seriousness in tackling the current government, which has brought tremendous development in this country," said Habib Njie, a student.
Observers from the African Union, Commonwealth and the Organisation of Islamic Conference were seen at various polling stations.
While six opposition parties are boycotting the elections, one opposition leader, Hamat Bah -- whose party does not currently hold a seat in parliament -- rejected the boycott call.
The APRC currently holds 47 out of the 53 seats in the assembly, a single-chamber parliament. Five seats are nominated by the president.
The main opposition United Democratic Party has four seats, the National Alliance for Democracy and Development has one, and one seat is held by an independent candidate.
President Yahya Jammeh swept to re-election in November with 72 percent of the votes, in a ballot the opposition and observers criticised for the use of state media and resources to back his campaign.
The regime of the man who says he can cure AIDS is often pilloried for human rights abuses, enforced disappearances, extra-judicial killings, torture and the muzzling of journalists.
Jammeh has woven an aura of mysticism around himself. He dresses in billowing white robes, never lets go of his Koran and brooks no dissent, heaping derision on criticism from the West.
"No Western country can tell me anything about democracy. In this country, we fear only God and I don't care what anybody says," he said during the November election.
Despite the criticism, Jammeh enjoys strong support for overseeing strong economic growth, which is set to reach 5.5 percent in 2011, and construction of roads, schools and hospitals.
However in a country where half the nation is illiterate, and 67 percent of the population lives on less than $1.25 a day, Jammeh's threats to isolate regions who don't vote for him - which he has done in the past - win him votes.
The smallest country on the African mainland, Gambia survives mostly off tourism, luring sun-worshipping Europeans to its sweeping, palm-fringed coastline, and agriculture.