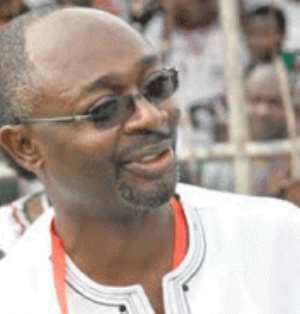 Mr Alfred Agbesi Woyome
Businessman, Alfred Agbesi Woyome has been placed in police custody together with two others for allegedly defrauding the state to the tune of GH¢51.2 million.
The two are a Chief State Attorney, Samuel Nerquaye-Tetteh, and the Director of Legal Services, Ministry of Finance and Economic Planning (MOFEP), Paul Asimenu.
A third accused person, Mr Nerquaye-Tetteh's wife, Gifty Nerquaye-Tetteh, into whose account Woyome paid GH¢400,000, was granted bail in the sum of GH¢500,000 with two sureties. She was also ordered to report herself to the police twice a week.
Woyome pleaded not guilty to three counts of conspiracy, defrauding by false pretence and corrupting a public officer.
Nerquaye-Tetteh was charged with two counts of conspiracy and corruption of a public officer. He pleaded not guilty to the offence, while his wife faced one count of abetment of crime.
Asimenu, on the other hand, pleaded not guilty to one count of abetment of crime.
The trial judge, Justice John Ajet-Nasam, ignored the loud drumming, singing of war songs and hurling of curses which filtered into his courtroom and refused a bail application from lawyers for the other accused persons.
Woyome, who looked pensive and sober, intermittently shook his head while he was in the dock. He also tapped his feet, as if to ward off stress, while he was on his feet with the others for almost two hours.
A large crowd besieged the court premises and chanted war songs, with the belief, probably, that the noise could save Woyome, but on hearing that Woyome had been remanded, the noise ended immediately.
Woyome, who wore a white linen shirt with black and white embroidery, was remanded together with Nerquaye-Tetteh and Asimenu to reappear on February 13, 2012..
Armed police personnel brought the four accused persons to the packed courtroom at 2.02 p.m. to face the charges. Immediately they entered, a thick crowd outside began beating drums and sang on top of their voices. They were virtually screaming.
At exactly 3:27 p.m., 17 minutes after court proceedings had ended, armed police personnel led the accused persons out of the courtroom. Photojournalists found it difficult to take photographs of the accused persons as the police virtually made it impossible for them to do so.
The four, who were treated like high-profile dignitaries, were whisked away in waiting vehicles, amidst the sounding of sirens.
Earlier, a Chief State Attorney, Ms Cynthia Lamptey, had prayed the court to remand the accused because investigations were ongoing to unravel what led to the GH¢51.2 million fraud.
Presenting the facts of the case, Ms Lamptey informed the court that in 2009 Woyome made false representation to the then Attorney-General and Minister of Justice, Mrs Betty Mould-Iddrisu, stating that he had a contract with the government of Ghana regarding the construction of sports stadia for CAN 2008 but that the contract had unlawfully been abrogated.
According to the prosecution, Woyome subsequently filed a writ at the High Court, claiming he was owed GH¢41 million and interest of GH¢10.2 million, bringing the total to GH¢51.2 million.
The prosecution said moneys paid were GH¢17.9 million in February 2010, GH¢10 million on January 27, 2011, GH¢10 million on April 18, 2011 and GH¢14.1 million on September 12, 2011.
It said investigations showed that the government did not owe Woyome any money, while Nerquaye-Tetteh failed to go to court to defend the action Woyome had instituted against the state.
It further said, Woyome transferred GH¢400,000 into Mrs Nerquaye-Tetteh's account. Investigations also revealed that as a director of Legal Services, Asimenu had written opinions and quoted wrong figures, as well as given information, which created conditions for Woyome to be paid money which was not due him (Woyome).
Applying for bail, Mr Robertson Kpatsa, counsel for Woyome, said the facts presented by the prosecution were not entirely true.
He argued that the money paid to Woyome was the result of a judgement debt he had obtained from a court of competent jurisdiction.
Mr Kpatsa said his client would defend himself to prove his innocence and prayed the court to grant his client bail because he was a Ghanaian businessman and had families in Ghana.
According to counsel, Woyome had substantial and credible sureties who would stand in for him when granted bail.
For his part, counsel for Nerquaye-Tetteh and his wife, Mr Addo Atuah, prayed the court to grant his clients bail with the reason that what the prosecution had said was grossly at variance with what had happened.
Mr Atuah informed the court that Mrs Nerquaye-Tetteh was a nursing mother who had been granted police enquiry bail and, accordingly, prayed the court to grant her bail, since she would co-operate with the police.
He also argued that it was not Nerquaye-Tetteh's fault that the state lost the case which had led to Woyome being granted judgement debt.
Counsel for Asimenu, Mr Kwame Akuffo, argued that holding an opinion was not ground enough for criminal indictment in reference to the state's argument that Asimenu had written opinions which served as grounds for Woyome to defraud the state.