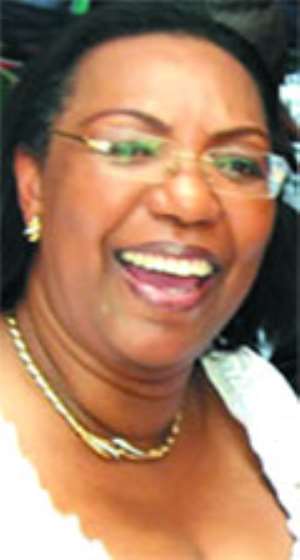 This article is not meant to downplay the level of intelligentsia in governance and to denigrate the person of Ms Betty Mould Iddrisu. However, it is intended for the many cynics, both uninformed and uncomfortable NDC chatterboxes who see sheep as cows and fowls as turkeys to learn to be submissive in all their dealings to know that there is time for everything under the sun as the Chapter 3 of the book of Ecclesiastes in the Bible attests to. If there were any one person, be he or she a politician, minister or parliamentarian, who would not feel comfortable during the yuletide, then it should not pass by Madam Betty Mould Iddrisu, the media maniac who was the then Attorney-General and Minister of Justice.
Furthermore, this author would not have had the guts to scribble something for the reading public but for her cynical betrayal of the Rawlingses and direct involvement with the Alfred Agbesi Woyome's fraud of the millennium (Gh₵41,811,000.00 - i.e. ₵41.8bn) with partisan support from the flanks by Hon. Barton Odro, her deputy who doubles as the MP for Cape Coast. Could this Odro Man be the direct biological son of the late Ishmael Barton Odro, who once worked at the Osu Castle in the '70s as a disciplined Principal Assistant Secretary (now Deputy Chief Director) in Room T.15? Recently, as a result of barrage of insults on her, and to dispel rumours, this same arrogant media maniac lady who allegedly suspected foul play from the Computer School Selection Placement of the Ghana Education Service for the BECE pupils seeking entrance to senior high schools set up a committee forgetting her earlier sinister complicity with a much more serious scandal hidden under the carpet.
Even though, the committee has been set up, trust me, it will get to nowhere since it is alleged that the syndicate operates the same cycle just like the Ghana Police MTTU personnel. In spite of the ineptitude on the part of Betty Mould, Ghanaians should not be surprised to see the inaction of President Mills here because it is the same president who was then vice president and head of the economic team when Ms. Cotton gorgeously arrived in Ghana with the charm from the U.S. to collect her $25m 'Xmas Box'. That was supposedly meant for the Aveyime Rice Project that never was but was frivolously used on extravagant wedding for which she was gaoled by the U.S. government. The president's instruction for setting up a committee would go down as the number one chief executive probably worldwide to be associated with committee set up.
It is also alleged that they intentionally place some deaf and dumb pupils at the normal institutions and occasionally place girls into 'boys-only' institutions as well as boys, being sent to 'girls-only schools' to justify queries the parents may raise. Madam Mould, as it were, should have been the first person to wizen up, eschew arrogance and show courtesy to media practitioners anytime she appeared on air but was the first female politician (after Benyiwa Doe's lies and deceit) whose attitude towards the media was highly disrespectful and appalling as if she were a 'kookoo ase kuraseni baa'.
There is not a particular radio station she's been quite polite to the hosts whenever she was on air, and one wonders whether her paymaster was aware of this criminal act to warrant punishment or reprimand. One is therefore inclined to believe that her recent attitude on air was by no means an accident because with the recent revelations and direct involvement with the biggest individual fraud that cannot exclude her from blame and complicity. The alleged percentage she may have gotten from her darling brother Freddie must have helped her grow wings to exhibit indescribable arrogance.
DISGRACE TO WOMANHOOD?
Available information reaching this writer's desk suggests therefore that Madam Betty Mould, from all intents and purposes, may not be a mother; because if she were a mother with children of school going age, she would not behave the way she does whenever she was interviewed by the media. Numerous radio phone-in segments that I have closely followed and monitored have shown that she has not proven to be the mentor of the young generation women at all and many people across board attribute that fact to her being 'childless' because they argue strongly that no child-bearing woman would ever behave the way she does. Incidentally, a certain serial caller, who was very optimistic, challenged her on radio sometime last week and dared her to show the institution from where she trained as a lawyer. That under-estimation was an incredible indictment indeed for a lawyer of such pedigree to have her intellectual proficiency questioned and ridiculed.
The host present was full of praise for her and cut that person off to save the situation because of the apparent disgrace to her integrity. I should like to entreat the grandma of NDC, Dr. Mrs. Mary Grant, to call her to attention and counsel her to begin to change a new leaf and show some exemplary lifestyle. Comparatively, she seems to be a disgrace rather than role model to other females in the family. May be she has now put a stop to the fashion that prompted her to extend her finger nails with acrylic ones; if she has not yet abandoned that idea, I would like to point out that it does not befit her status; secondly, it makes her look very horrible like Dracula because they have such nails and I pity her at conference venues where she would be compelled to greet delegates. Once again, madam should prove her skeptics wrong and come clean to confirm that she never grew such extended artificial nails while working in the U.K. with the Commonwealth Secretariat but quickly joined the fashion craze on assumption as minister of state.
AN APOLOGY TO THE LEGAL PROFESSION?
Whether it was accident or sheer coincidence, Ghanaians already know. Madam Betty Mould was appointed as minister to beef up the cabinet membership by the powers conferred on the president by the 1992 Constitution. While she was a Minister of Justice and Attorney-General, one expected that as a very eloquent lady and proficient in the Queen's English, she would obviously be a wonderful performer and team player at that particular ministry but as the government attorney, she woefully failed abysmally because not one, not two, but the many legal battles she led to ensure that the opposition members were jailed by the law courts proved her inefficiency and hollowness in that field and the best the president could do to repair the damage was to reshuffle her to another ministry. That even proved more confronting than the former as Minister for Education because naturally, her personality was more than insect repellent.
Perhaps, the president did not notice that her new place was more difficult and challenging one than the former. This new environment has various departments – the non-formal education (including special ones like the deaf and dumb), basic schools, second cycle and tertiary institutions – colleges of education, polytechnics and universities – is even more demanding than the former. Probably, the president didn't take into account that she was not the type who could calm the nerves of the various workers and their unionized organs under her ministry whenever there were industrial actions otherwise she would not have had that privilege.
Ghanaian teachers very often showed magnanimity and sympathy to students and their future plight to abort their strike actions but not because of her actions and inactions. Again, many parents could have taken her to task including legal battles at the courts in view of the haphazard way their wards/children were drilled by the poor manner which some unscrupulous people within her outfit conducted the Computer School Selection Placement under her nose. Madam Betty should count herself lucky as a minister under Prez. Mills; for she would have been the first person to be shown the exit in Mr. Rawlings government. The alleged curses rained on her by parents and guardians have not shaken her. The unprofessional manner the Fair Wages and Salaries Commission handled the Single Spine Salary Structure (S.S.S.S.) for Ghanaian teachers of all categories has reduced her dignity but still walks about unperturbed. This lady in question whose arrogance very often is amplified on air by her unbridled utterances is unparalleled and filled to the brim by her gestures. As a result of her explicit complicity in this sordid 'Woyome Gate Scandal', she has reduced her dignity to the lowest ebb and the best option available was to resign honourably to save her dignity. However, if she were a seasoned lawyer, abreast with time and modern legal trends, who presumably does not "wash the face upwards every morning", would not have endorsed this unhealthy business of writing to solicit for an individual's judgment debt from the Finance Ministry.
That request was also readily and hurriedly agreed without authentication by the extreme black-haired minister. Strangely, the last straw to break the camel's back was the latest revelations of the infamous Alfred Agbesi Woyome's fraud of the millennium supposedly intertwined with Messrs Waterville-Micheletti saga that she cannot easily absolve herself from blame, and Ghanaians should be grateful to Hon. Ken Agyapong, the Assin North Member of Parliament whose national crusade has brought the news to the public domain for the NDC beneficiaries to feel very ucomfortable.
According to the great philosophy of the celebrated former American president, Abraham Lincoln, 'you can fool some of the people some of the time but you cannot fool all the people all the time still holds; but Mr. Alfred Woyome thought he could fool some of the Ghanaians some of the time and go on to fool all Ghanaians all the time. Unfortunately, this time round, luck was not on his side; rather, when it eluded him, he bit more than he could chew and went on the rampage on air to cast insinuations and castigate aspersions on this viperous M.P. to dig his own grave. Fortunately, if Woyome escapes the legal net to go through unscathed, I am afraid Betty would not, but be arraigned before the law courts for her 'mistaken belief' that her ministry never appeared in court to deliberate on same and eventually become the number one dishonourable minister politician thereafter. This should then serve notice to fraudsters to be circumspect in future as her involvement in this biggest fraud of international dimension has rendered her to be a total disgrace to womanhood and complete apology to the legal profession simply because nobody would disprove the fact and disclaim that personal interest to pursue such a colossal amount of judgment debt payment would be dealt with without a pinch of salt as 'thank you' money. I rest my case for Ghanaians to be the better judges.
By: Kofi Appiah
[email protected]