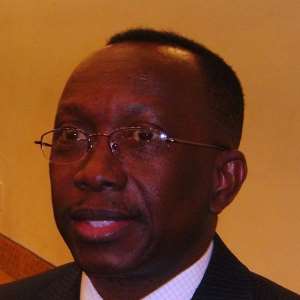 DIVORCE AMONG "ORDAINED MINISTERS" IN GHANA
The rate at which divorce is climbing among some "ordained ministers" of God in Ghana must sound a note of warning to all Christians who are concerned about our contemporary pastoral ministry.
It is very true that, after the Fall of man, all the descendants of Adam share this fallen nature and its consequences. All human beings are born with weaknesses and tendencies to evil. However, if a sin which is detestable by God is now becoming more pronounced in Christians, but more particularly, among those who claim to be close to God, then our Christian world is no safer.
"No one knows how divorce began. The Biblical record shows that, unlike marriage, divorce was not instituted by God. There is no indication in the Bible suggesting that God introduced and institutionalized divorce after the Fall as part of His order for human society. Divorce is "man-made," not divinely ordained. It represents human rejection of God's original plan for the indissolubility of the marriage bond." – Samuel Bacchiocchi.
If we look at Leviticus more carefully, we will find out that, by God's command anyone who committed adultery lose his/her life: [Leviticus 20:10 (NKJV) 'The man who commits adultery with another man's wife, he who commits adultery with his neighbor's wife, the adulterer and the adulteress, shall surely be put to death.]
There was really no provision for divorce. Execution would free the innocent party to remarry.
One of the many reasons why "soon-to-be" husband and wife go through series of marriage counseling is for them to learn how to set up a plan of forgiveness/redemption far ahead in their companionship as married couples in order to save the marriage from breaking up in the future, thus avoiding God's detestable sin, divorce.[Malachi 2:16]
I wish to state that "divorce is divorce no matter how innocent one might be;" God did not categorize the type of divorce that He hates.
And there is no sin that has so much gravity such that it cannot be forgiven; hence, our Savior, Jesus Christ said in Mat. 18:15-18: Moreover if thy brother shall trespass against thee, go and tell him his fault between thee and him alone: if he shall hear thee, thou hast gained thy brother. But if he will not hear [thee, then] take with thee one or two more, that in the mouth of two or three witnesses every word may be established. And if he shall neglect to hear them, tell [it] unto the church: but if he neglects to hear the church, let him be unto thee as a heathen man and a publican.
The Bible is talking about every type of sin. (If your brother sins against you). And this requires a genuine pastoral instinct to fully understand it. Those who by mistake crept into the ministry unawares and have their own parochial interest and objectives would normally go by "that saidth me and therefore what I have declared it is final."
Such pastors are deaf to the voice of the Holy Spirit and therefore fail to go by the dictates of the still small voice.
If a pastor's relationship with God does not impact his/her relationship with his/her fellow human being, then the conclusion could be drawn that, his/her outward show of strong bond between him/her and God is a mirage, fake, insincere, pretense and a flair of hypocrisy.
Again, in answering Peter's question on forgiveness, Jesus replied I say not unto thee, until seven times: but, until seventy times seven. [Matthew 18:22]
Jesus was trying to point out here that, there is no limit to the number of times one should forgive.
Upon this statement of our Lord Jesus Christ, let me stress and maintain that, the issue of unpardonable sin only applies between man and God; between man and his fellow man, there is nothing like the unpardonable sin; we are obliged to forgive in an uncountable manner. Some pastors of independent Christian ministries must take note.
A Church Manual of one renown Church states that: "Scripture recognizes adultery and/or fornication (Mat. 5:32) as well as abandonment by an unbelieving partner (1 Cor. 7:10-15) as grounds for divorce."
This is a proof of the fact that, in this world of sin, due to human weakness, one can go through a divorce by standing on Mat. 5:32 and 1 Cor. 7:10-15.
However, the same Scriptures states in Matthew above that, one is obliged to forgive as many as uncountable times.
To some of the ordained ministers of Ghana, I want to draw your attention to the fact that, the four pillars for the permanence of a marriage are LOVE, SUBMISSIVENESS, MERCY and FORGIVENESS.
Pastors should not forget that human beings have some of the image of God in us. Let's use that in showing love, submissiveness, mercy and forgiveness at least to our spouses; we are to extend the covenant of grace to everyone, including a sinful spouse; we are still God's representatives on earth and ought to be mindful of the fact that divorce is a grievous sin which God hates no matter what.
If you study the Book of Hosea in a meditative manner, you will never think of divorce.
Modern pastors of these young Churches must bury the notion that once my spouse is involved in adultery, he/she must go.
PHILIP AKWASI OPOKU