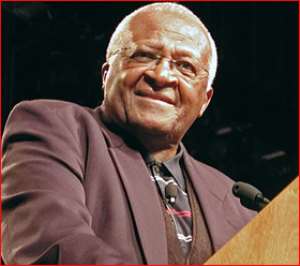 07:10: 2011
It's with great sense of happiness that I join millions of admirers, and well wishers of the Tutu dynast to wish one of their illustrious, and accomplished sons, The Most Reverend Desmond Mpilo Tutu, The Archbishop Emeritus of Cape Town a warm happy 80th birthday. A clergyman, human right and health advocate, resolute and iconic personality with a high sense of leadership and above all, with the fear of God.
"The Arch" as he is fondly called, was born on 7th October 1931 in Klerksdorp, Transvaal South Africa, is the second of the three children of Zacheriah Zililo Tutu, and the only son. Desmond Tutu is a South African activist and retired Anglican bishop who rose to worldwide fame during the 1980s as an opponent of apartheid. He was the first black South African Archbishop of Cape Town, South Africa and primate of the Church of the Province of Southern Africa.
Tutu has been active in the defence of human rights and uses his high profile to campaign for the oppressed. He has campaigned to fight AIDS, tuberculosis, homophobia, poverty and racism. On 16th October, 1984, Desmond Tutu was awarded the Nobel Peace Prize. The Nobel Committee cited his "role as a unifying leader figure in the campaign to resolve the problem of apartheid in South Africa". In 1986, Tutu received the Albert Schweitzer Prize for Humanitarianism, the Pacem in Terris Award in 1987, the Sydney Peace Prize (1999) the Gandhi Peace Prize in 2005, and the Presidential Medal of Freedom in 2009.
Tutu studied at the Pretoria Bantu Normal College from 1951 to 1953, and went on to teach at Johannesburg Bantu High School and at Munsienville High School in Mogale City. However, he resigned following the passage of the Bantu Education Act, in protest of the poor educational prospects for black South Africans. He continued his studies, this time in theology, at St Peter's Theology College in Rosettenville, Johannesburg, and in 1960 was ordained as an Anglican priest.
He was at King's College London from 1962 to 1966, where he received his Bachelor's and Master's degrees in Theology. And later returned to South Africa and from 1967 until 1972 used his lectures to highlight the circumstances of the African population. He became chaplain at the University of Fort Hare in 1967. From 1970 to 1972, Tutu lectured at the National University of Lesotho.
On 2 July 1955, Tutu married his heartthrob, Nomalizo Leah Shenxane, a teacher whom he had met while at college. And the union is blessed with four children: Trevor Thamsanqa Tutu, Theresa Thandeka Tutu, Naomi Nontombi Tutu and Mpho Andrea Tutu.
In 1997, Tutu was diagnosed with prostate cancer and underwent successful treatment in the US. He subsequently became patron of the South African Prostate Cancer Foundation which was established in 2007. In 2009, he also received the Spiritual Leadership Award from the international Humanity's Team movement and the Presidential Medal of Freedom from U.S. President Barack Obama.
Many happy and prosperous returns!
Clifford Ogbeide
1, Ogbeide Close,
Benin City, Nigeria.
[email protected]