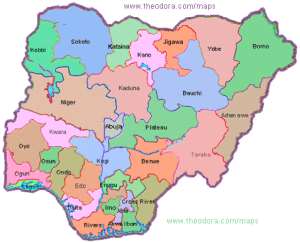 The basic existence of government any where in the world, is the provision of security of lives and properties of its citizenry. Some Nations (including ours) further enshrined it in the constitution, which is usually the conscience of the Nation.
When al Qaeda and its affiliate terrorized the West, the United States and its Allied took the War on terror to the door step of al Qaeda hide out in the mountainous regions of Afghanistan and Pakistan with meaningful results that led to the death of high profile terrorist including its leader, Osama Bin Laden.
In my fatherland Nigeria, the reverse is always the case of positive trends around the world. We export employment as crude natural resources, and import unemployment as refined produce. What an irony!
When the rag-tag militant group of the Niger Delta hijacked the good course of advocate of resource-control and positive development of the region, the government went on her kneels and granted them amnesty. Kidnapping, oil bunkering and other social vices that was the hallmark of these militant groups, has become a permanent feature on our daily life. These have impacted negatively on our economic and social activities in our quest for economic transformation to life El Dorado, thus scaring away the much needed foreign direct investment. (FDI)
Our rich secular, cultural and heterogeneous heritage that made other Nations thick and enviable in the comity of Nations has become a curse to Nigeria. The unending Ethno-religious crises and conflicts has become a recurring decimal in our society. Where fellow compatriots are at dagger-war with each other over religious, tribal and communal disputes that would have been resolved amicably. "Indigenes" and "settlers" are commonly used nowadays in our communal vocabulary, to the extent that some states government has perfected plans to issue "Certificates of Settler ship" to non indigenes residing in their respective states.
Recently in Abia state, the Governor, Chief Theodore Orji directed all non-indigenes working in the Public Service of Abia State (including Local Governments) to be transferred to their states of origin by October 1, 2011. The circular, HAS/S, 0071/11/132 dated August 25, 2011 and issued by the Head of Service, Mr. G.C. Adiele Esq., directed heads of ministries, departments and agencies and Local Government Service Commission to submit the names of all non-indigenes in their employment on or before September 1, 2011, failure of which shall attract strict sanctions by government. This singular action contravenes Section 42 of the nation's Constitution in respect of place of origin. It's not only unjust and unconstitutional, but it negates true federalism and constitutes a serious obstacle to our march to nationhood. What a unity in diversity!

Boko Haram, whose name means "Western education is sacrilege" in Hausa, has carried out increasingly violent sectarian attack over the last year. They claimed responsibility for the Police Force Headquarters bombing and the August 26 car bombing of the United Nations building in Abuja that killed 23 people and injured 116 others in a country where there is a functional government with control of instrument of state force. The sect activities have become an embarrassment, and threat to national security.
During Nigeria's 51st independence anniversary recently, an event that was usually characterized by wasteful spending with elaborate ceremony was low-key this year due to security concern over the dreaded Boko Haram sect and the Movement for the Emancipation of Niger Delta. (MEND) This is only the country where government actions clearly indict its security agencies and nothing has been done about it. Boko Haram menace has forced the Commander-in-chief of the Nigeria armed Forces to cancelled the traditional independence parade and shifting it from Eagle Square to the relatively secured Presidential villa, apparently following threats from Boko Haram and MEND. What a Shame! Despite the Nation wide security precaution, Boko Haram still struck killing three (3) in Maiduguri, Borno state capital North East Nigeria.
Government should as a matter of fact commence the implementation of non-military approach toward ending the socio-economic malaise bedeviling this Nation by creating jobs for the teeming unemployed youths. And stop tickling with the ideal of negotiating with economic saboteurs in the interest of National security and economic transformation agenda of this administration.
Clifford Ogbeide
1, Ogbeide Close,
Benin City, Edo State
[email protected]