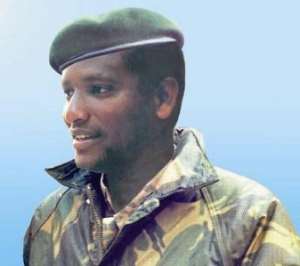 I highly doubt whether NRA killed Fred Rwigyema as has been speculated by some people on several forums. Fred Rwigyema was so close to Museveni for him to kill him like that. Why? He was among the first 27 who attacked the Kabamba Military School to get hold of weapons to fight Obote's government in 1980s. He had been a member of FRONASA before this attack. FRONASA was created in exile in Tanzania in 1973. Fred was in Tanzania with Museveni throughout the struggle against Iddil Amin in 1970s. He was never sent to Mozambique to do military training as the Augustine Ruzaindanas.
Paul Kagame and Rwigyema stood by Museveni during the UNLA/UNLF days even when he was terribly defeated in the 1980 elections. They were both among the original members of UPM in the 1980s. Fred Rwigyema was reportedly a people's person in the NRA. Actually Dr.Kipenji Owor wrote on Ugandans At Heart( UAH) forum to say that Rwigyema was Museveni's personal driver during the 1980 campaigns.
Fred Rwigyema headed the RPF assault on Rwanda. He was deputized at the time by Lt.Colonel Adam Waswa, and five other majors: Peter Banyingana, Christopher Bunyenyezi, Samuel Kanyemera, Paul Kagame and Stephen Nduguta.
RPF have never officially told anybody who exactly killed Fred Rwigyema. When Fred Rwigyema was killed, his death was kept a secret for a while. He was killed on the second day of the RPF attack on Habyarimana's forces. He was the only casualty on that day. Can you imagine the commander of an army being the only casualty in such a war on their 2nd day of attack? I think these are the questions that make some people to think that Museveni and Kagame had something to do with it but I highly doubt Museveni's involvement in this. Museveni was very close to Fred Rwigyema. I also don't think Kagame was directly involved because he was on study leave in USA at that time. But you never know with these situations though I guess both Museveni and Kagame know who the real killers are.
One theory on how Fred Rwigyema was killed is that he was shot by his 2nd in command, Major Banyingana, after a quarrel over military tactics. Banyigana and his friend, Bunyenyezi were later tried and shot by an RPF military court on orders of Paul Kagame who had then taken command of the organization. This version was supported by even the French government at the time going by the interview given by the French diplomat at their embassy in Kampala on 28th January 1991.
The second theory is that his killers are still alive and free in Rwanda. And this is based on an interview Teddy Ssezi-Cheeye of the Weekly Topic/Uganda confidential, who is now in Luzira prison over corruption charges, reportedly had with Major Peter Banyingana inside Rwanda on 5th October 1990. If Banyingana was not killed as we were made to believe then who exactly killed Fred Rwigyema? Teddy claims to have seen him with his own eyes.
So, basically, we don't know who killed Fred Rwigyema but there are a lot of theories flying around among the Rwandese. Like most political murders, those who are sent to do it get eliminated straightway, and those sent to eliminate them are never told why they are doing so.
--
Abbey Kibirige Semuwemba
UNITED KINGDOM