Sacked STX Boss Fights Back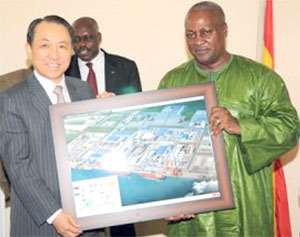 The beleaguered CEO of STX Engineering and Construction Ghana Limited, Bernard Kwabena Asamoah, is fighting back barely 24 hours after the company's board of directors said they have dismissed him as the chief executive officer.
B.K. Asamoah said the Koreans were not in a position to fire him because they had exited from the company long ago.
The boardroom wrangling which has taken a better part of the deal since Ghana government committed itself to the agreement with STX Korea to build 200,000 housing units in the country, took a nasty turn on Thursday when the Koreans sacked B.K. Asamoah as the front man for the company.
But he insists the decision is null and void.
A press release issued in Accra and signed by Mr Asamoah said, 'Any actions taken by STX Construction (Korea) or its agents in respect of the operations of STX Engineering and Construction Limited are of no consequence.'
According to Mr. Asamoah, site works for the Affordable Housing Scheme under the Ghana National Housing Programme commenced as promised in July 2011, under the direction of STX Engineering and Construction Limited, with the support of the Government of Ghana.
'It is important to note that funding arrangements for the execution have been secured by management in addition to US technology that will ensure rapid and effective implementation within the terms approved by Parliament,' he said.
http://www.dailyguideghana.com/wp-content/uploads/2011/08/bk_asamoah.jpg
FIRED! B. K. Asamoah
The CEO stated, 'Regarding media stories about STX Engineering and Construction Limited yesterday in which employees of our former partners STX Construction (Korea) yesterday (Thursday) reportedly announced Board resolutions in respect of STX Engineering and Construction Limited, the management of STX Engineering and Construction Limited wishes to state that STX Construction (Korea) is no longer an equity partner in STX Engineering and Construction Limited which STX Construction (Korea) exited in May 2011.'
'STX Construction (Korea) therefore has no locus in STX Engineering and Construction Limited and consequently, no basis for any actions in respect of STX Engineering and Construction Limited,' he said, adding, 'These facts can be verified via the public records of the Registrar General's Department.'
Mr. Asamoah said, 'The management wishes to apologise to all the project stakeholders for the unruly conduct of STX Construction (Korea) in disregard or the advice offered by the Government and to thank  the Minister, Water  Resources,  Works  and  Housing  and  His  Excellency,  the  President  of  the  Republic  who  have  graciously  and  unreservedly  supported STX  Engineering  and  Construction  Limited.'
By William Yaw Owusu