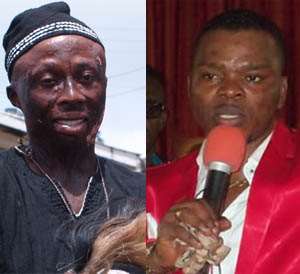 Kwaku Bonsam and Bishop Obinim
An Accra-based Muslim leader-cum spiritualist, Sheikh Nacambo Osman, has jumped to the rescue of the Don Juan Christian leader Bishop Daniel Obinim.
It is not yet known what relationship Obinim has with Sheikh Nacambo but the fact that Bonsam has agreed to challenge the Christian leader at the upcoming spiritual competition has angered the Sheikh.
Sheikh Nacambo has therefore taken the fight to the doorsteps of Bonsam. He has asked Bonsam to face him instead of Obinim.
According to Sheikh Nacambo, Bonsam had no moral right to refer to Obinim as a 'false man of God.'
He said Bonsam was not a Man of God so he had no business reacting to Obinim's declaration calling for true men of God for a contest.
'If Bonsam claims he is powerful, he should try Tamale. I bet you he would not return in full piece.
They will bring his corpse back to Accra. He should not forget that all power belongs to God.
'God hates the proud but promotes the humble. Like Obinim, Bonsam started boasting that he is so powerful.
He claims he has helped many pastors, yet he has failed to mention any.'
Sheikh Nacambo appealed to pastors and Imams in the country to join forces in prayer to restore the sick little girl.
He admonished spiritual heads in the country not to rejoice over what had befallen Obinim, rather they should remember him in prayer, saying, 'What happened to Obinim could happen to any man of God.'
But Bonsam has explained that it was wrong for Obinim to have bragged on radio that he, a Christian leader, had used his Christian powers to invoke the spirit of lunacy and paralysis on the innocent child of a married woman he committed adultery with.
'Obinim thinks no one can cure that child except himself and I want to prove that he is a liar.
There are several people who can cure that child and I am one of such people.
If he really believes he is a Man of God, he should come forward and stop running away from the challenge he himself called for.
'I would cure the child and transfer the paralysis to Obinim just to show that he is not a Man of God. He is a wicked leader who has not repented of his sins,' Bonsam added.
Meanwhile, Bishop Obinim, after bragging that he could challenge any man of God in a spiritual duel of miracles, has apparently fled after Bonsam publicly accepted the challenge.
Weeks after Bonsam accepted the challenge from the bishop and dared him to suggest a venue and date, Obinim has remained silent on the matter, leaving the fetish priest to make mockery of him.
'You see…he can't talk anymore. If he cannot face me, a fetish priest, how can he face the true pastors of the God of Heaven…I would have turned him into a cripple just like he did to the boy…as for the mental illness, I would have mercy on him because he is already behaving like a mad man,' Bonsam added
Source: NEWS-ONE