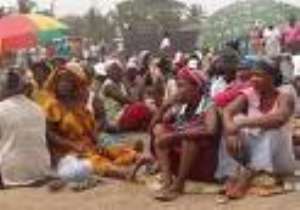 Liberian refugees protesting at the Buduburam camp.
At least 5 Liberians have reportedly been shut dead by Ghanaian police at the Buduburan Refugee Camp outside Accra during a riot over leadership.
According to report, the incident occurred Sunday at a Church when a group of Liberian refugees attempted installing a new leadership despite call from the refugee board to halt the process.
Reports say there has been opposition against the current leadership at the Buduburan Camp headed by Varney Sambola. Mr. Sambola has been accused of tribalism and being in cohort with both the UNHCR and the Ghanaian authorities to relegate the interest of the Liberian refugees.
An eyewitness from the camp Decontee Tarnue, told this journalist via mobile that while at the Church, Ghanaian police allegedly stormed the edifice and demanded the Liberians to disperse, using tear gas after they have refused to leave.
Miss Tarnue further narrated that as the Liberians left the Church they allegedly began to stone the police, leaving the force with no alternative but to fire into the crowd with live weapons.
However, another Liberian Emmanuel Smith said the casualty among the refugee is about five, adding three persons, including a lady was shut in the breast, while two men were hit in the head.
Deputy Information Minister for Information Services Jerelimink Piah has confirmed the incident, but added that the Government of Liberia is yet to officially establish the facts surrounding the disturbance.
Police in Ghana have arrested a Liberian, Tyrone Marshall, said to be ringleader of the campaign to replace the current leadership on the camp. Other sources said the police are moving from house to house rounding up Liberians.
Liberians at the Buduburan camp have had confrontation with Ghanaian authorities, resulting to casualties and the deportation of several of them.
In 2007, a group of Liberian women staged a sit-in protest on the football field in the camp, demanding UNHCR authorities to resettle them to a third country that again resulted to arrest and detention of the unarmed women and children into a scorpion infected abandon campus in the Volta region of Ghana.
Latest reports via mobile as the event on the Buduburam camp continue to degenerate a resident of the camp whose spoke to this journalist hours ago indicates that reinforcement of the Ghanaian police in their hundreds has surrendered the refugee camp to the total amazement of the camp dwellers!
Our source said that the police has vow to arrest every male refugee as night falls going from door to door asking every occupants to come outside with their identification cards and as the result of that every male Liberian refugees has taken to their heels to safety in the surrounding villages within the Gomoa district and parts of Accra!