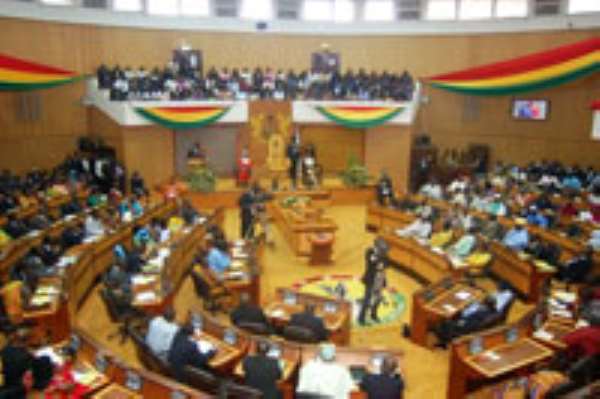 The Concern Citizens Democratic Alliance for Ghana supports those who are advocating constitutional amendment to Ghana's Constitution. We salute the minds and dedication of men and women who formulated, debated and promulgated our constitution before it became the law of the land.
But as we often say in Ewe "ngor gbee azor li le" that is why we must revisit our Constitution and give it a makeover. Amending the Constitution now is an acceptable way of incorporating current national realities into the Constitution to correct current eccentric and tackling future challenges head-on. We all can attest to the fact that the base of Ghana's Constitution is partially British and partially American Constitution, which in our view is a good thing. But the time has come to examine our democratic guide (The Constitution) and decide whether to continue using both or one system for effective Ghana rural and urban governance.
The British Constitution in the 12th century gave birth to a very unique parliamentary system which produces only the best rooted constituent intelligentsia well vested in their local and national way of life. The parliament comprises representatives from England, Scotland, Ireland, and Wales with different political persuasions and the party which wins the majority of seats forms the government and its leader becomes Prime Minister. The Prime Minister chooses about 20 MPs from his party to become the cabinet of ministers. Each minister is responsible for a particular area in the government, and the second largest party becomes the official opposition with its own leader and a shadow cabinet. The leader however, is a well recognized position in the House of Commons. MPs are elected either by general elections for five years or when a member died or retired.
The system is so simple but dynamic, solely base on community politics and very cost effective allowing even the poorest but intelligent person who is well vested and visible in the community to stand for parliamentary election. Money plays little role in British politics compare to other democracies like what we are experiencing right here in Ghana.
Whereas, the American Constitution is based on a national government of the federations of fifty states that comprises the United States of America. It has three distinct branches of government, a legislature, and executive and a judiciary. These branches and their various powers are defined in the U.S. Constitution; the legislature has two bodies, Congress with hundred elected members, two from each state serving seven years and House of Representatives with elected members from congressional districts based on population serving two years. The American national government is based on influence and power. Money, television, billboards, and diverse form of advertisement, play very important role in American National Government elections. The National Government requires two separate campaigns for American Presidential and parliamentary elections. This system only strives on Money, Influence, Power, and Elegance.
It is therefore clear that our constitution is a very sophisticated and intellectual peace of political work document based on two powerful systems of governance. Such a merger deserves enormous applause, ironically very confusing and frustrating to the ordinary fellow Ghanaian (farmers, fishermen, market traders, workers, civil servants etc). The evidence is vividly on the ground especially in our rural, urban ghettos, and uncompleted buildings.
Therefore, we the CCDAG believed the honest way forward must be one system based on the British parliamentary governance, whose electoral campaign is far less expensive takes only three weeks from start to finish focusing on only one election to accomplish two goals. Electing MPs and the Executive branch the Prime Minister. The American System is an expensive electoral venture designed only for the powerful rich elites. The American system requires two special electoral campaigns with a heartbreaking and distressing expenditure.
For that matter we are proposing the following for Constitutional Amendments to the Constitution of The Republic of Ghana that:
1. Chapter Eight- The Executive (1). There shall be a President of the Republic of Ghana who shall be the Head of State and Head of Government and Commander in Chief of the Armed Forces of Ghana.
Should be amended to read
1. Chapter Eight- The Executive (1). There shall be a general election and the party which wins the majority of seats forms the government and its leader becomes Prime Minister who shall be the Head of State and Head of Government and Commander in Chief of the Armed Forces of Ghana.
We hope our humble observation and request will generate a debate that will expose majority of Ghanaians in making informed decision on our electoral process and constitutional amendment. A well-versed choice based on the British electoral and parliamentary system with a Ghanaian twist which allows only one electoral campaign, less expensive, producing executive and legislature results. Though this is going to be a blow to current political hierarchies, we pray the love of country and her future generations should be more important to them than their current political positions and support and work tirelessly on this proposed Ghana Constitutional Amendment.
Thank you all and God bless you! God bless our Home-Land Ghana. Long Live Ghana!
Enyonyoge! Eba hi, Allah ki yayie! Ebe yeyie
Yao Fiagbeto
PRESIDENT& FOUNDER-CCDAG. BOX 222,JONESBORO, GE0RGIA. 30237
Rutherglen - Glasgow, Scotland. U.K. North-West Legon, Kwabenya. G/A Ghana. P.O. BOX 3O, Atito via Anloga. V/R Ghana
[email protected], [email protected], [email protected]