Work Begins On Ada Sea Defence Project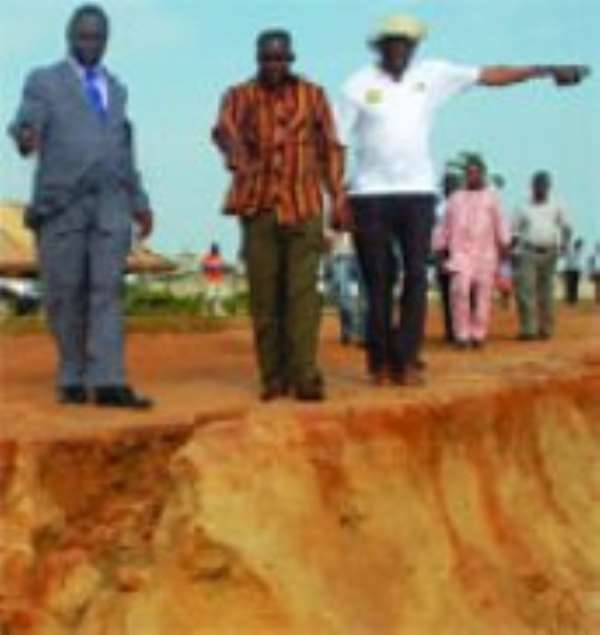 Mr Alban Bagbin (2nd left), Minister of Water Resources,Works and Housing inspecting damage caused by erosion to the coastline.
Preliminary work on the 25-kilometre Ada Sea Defence Project which is expected to salvage coastal communities in Ada from the ravages of the sea has begun and is expected to be completed in 2012.
The project, which is being executed by Dredging International, a Cypriot construction company, will be funded partly with a GH¢134 million credit from the Belgian government in two phases, beginning with five kilometres.
Coastal communities in Ada, like other coastal communities elsewhere, have been at the receiving end of tidal waves which have continually wreaked havoc on the town and its surrounding communities, submerging buildings and trees and causing damage to property running into millions of cedis.
Ada is currently said to be the most vulnerable among the coastal communities under siege from the sea in Ghana, losing six metres of land to the sea annually.
The offices of the Dangme East District Assembly which are about 300 metres from the shore have had their share of the catastrophe as the asphalt road leading to the offices has been washed away by the waves.
According to experts, rising sea levels linked to the melting of polar ice caps are conspiring with coastal erosion to slowly submerge communities along the coast.
The problem is further compounded by the activities of sand winners desperate to make their living from the volumes of sand on the country's beaches.
Speaking at a forum organised by the Ministry of Water Resources, Works and Housing to discuss the progress of the project, the sector Minister, Mr Alban S.K. Bagbin, said the government would not renege on its promise to build a sea defence infrastructure to save towns and villages in the Ada area from being consumed by the sea.
He said the project carried enormous social and economic benefits for the entire country because it would help improve facilities at the Songhor salt site which was expected to provide the bulk of salt needed for the petro-chemical industry in Ghana.
According to him, preliminary work, which included quarry assessment to stockpile at least 50 per cent of the boulders to be used, would be completed by the end of the year.
He said the main construction work had delayed because apart from the preliminary work which was ongoing, the government had insisted that the contractor put up permanent offices which would suit the needs of the Dangme East District Assembly after the project.
Mr Bagbin said a major obstacle to the project was locating a quarry site that was close to the project site in order not to inflate the cost of the project.
The Deputy Director of Hydrological Services, Mr Hubert Osei-Wusu Ansah, answering questions from the participants, allayed fears that the project would lead to the destruction of the Ada Estuary, one of the most attractive tourist sites in the area. Share Your Thoughts on this article Name Email Location Comments Graphic Ghana may edit your comments and not all comments will be published