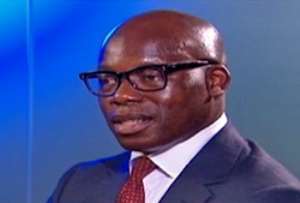 Wale Tinubu, CEO of oil and gas giant Oando

CNN International's African Voices which highlights Africa's most engaging personalities, exploring the lives and passions of people who rarely open themselves up to the camera, this week profiles Wale Tinubu, CEO of oil and gas giant Oando.
(CNN) -- As the chief executive of oil and gas giant Oando, Wale Tinubu is one of Nigeria's most powerful business leaders.
Born in Lagos, Nigeria, in 1967, Tinubu started out working for his family's law firm. But his career changed direction once he set his sights on the oil industry.
An entrepreneur who started out with just a single second-hand oil tanker, Tinubu now heads a multi-million dollar enterprise that is one of Africa's largest energy companies.
Named a Young Global Leader by the World Economic Forum in 2007, Tinubu was selected this year as Business Leader of the Year at the African Business Awards.
He sat down with CNN's Zain Verjee and spoke about doing business in Africa today.
CNN: How's the situation now in Africa from a business point of view?
Wale Tinubu: Without a doubt, it's the most interesting frontier. There is really no other frontier that compares to Africa, from the perspective of the population, the resources that are available, the demand for them and the fact that over 60 percent or 70 percent of that population is under the age of 20 which shows growth opportunities.
Africa is evolving, democracy is spreading amongst the continent, good governance is increasing, corruption is certainly on a major downturn -- it's just not fashionable any longer.
CNN: Is corruption a problem?
WT: Corruption now becomes less of a problem when you liberalize a nation.
CNN: But it still is a problem, something investors and business people need to navigate?
WT: I think we should take it all into context. Now petty corruption is totally different from fundamental corruption when government officials who have been known to take a substantial amount of resources and not build the systems.
CNN: Is it better or worse in Nigeria?
WT: [It's] much better because the scope for corruption has been limited. If the old days was that the government provided all the resources and was the allocator of resources, and they asked for payment in exchange, when you revert to a system which liberalizes an economy and encourages people to come and trade and build and invest, the scope for corruption practically disappears
CNN: How do you view the situation in the Niger Delta region of Nigeria? You have the pipeline issues with the rebels there and it's fraught with a lot of politics too.
WT: I see the business solution as being the best solution -- over the years there has been substantial neglect from the government in terms of a lot of money that could have been pumped into the Niger Delta was used to develop the rest of Nigeria. The realization has come and our government is doing something about this.
What is required really is a concerted effort to insure that the years of neglect get reversed by consistent investment in those areas -- effectively you require a Marshall Plan for the Niger Delta.
CNN: It's a political issue as well. As a businessman in the sector, what are the important things you would want to be considering daily?
WT: The most important thing is identifying that we have a problem and agreeing to a common solution. What is required is that concerted effort year in, year out, coupled with the "indigenization" of the oil industry which is what the government has realized. The government has actively encouraged that by creating local content laws to encourage indigenous oil companies to be formed, to be created to go into Niger Delta.
CNN: When was it that you thought to yourself that you had really made it?
WT: That moment hasn't come -- I'm far from satisfied, we've only just scratched the surface.
CNN: What have you learned from yourself as a father that you didn't in business?
WT: I never realized how emotional I was, I'm close to tears many times -- tears of joy of course -- when I have to deal with my children as compared to -- I'm less emotive when it comes to business. I find that it's a much softer side of me that has been revealed in the process of having children.
CNN: What advice would you give to young entrepreneurs?
WT: I think, fundamentally believe you can do it. Second thing is build very strong partnerships.
And more than anything else, persistence, never give up. There are going to be a lot of obstacles you will face, just treat any obstacle you might face as a learning opportunity and just never give up.
BBC