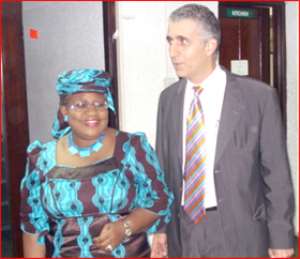 Ishac Diwan (right)
THE WORLD Bank Board has approved US$44.7 million from the International Development Association (IDA) to support the Government of Ghana as additional funding for the on-going e-Ghana Project. 
The original e-Ghana Project, which was estimated to cost $40 million, was approved in 2006 to support the Ghana Information Communication Technology (ICT) for Accelerated Development Program.
The overall objective of the e-Ghana Project is to assist the Government of Ghana to generate growth and employment by leveraging ICT for growth and development.
The project consists of three main components which seeks to create an enabling environment to support local ICT businesses and Information Technologgy Enabled Services (ITES) and promote e-Government applications and government's communications.
The proposal for additional financing is in response to the Government of Ghana's request to bring revenue and expenditure management agencies under a uniform ICT platform.
Additional resources would help to establish a Business Process Off-shoring Center to position Ghana as a destination of choice for IT businesses.
The e-Ghana Project has therefore been expanded to include a fourth component that aims to establish and use GIFMIS-based Public Financial Management functionality at government treasuries to improve macro-fiscal discipline and management, MDA and sectoral and financial management.
This additional financing brings in positive synergistic advantages in Ghana arising from the introduction of an electronic platform for the Ghana Revenue Authority (GRA) as part of the overall public revenue and expenditure management system in Ghana, said Ishac Diwan, World Bank Country Director for Ghana.
It would also ensure that access to electronic services can be decentralized at the district levels in order to make Ghana a true destination of choice for business.
The additional funding extends the original timeline of the project by 2 years, which is expected to end on June 30, 2014.
It also involves co-financing arrangements with DFID and the European Union in respect of the fourth component - Ghana Integrated Financial Management Information System (GIFMIS).