THE SOLUTION FOR FLOODING IN ACCRA IS?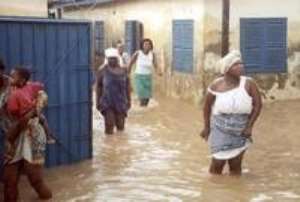 Last weekend was a bad one for me because of the natural disaster that hit the national capital Accra, as a result of torrential rain which created uncontrollable flood that took away precious life's and displaced people and destroyed many properties.
For the whole day of the Monday I have to remain in constant touch with my father Mr. John Ayi Quaye at Tebibiano in Teshie to know what was happening from time to time as news were filing in that more deaths were being recorded.
Though where my fathers house is situated at the Tebibiano near the Kpeshi lagoon is not a valley but on a hill, there was much fear that the water table was rising as flushing floods were coming in every moment and could turn hills into valleys and could flood homes on hill so the need to know what was happening at home until my fears were allayed the next day.
What at all is happening that the leaders of the country Ghana can not do to solve the flooding problems in Accra and its environs as every year or particular periods keeps killing people, displace them as well as destroying valuable properties worth billion's of cedis.
It seems the learned people who are put into these sensitive positions to solve this problems are not doing much to solve these problems ones and for all. Complains are all over about the way people get their money and put houses anywhere and in many a times does so without true permit from the authorities.
On the other side, officials who are trusted with the duty to ensure that the laws are abided by so when the torrential rains fall will not affect people are also not helping many Ghanaians in their underhand dealings that many of the citizenry have raised red flags about for a long time but has not been given attention by the government.
What do you think the officials at the Town and Country Planning, district assembly planning officers and the chiefs would be thinking head when they allow developers to go ahead to site houses on water courses?
It is time the government and for that matter the president pays much attention to this problem and help bring one time solution to the problem and I was not surprise that the first gentleman of the country Professor Atta Mills has set up a committee to look into the issue.
As for the complaints let us not talk much about for now because it has been flying in the face of the president, ministers, chiefs, executives of various district, municipal and metropolitan assemblies for a long time calling for solutions but were never attended to and now the problem is biting the country hard.
The complaints have not received much attention because certain people were behaving like Vultures, when it rains it says tomorrow I will build my house. Whenever the rains stops and sun shining keeping him dry he forgets about his promise to himself.
That is how many Ghanaians are behaving. In the heat of the problem, they promise my government will see to it that the problem does not occurred again. Affected persons while quitting from the houses that suffered flooding, other persons will be moving into the same flooded houses at the same time so no one can see how serious the problem is.
People have been dumping waste materials into the drains and choking the gutters that blocks the way of the flowing water therefore making it find it way where by creating the floods and you wonder if there is any law in place to check these unscrupulous persons because no one seems concern about the uncivilized behaviour going on.
I listened to panelists discussing the issue of flooding in Accra on Joy F.M. News file on June 26, 2010, where the MP for Okere Mr.Dan Botwe, observed that proper planning must be executed to check the occasional flooding of the national capital and its environs which I agreed with him to some point. Where I did not agree with him was about the issue of demolishing.
Trust me the rains that have been pouring in Ghana does not come near those that have been pouring in other countries that have been creating great floods sinking houses, destroying industries and killing human beings at all making it difficult for one to understand why we are not able to control the situation up till now.
One does not need to be told that Accra is choked and continues to experience migration of human beings from the other regions either to do business or change their destiny as they use to say living outside the big cities is a hell.
Because of this reason adopted by many Ghanaians outside the capital, the population of Accra alone keeps increasing everyday thereby doubling the demands for accommodation forcing people to go and build everywhere without taking cause of what might happen the next hour.
The system has been created in a way that for one to get employment has to travel to Accra and struggle to get employed before possibly transferred to other regional offices, district or town to perform his duties.
It will baffle any observation to know the number of passenger busses that travel from other regions and enter the national capital a day all coming either to solve a problem at their national headquarters, looking for job, going for check ups in the hospitals, going to school and what have you which might be solved in the regional and even district levels.
Left to me alone I will say the solution does not lie in demolishing the houses but also look at the best way to decentralized government structures to empower the regions to create more jobs for the people to cut of the migration to the national capital that create accommodation problems for developers to solve by building anywhere for their money only to serve as death traps for people anytime the rains fall.
In Canada for instance, every government department has been decentralized in a way that in every city there is an office situated there to serve the people around so when one has a problem in Toronto, he does not suffer the stress to travel all the way to Ottawa.
People are residing in Etobicoke city but wakes up every morning to go to work at far away Kennedy via busses and subway [trains] to and fro. The same way people can find accommodation in Nsawam,Suhum or Teacher Mante the town I love so much but be able to work in Accra only if proper railway system is put in place to solve the transportation problems in the country as at now.
Should the train system start to work perfectly, it will solve many of these problems facing the country because many people have expressed their displeasure in living and working at the same time in Accra because of the pressure in the national capital but have to bear with it.
Let Ghanaians, start looking for pragmatic solutions to these problems that have created and continue to cause other huge problems that are becoming unsolvable for the good people of the land.
Government should start thinking of constructing more factories in the other regions particularly the districts to create jobs for the people to stop the rural urban migration where people travel to national capital looking for jobs that do not exist, sleep in kiosks because there no houses to accommodate them and then when the rains fall, sweep them away into the sea.
I bet if the railway system is efficient in Ghana, people will love to move out from Accra and settle in nearby towns where they would not be experiencing tension and pressure but enjoy life as they would be commuting to and fro by trains.
This will help reduce effects of flooding in Accra if not solve it at all because people will now begin to think of living in houses that are safe because there would be more accommodation to take care of.
Pointing accusing fingers is not the solution at this time. Looking at these three key factors and solving them immediately offers the solution to the problems. Let us try to stop the rural urban migration, put in place railway transportation system that will be efficient and decentralizing our government structures to keep people in other regions and towns instead of helping them to come to Accra and die.
End.

From: Stephen A. Quaye, Toronto-Canada.